Cruella's Mark Strong Reveals Why He Loves Working With Emma Stone And Emma Thompson - Exclusive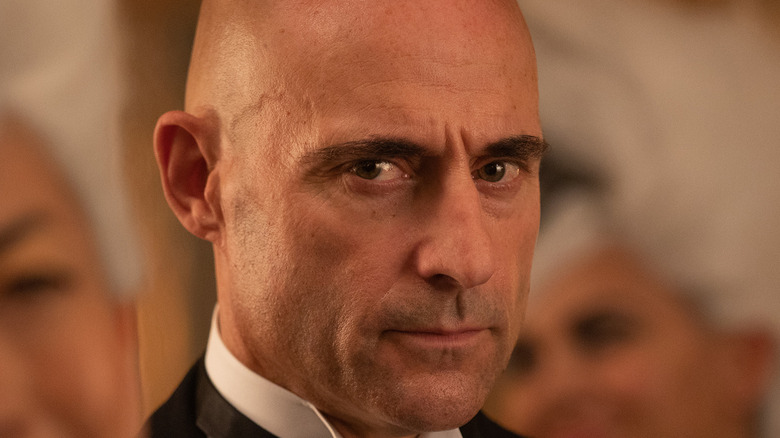 Walt Disney Studios Motion Pictures/Disney+
Mark Strong has starred in dozens of acclaimed films and TV series over the past three decades, which comes with the opportunity to work with some of the best actors and directors in the business. In his film projects alone, Strong has starred opposite the likes of Robert Downey Jr., Gary Oldman and Jessica Chastain, as well as Benedict Cumberbatch, Keira Knightley and Colin Firth. Now, with Strong's latest film, the Cruella de Vil origin story "Cruella," the esteemed actor can add two more impressive actors to the long list of greats he's worked with: Emma Stone and Emma Thompson.
"Cruella" is a prequel to Disney's "One Hundred and One Dalmatians." Stone stars as Estella, a street orphan who dreams of being a fashion designer in 1970s London. Estella gets a break and starts working at a fashion department store, and by happenstance gets her work noticed by Baroness von Hellman (Thompson), an iconic designer who is feared in the industry. Strong stars as John the Valet, a mysterious confidant of the Baroness. He told Looper in an exclusive interview he was thrilled that director Craig Gillespie gave him the opportunity to play an ambiguous character because of all the opportunities such a role presents.
"All characters that are complicated or multi-layered are automatically more interesting," Strong said. "So, if you can sell a vibe at the beginning of the film, which I do, that you then discover over the course of the movie might not be what you originally thought it was. I found that interesting and I thought it was worth getting involved because really, it's up to the director, up to Craig, which shots he uses. He gives John the Valet his presence in the first half of the movie because you're constantly referring to him, but you're not really sure why or what's going on with him. And I found that air of mystery was really interesting."
Strong calls Stone 'riveting' and says Thompson 'glides'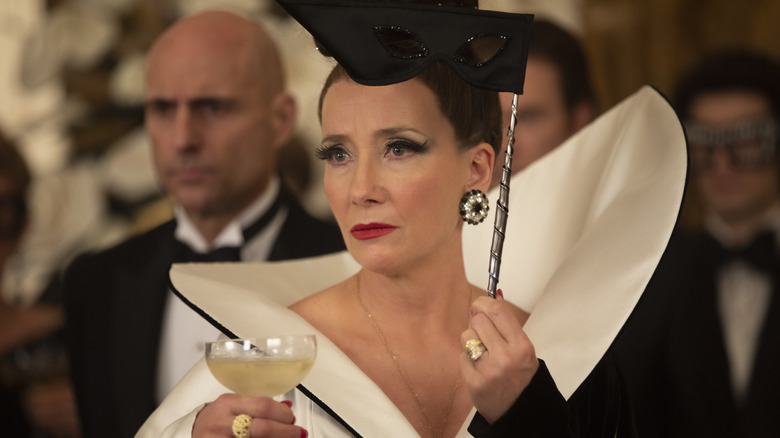 Walt Disney Studios Motion Pictures/Disney+
A big part of acting, of course, is reacting, and Mark Strong was thrilled to have the opportunity to share the screen with Emma Stone and Emma Thompson. He called Stone's performance "riveting" after he previewed the film on the big screen. "I went to see it and she blew me away because she's note-perfect with the character all the way through," he said. "You get a sense of somebody who is malevolent and vicious, but you're also on her side. That's a really difficult thing to pull off and she just does it brilliantly all the way through."
Strong was just as impressed with Thompson, who lights up the screen with her whimsically wicked ways. "She glides, doesn't she? She glides with this evil thing going on and I think she's just so watchable and so brilliant," Strong said, smiling. "And she carries off those clothes and you really believe; you get a sense of who that person is —and you love to hate her."
"Cruella" is playing in theaters nationwide and streaming on Disney+ with Premier Access.