The Matt LeBlanc Shoulder Injury That Delayed This Iconic Friends Episode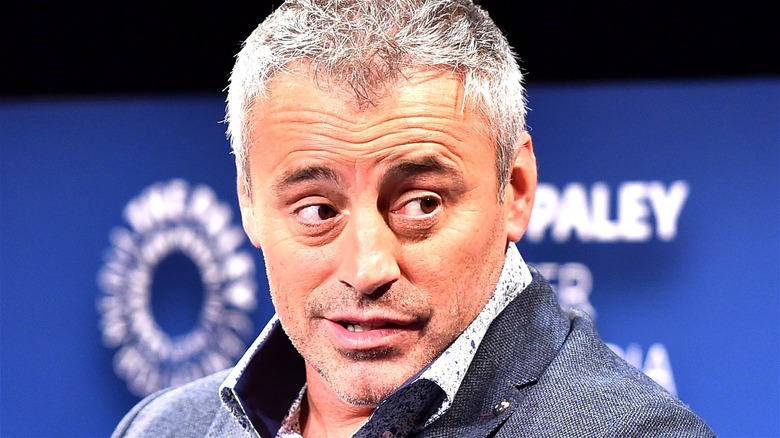 Shutterstock
"Friends" wasn't known for having much physical comedy, but the actors of the series had to perform minor stunts in a scene or two from time to time. There was one instance where a simple stunt turned into a big problem, and it was an unfortunate situation for Matt LeBlanc: the actor ended up dislocating his shoulder while filming "Friends," and the injury was severe enough that it was written into a subsequent episode to explain the sling LeBlanc had to sport.
In Season 3 Episode 3 ("The One With the Jam"), Joey wore a blue sling on his left arm due to his shoulder dislocation. To explain this injury, "Friends" writers wrote the simple story of Joey falling off his bed after jumping on it in the cold open. That stunt was never on camera, but viewers could hear the squeaking of his mattress and his subsequent fall on the floor while the camera was on Chandler in his room. "See, Joe, that's why your parents told you not to jump on the bed," Chandler says after opening the door to Joey's room.
Thanks to LeBlanc's blunder in the episode prior, this whole charade was written into "The One Where No One's Ready."
The One Where No One's ready was delayed thanks to Matt LeBlanc's shoulder injury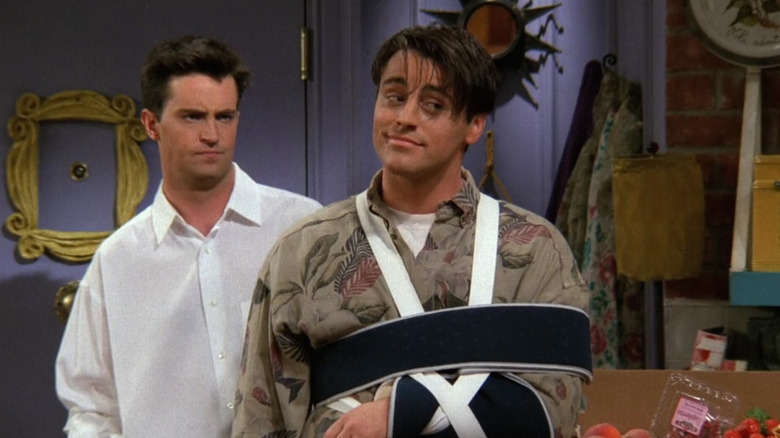 NBC
Season 3 Episode 2 ("The One Where No Ones Ready") is hailed as one of the greatest "Friends" episodes of all time. It follows the gang as they prepare themselves to go out for the evening to attend an event at Ross's (David Schwimmer) museum. Scripted shenanigans ensue ... as did unscripted ones. Much of the episode follows Joey and Chandler as they fight over a chair in Monica (Courteney Cox) and Rachel's (Jennifer Aniston) apartment. At one moment, both men are out of the chair and dart for it, with Joey ultimately nabbing it after jumping over the coffee table.
During the "Friends" reunion special on HBO Max, LeBlanc revealed that this victory came with real-life consequences.
In a scene that didn't make it to air, LeBlanc botched his jump over the coffee table and landed funny, resulting in his dislocated shoulder. "I went just to jump over the coffee table and somehow tripped and my legs went up in the air and my shoulder came out of the socket," the actor remembered during the special. 
LeBlanc couldn't continue filming his scenes for the episode, and the producers had to wait until he healed to go back and finish filming the episode. "The One With the Jam" filmed in the interim, with Joey in a sling, and "The One Where No One's Ready" finished filming afterward.
"Friends: The Reunion" can be streamed on HBO Max.