The Movie Like Alice In Wonderland That Fantasy Fans Need To See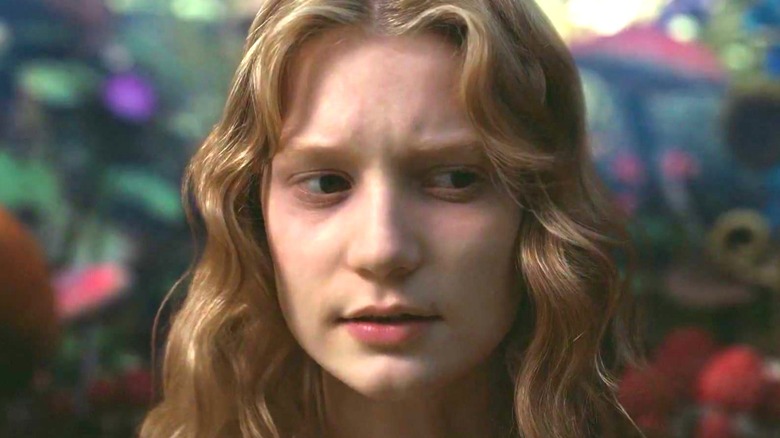 Disney
The beloved children's story by Lewis Carroll got an overhaul in 2010 when Tim Burton brought his own vision of the classic tale to life with the help of Walt Disney studios. While it received mixed reviews from critics, "Alice in Wonderland" blew audiences away with its stunning visuals and special effects, earning it three Oscar nominations, including two wins for Best Costume Design and Best Art Direction.
Burton's dark retelling is not a reboot as such, but really more of a sequel. The protagonist of "Alice in Wonderland" is nineteen-year-old Alice Kingsleigh (Mia Wasikowska), a free-spirited young woman in 19th century England who is being pressured by her family to settle down and marry. In an effort to escape an undesirable future, Alice finds herself repeating history as she chases a White Rabbit down a rabbit hole into Wonderland (or, as the natives call it, Underland). Alice is reintroduced to the bizarre world's madcap characters, including The Mad Hatter (Johnny Deep), the Queen of Hearts (Helena Bonham-Carter), and the White Queen (Anne Hathaway). It seems that Alice has forgotten all about her previous adventures in Wonderland, but regardless must fulfill her destiny to free the people from the evil Queen of Hearts once and for all.
"Alice in Wonderland" was a huge hit at the box office, and the second-highest-grossing film of 2010. The movie's sequel, "Alice Through the Looking Glass," was sadly not as successful, proving to be a big disappointment to both fans and critics. However, fans of Burton's "Alice in Wonderland" may want to take a look at another underrated family movie that also revisits a classic children's storybook.
Peter Pan is all grown up in Hook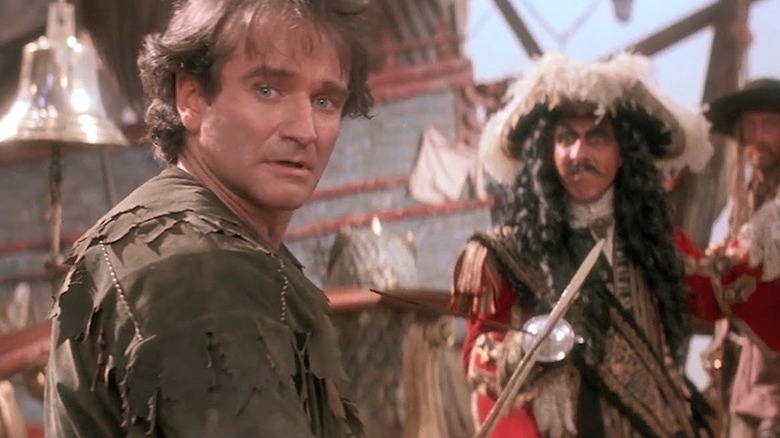 TriStar Pictures
Legendary filmmaker Steven Spielberg directed the swash-buckling fantasy adventure known as "Hook," a movie which asks the question: "What if Peter Pan actually did grow up?" The 1991 family film stars Robin Williams as Peter Banning, a middle-aged corporate lawyer who gets a shocking revelation when he finds out that not only is Neverland a real place, but he is, in fact, the Peter Pan.
When Peter's children are kidnapped by the evil Captain Hook (Dustin Hoffman), he has to relearn everything about what it means to be a kid again in order to save them. This is especially tough on Peter — not only because he doesn't believe that he is the real Peter Pan, but because he has been out of touch with his own children for a long time. The Lost Boys and Tinkerbell (Julia Roberts) try to help Peter become his old self again, but time is running out as Captain Hook has his own plans to bring Peter's son, Jack (Charlie Kosmo), over to his side.
"Hook" is not only a fun fantasy adventure for the whole family, but a heart-warming story that reminds adults to cherish their childhood memories. The movie has a loyal fanbase that still looks back on it fondly, as do the members of the film's cast. Actor Dante Basco, who played the mohawk-wearing tough guy Rufio in the movie, still embraces the impact that "Hook" made on an entire generation. "You hope to do something that people will remember you for," Basco related in a 2018 interview with Gizmodo. "["Hook"] has become, for a certain generation, a part of the vernacular ... It meant so much to a generation of people." 
If you're a fan of films like "Alice in Wonderland" that provide a modern take on an old classic, then "Hook" should definitely be on your list.