Metacritic Says There Are Only 15 Near-Perfect Movie Musicals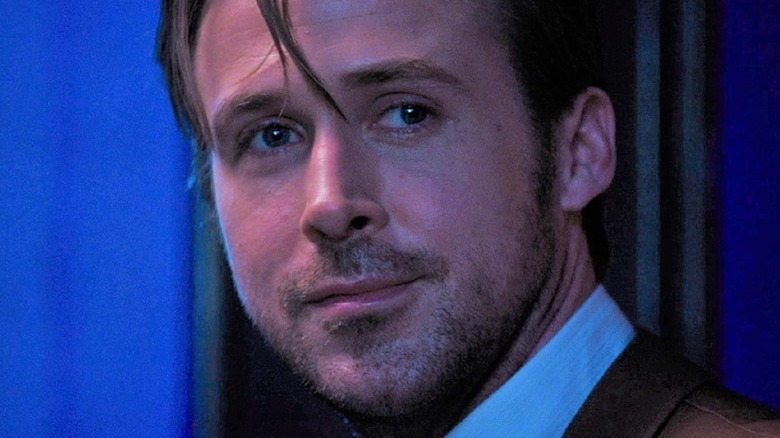 Lionsgate
Movies and musicals are a match made in heaven. While nothing beats the energy in the room of a live performance, film comes close. And if you want to bathe yourself in the feel-good melodrama of a good show tune, movie musicals are a marvelous approximation of the real thing.
Heck, musicals are an integral part of film history. The very first feature-length film to feature synchronized music and vocal performances was a musical: 1927's "The Jazz Singer." But with such a long and storied history, it can be difficult to know what to prioritize. Luckily, Metacritic has you covered. By assigning a weighted average (aka "Metascore") of aggregated critical reviews, Metacritic has carved out a space for itself as one of the web's most trusted authorities when it comes to getting a snapshot of what's worth watching. Per Metacritic's point-breakdown, any film with a score above an 81 has earned "universal acclaim," which means anything in the 90-plus range is close to perfection.
And below, you'll find 15 toe-tapping movie musicals with near-flawless Metacritic scores. These films run the gamut from lush, big-budget showstoppers to animated offerings to concert films. It's an eclectic bunch, and they can all carry a tune. So let's dive in, shall we?
Hamilton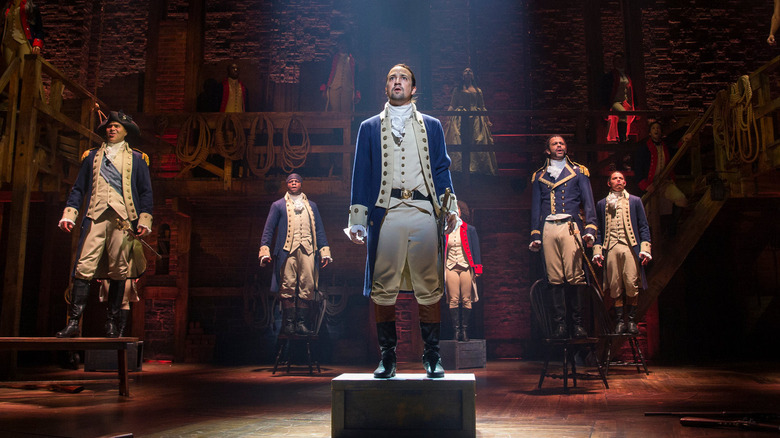 Walt Disney Studios Motion Pictures
The fact that a stage recording is on this list ought to tip you off to how good "Hamilton" is. Inspired by Ron Chernow's 2004 biography "Alexander Hamilton," the stage musical blends salacious historical fact with fictional flare to bring the story of the idealistic and philandering Founding Father to life. Divided into two acts, the musical dramatizes the political and personal life of Alexander Hamilton (Lin-Manuel Miranda) as he participates in statecraft, starts a family, and becomes embroiled in a bitter and ultimately fatal rivalry with then-Vice President Aaron Burr (Leslie Odom Jr.).
The filmed version of the original Broadway production was originally intended to hit theaters in the fall of 2021, but it premiered on Disney+ early due to the COVID-19 pandemic, becoming one of the most-streamed films of 2020. The recording does a terrific job documenting the original cast's performances, which enliven potentially stodgy political drama with hip-hop, jazz, and R&B. The film currently holds a 98% approval rating on the review aggregator site Rotten Tomatoes and a 90 Metascore.
Swing Time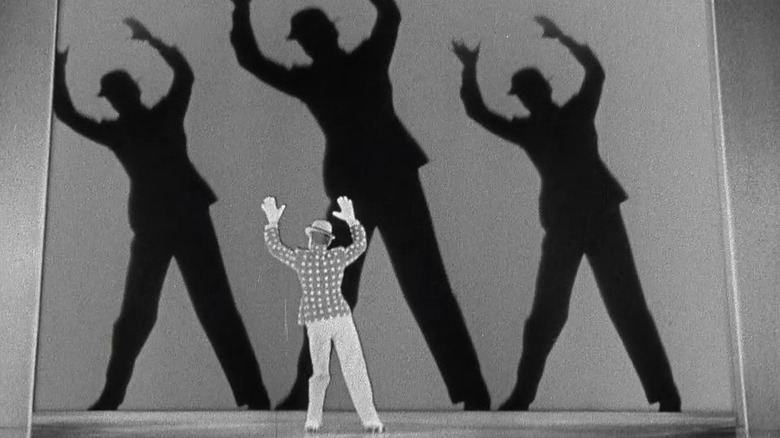 RKO Radio Pictures
After accidentally missing his own wedding, gambler John "Lucky" Garnett (Fred Astaire) makes a bet with his friends that he will, indeed, get hitched to the love of his life, Margaret (Betty Furness). But before he can take another crack at tying the knot, Margaret's father (Landers Stevens), furious at his daughter being left at the altar, demands that Lucky produce $25,000 to demonstrate that he's a stand up guy. (In case you're wondering, with inflation, today that sum would be over $480,000). Without a penny to his name, Lucky makes his way to New York where he meets a fiery dance instructor named ... Penny (Ginger Rogers). Hijinks ensue, with Lucky and Penny forming a lucrative partnership. Naturally, an unexpected romance also takes shape.
If watching Fred and Ginger cut a rug doesn't make you smile, we don't know what will. Apart from a jarring and dated sequence in blackface, "Swing Time" is one of the dancing duo's most charming and imaginatively choreographed projects, brimming with elegance, wit, and grace. Directed by George Stevens during his career high at RKO Radio Pictures and featuring music from Jerome Kern, "Swing Time" boasts a 91 Metascore.
Top Hat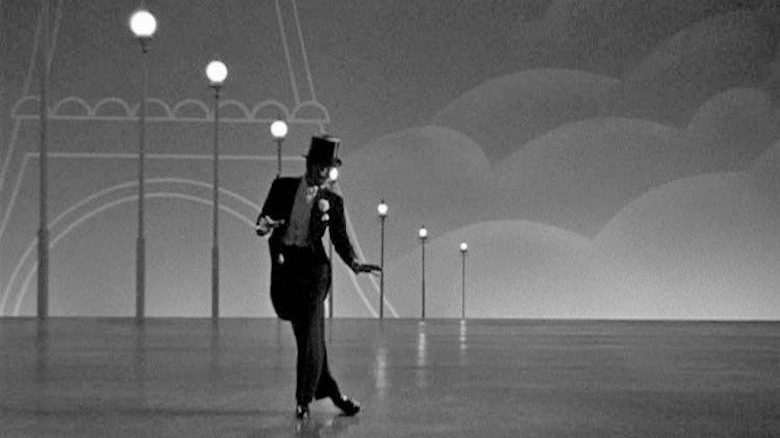 RKO Radio Pictures
The second team-up from Fred Astaire and Ginger Rogers to grace this list, "Top Hat" is an obligatory watch for any fan of Depression-era diversions. The story follows Jerry Travers (Astaire), an energetic and enthralling showman who travels to London to star in a new show produced by a bumbling fool named Horace Hardwick (Edward Everett Horton). When Travers' runs into Dale Termont (Rogers), she mistakes him for Hardwick. A charming romp of mistaken identities, disguises, and international romance ensues.
A glamorous and spellbinding medley of fancy footwork and acrobatics, the magic of "Top Hat" has become emblematic of the fervently optimistic gait of 1930s spectacles. Featuring music from the great American lyricist Irving Berlin — of "Puttin' on the Ritz" and "Anything You Can Do (I Can Do Better)" fame — the music of "Top Hat" is catchy, warm, and comforting. The "Top Hat, White Tie and Tails" and "Cheek to Cheek" numbers are iconic in their own right as immaculate vehicles for Astaire's dance numbers, which play out uninterrupted in spellbinding wide-angle long takes. "Top Hat" was nominated for the Academy Award for Best Picture and holds a 92 Metascore.
The Wizard of Oz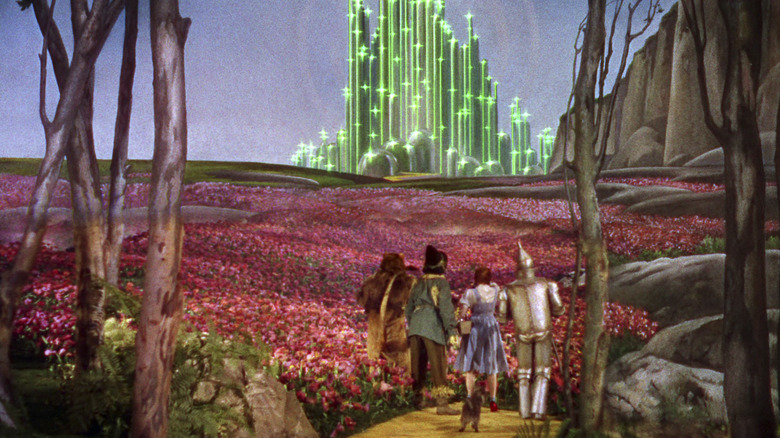 Loew's, Inc
Adapted from L. Frank Baum's 1900 novel of the same name, Metro-Goldwyn-Mayer's technicolor marvel isn't just one of the best movie musicals — it's one of the most iconic and fantastical movies ever made. Directed by Victor Fleming, "The Wizard of Oz" tells the tale of Dorothy (Judy Garland), a young girl who leaves her sepia-toned Kansas farm in the dust when a tornado whisks her to the vibrant land of Oz. After accidentally landing her house on the Wicked Witch of the East, Dorothy sets off down the yellow-brick road, amassing a gaggle of eccentric friends along the way, to ask the titular wizard to return her home to Kansas.
Premiering to widespread critical acclaim, "The Wizard of Oz" persists to this day as one of the great examples of the magical possibilities of the moving image. In addition to an honorary award for Garland, the movie earned two Oscars – Best Original Score and Best Original Song for "Over the Rainbow." But the film's acclaim doesn't stop there. It's No. 3 on the American Film Institute's list of the "Greatest Movie Musicals" and has been entered into the National Film Registry and UNESCO's Memory of the World register. And on top of all that, it holds a 92 on Metacritic.
The Band Wagon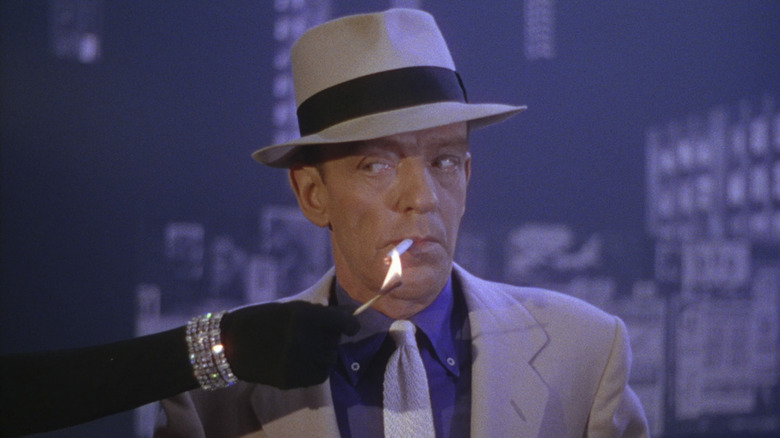 Metro-Goldwyn-Mayer
Directed by movie musical maestro Vincente Minnelli, "The Band Wagon" tackles Hollywood's favorite subject: Hollywood. In the film, a famous movie musical star named Tony (played by real-life famous movie musical star Fred Astaire) fears that his career is on the decline. His two buddies, Lester (Oscar Levant) and Lily (Nanette Fabray), concoct a big Broadway blowout to get his professional life back on track. But when the show's director (Jack Buchanan) hires a fussy ballerina (Cyd Charisse) and begins derailing the production with all manner of pretentious showboating, Tony fears that his comeback will be eclipsed.
Boasting a perfect 100% critical consensus on Rotten Tomatoes and 93 Metascore, "The Band Wagon" is a riotous look at backstage Broadway shenanigans. Summing up the film's thesis for Chicago Reader, Dave Kehr describes "The Band Wagon" as "a frenetic meditation on pop art versus high art, coming down hard on the side of the former." A glimmering, multicolored vision of theatrical chaos, pizzazz, and charm, this here's a bandwagon we're more than happy to jump on.
Sita Sings the Blues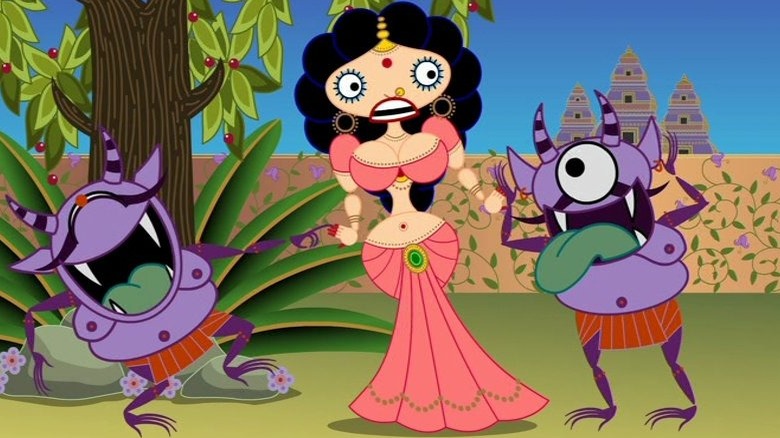 GKIDS
Merging an ancient Indian epic with the Depression-era jazz stylings of Annette Hanshaw shouldn't work, and yet "Sita Sings the Blues" is a truly enchanting cross-cultural mishmash. Written, directed, produced, and animated by Nina Paley, the film offers an animated retelling of the tale of "Ramayana," a sprawling Indian epic that tells of a prince's quest to rescue his wife from the nefarious clutches of the villainous, multi-headed demon Ravana ... with the help of an army of monkeys, of course.
Episodic and enchantingly stylish, "Sita Sings the Blues" focuses on the prince's brave and put-upon wife, Sita, merging the legendary tale with the parallel narrative of Paley's own divorce. A melting pot of torch songs, animation styles, bad husbands, and vibrantly realized metafiction, "Sita Sings the Blues" has racked up critical praise, including an Independent Spirit Award nomination and recognition as a New York Times Critics Pick. With a flawless 100% critical consensus on Rotten Tomatoes and a 93 Metascore, if you're looking to branch out your animated musical offerings beyond the scope of Disney, look no further than "Sita Sings the Blues".
Duck Soup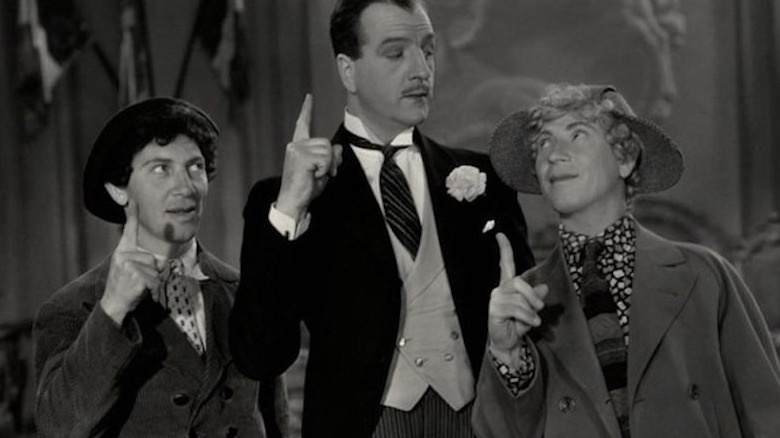 Paramount Pictures
The Marx brothers make a mockery out of war games in this riotous takedown of nationalism, dictatorships, and frazzled foreign relations. The plot of "Duck Soup" follows one Rufus T. Firefly (Groucho Marx), a goofball who suddenly finds himself appointed the leader of the bankrupt, fictional nation of Freedonia. But Firefly's wacky antics draw the attention of rival nations, who send bumbling spies and tricksy ambassadors to try and overthrow the new leader.
With a head-spinning amount of jokes per minute (a supreme feat considering the film's runtime clocks in at just over an hour), "Duck Soup" is the most fun you can have laughing at corrupt, dictatorial politics. Sitting firmly on the same cinematic shelf as other great war comedies like "The Great Dictator," "The Mouse That Roared," and "Dr. Strangelove," the film is, per Roger Ebert, the Marx brothers' best work. Bringing mayhem, musical numbers, and unadulterated silliness to rather severe subject matter, "Duck Soup" clocks in on Metacritic with an impressive 93 Metascore.
David Byrne's American Utopia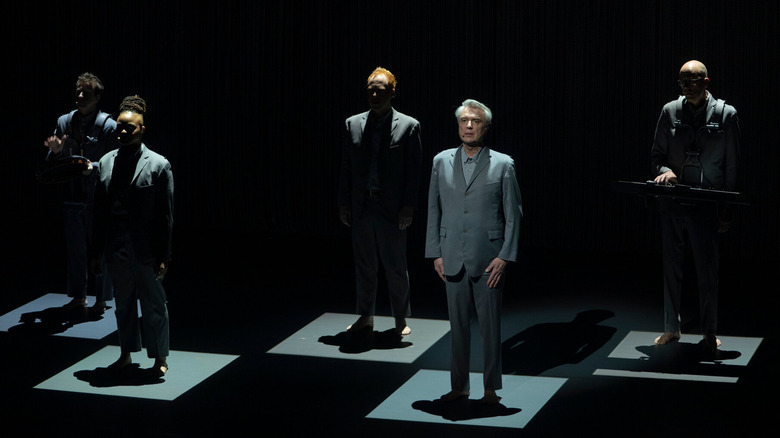 HBO
The second film from 2020 and the second filmed recording of a critically acclaimed Broadway performance to grace this list, "David Byrne's American Utopia" is unique, uplifting, and unabashed "art rock group therapy," as described by Rolling Stone. Sign us up. The work of creative dynamo David Byrne, "American Utopia" combines 20 songs from Byrne's solo career and his tenure as the lead singer of Talking Heads, interspersed with sage advice and comforting stories.
Directed by Spike Lee — no stranger to the concert film format with the likes of "Passing Strange" — the film boasts a 93 Metascore and a nearly unimpeachable 98% critical approval rating on Rotten Tomatoes. As Erik Adams writes in his review for The A.V. Club, the film's "resonance isn't so much one of joy versus despair as it is connection versus isolation." An apparent — though sadly only feature-length — tonic to the intense loneliness of brought on by the pandemic, "American Utopia" is a must-watch for fans of Byrne's previous concert film "Stop Making Sense" and a topical, joy-filled balm for those new to the frontman's contagious eccentricities.
La La Land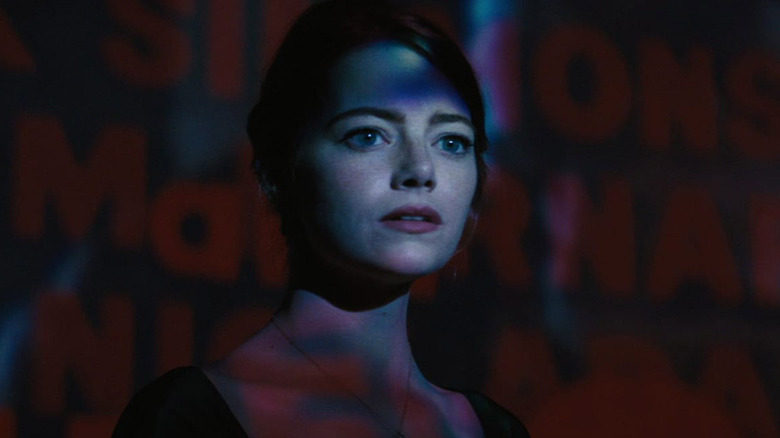 Lionsgate
Despite meeting in the midst of Los Angeles road rage, Mia (Emma Stone) and Sebastian (Ryan Gosling) are drawn to each other. While Mia makes elaborate caffeinated beverages for A-listers between mortifying auditions, Sebastian plays at dingy nightclubs with the hopes of one day making it as a jazz pianist. But as their respective careers begin to blossom, their relationship begins to fracture, leaving the pair with a difficult choice between their love affair and their creative dreams.
An unabashedly nostalgic attempt to breathe new life into an old genre, "La La Land" is a knowing throwback to the romantic allure of classical Hollywood musicals, with Gosling and Stone as a modern spin on Fred Astaire and Ginger Rogers. Pulling from cultural touchstones like Jacques Demy's "The Umbrellas of Cherbourg", director Damien Chazelle paints a vision of Hollywood as a town full of starry-eyed creatives. Met with widespread critical acclaim and boasting a 94 on Metacritic, "La La Land" swept awards season with 11 BAFTA nominations, seven Golden Globe nominations, and a staggering 14 Oscar nominations, including a Best Actress win for Stone.
Snow White and the Seven Dwarfs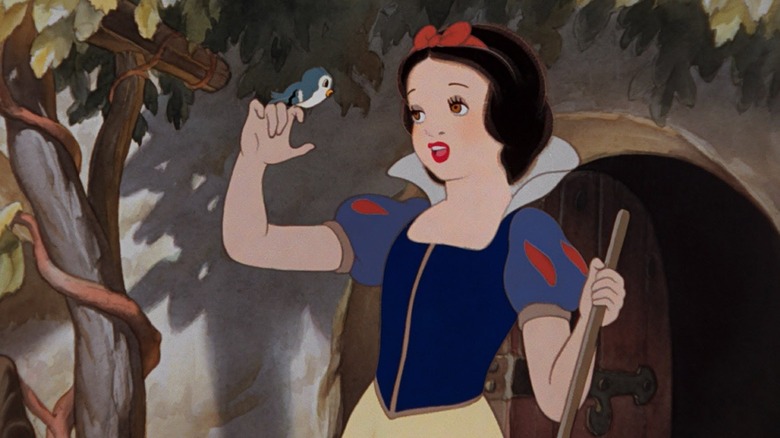 Walt Disney Studios Motion Pictures
Based on the 19th-century Grimm fairy tale, "Snow White and the Seven Dwarfs" wasn't just Disney's first animated feature film but Hollywood's first full-length traditionally animated film period. The story follows a beautiful young girl named Snow White (voiced by Adriana Caselotti), who must seek shelter in a forbidding forest when her stepmother, the wicked Queen, grows jealous of her beauty and hires an assassin to have her killed. While Snow White finds a welcome refuge in the quaint cottage owned by seven dwarfs, the Queen has a few tricks (read: poisoned apples) up her sleeve.
Praised by the likes of Sergei Eisenstein and Charlie Chaplin for its historic contribution to cinema, "Snow White and the Seven Dwarfs" was the culmination of Disney's years of experimentation with the "Silly Symphonies," musical shorts that gave animators the freedom to innovate both creatively and technically. (For example, 1937's "The Old Mill," which pioneered the multiplane camera, was instrumental to providing "Snow White" with a more cinematic feel). A stone-cold classic overflowing with historical value and animated delights, "Snow White and the Seven Dwarfs" holds a 95 score on Metacritic.
My Fair Lady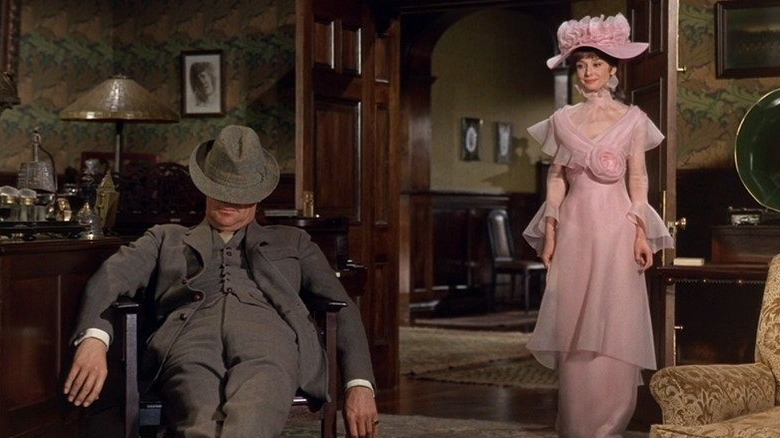 Warner Bros.
An adaptation three times removed (or four times, if you're counting Greek mythology), "My Fair Lady" brings Lerner and Loewe's stage musical based on George Bernard Shaw's "Pygmalion" to the big screen. Like its theatrical source material, the 1964 film concerns a poor flower-seller named Eliza Doolittle (Audrey Hepburn). After being publicly mocked for her strong Cockney accent by the snobby upperclassman Henry Higgins (Rex Harrison), Doolittle shows up on the phonetics professor's doorstep looking for lessons. He joked about making her sound like a duchess, but if can really make her "pass" in high society, that's a bet worth taking.
One of the most expensive Hollywood films ever made at the time of its release, "My Fair Lady" is a marvel of costuming, cinematography, and the wide-angled spectacle of Panavision. Boasting memorable bangers like "Wouldn't It Be Loverly" and "I Could Have Danced All Night," the film is an expertly crafted and sumptuously colorful piece of escapism. In addition to its critical success, the film was a huge financial hit, becoming the second highest-grossing film of 1964 after "Mary Poppins." Impressively, "My Fair Lady" won eight of its 12 Academy Award nominations, including Best Picture. The film holds a 95 score on Metacritic.
Beauty and the Beast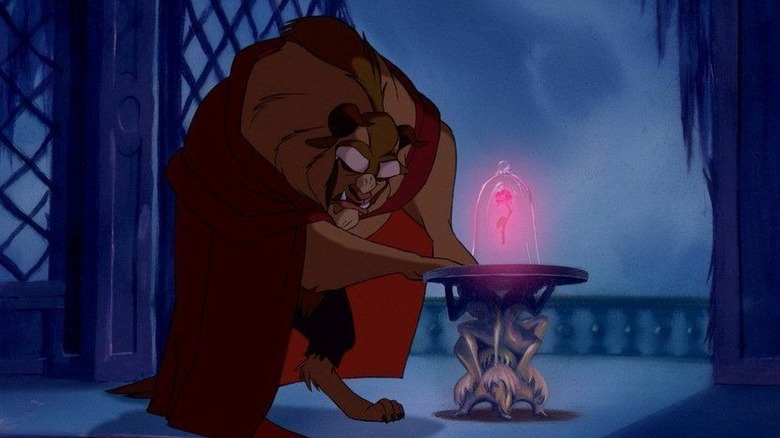 Walt Disney Studios Motion Pictures
It's a tale as old as time — boy kidnaps girl's father, boy imprisons girl instead, boy falls in love with girl, boy must get girl to fall in love with him in order to break the curse that makes him look like a hulking, yak-like monster. You know, a classic story for the whole family to enjoy.
Based on an 18th-century French fairy tale of the same name, "Beauty and the Beast" was a high watermark for the Broadway-indebted Disney Renaissance. The film was the last and arguably greatest product of the crystalline, irreplicable team-up of composer Alan Menken and lyricist Howard Ashman, the latter of whom died of AIDS before the film was released. In addition to a handful of Oscar nominations for its score and sound design, "Beauty and the Beast" holds the distinction of being the first animated film to be nominated for Best Picture. 
Even with its weird plot, "Beauty and the Beast" is an effortlessly enduring Disney classic brimming with endearing characters, dazzling musical numbers, and an undeniable Broadway gusto. With a solid 95 Metascore, "Beauty and the Beast" is, in a word, enchanting.
Dumbo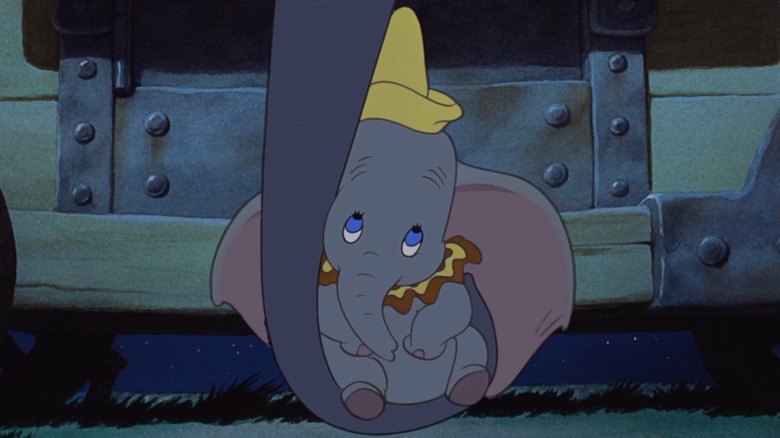 Walt Disney Studios Motion Pictures
One of Disney's shortest animated features also happens to be its best as far as Metacitic is concerned. When Mrs. Jumbo the elephant (Verna Felton) first gazes upon her son (freshly couriered via stork, of course), she's shocked by the size of his ears. Ridiculed for his enormous ear-flaps, the unfortunately nicknamed "Dumbo" becomes a pariah amongst his fellow circus animals. When his mother comes to his defense, she's imprisoned by the ringmaster, leaving a distraught Dumbo to navigate the cruelties of being "different" in show business all on his own.
Boasting a near-flawless Metascore of 96, "Dumbo" started life as a short film before it was extended into a cost-conscious effort to offset the slumping wartime box office failures of "Pinocchio" and "Fantasia." Fortunately, "Dumbo" was a hit, heralded by the likes of The New York Times' Bosley Crowther as "the most genial, the most engaging, the most completely precious cartoon feature film ever to emerge from the magical brushes of Walt Disney's wonder-working artists." The film's wildly dated (and literal) take on "Jim Crow" racial segregation laws notwithstanding, "Dumbo" remains an oddly melancholic and affecting Disney offering.
Pinocchio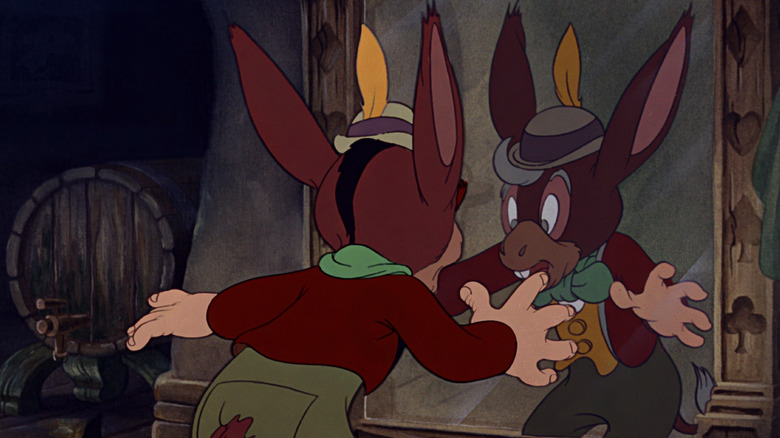 Walt Disney Studios Motion Pictures
Based on a 19th-century Italian children's novel, "Pinocchio" tells of a lonely toymaker named Geppetto, whose prayers for a son are answered when the radiant Blue Fairy brings one of his puppets to life. But in order to become a real boy, the titular puppet must prove himself. Luckily, adventure (however harrowing) comes knocking when Pinocchio is led by con artists and showmen down a dark path of delinquency.
Arguably one of the most nightmarish offerings of Disney's Golden Age (we've got slave labor, kids turning into donkeys, and a puppet-swallowing whale), "Pinocchio" is an ambitious and unforgettable feat of early feature animation. "Pinocchio" was the first Disney offering to win Academy Awards for Best Original Song ("When You Wish Upon a Star") and Best Original Score. And despite its impacted wartime theatrical release, the film was a hit with critics, who praised the moralistic tale as a superior offering to its predecessor, "Snow White and the Seven Dwarfs." Boasting an unimpeachable 100% critical consensus on Rotten Tomatoes and a dang near-perfect 99 Metascore, "Pinocchio" has stood the test of time, no strings attached.
Singin' in the Rain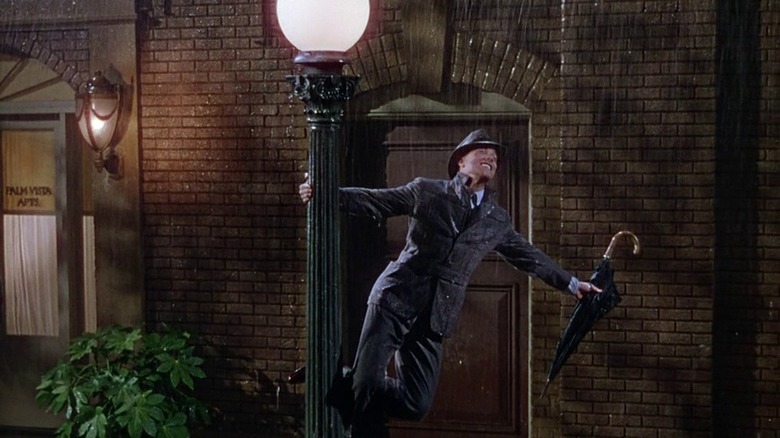 Loew's Inc.
A veritable masterpiece of feel-good cinema, "Singin' in the Rain" is the gold-plated benchmark for Hollywood films in love with Hollywood. Co-directed by Stanley Donen and leading man Gene Kelly, the film tells the story of cinema's transition from silence to sound. And what better way to tell the story of sound's importance to moving images than through song?
Set in the late 1920s, "Singin' in the Rain" charts the growing pains of two silent movie stars as their latest silent epic is remade as a musical. Though silent star Lina Lamont (Jean Hagen) has earned the studio millions of dollars off her beauty and her talent, the higher-ups decide her vocals just won't cut it and opt to dub her with an aspiring ingénue (Debbie Reynolds), leading to a budding romance between the young actress and Kelly's leading man, Don Lockwood.
With an effectively flawless 99 Metascore, "Singin' in the Rain" is one of those films that's just as good as people make it seem. Featuring all-new songs ("Make 'Em Laugh"), as well as entries from prior MGM musicals (including the titular "Singin' in the Rain"), there's a reason it was one of the first 25 films selected for preservation in the National Film Registry. A transcendent technicolor testament to the power of music and movement on-screen, "Singin' in the Rain" is pure movie magic, plain and simple.