The Series You Need To Watch If You Love Tangled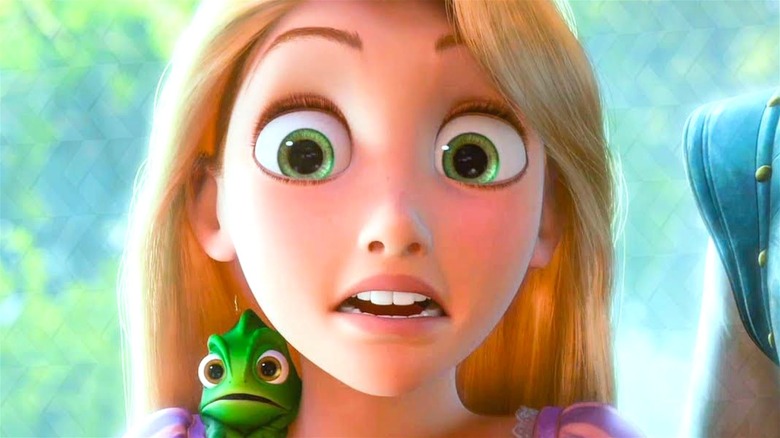 Walt Disney Studios Motion Pictures
Many people may assume the new golden age of Disney animation we're currently in began with "Frozen." However, if you want to trace back the legacy that brought about "Zootopia," "Moana," and "Raya and the Last Dragon," then you need to go back a few years before Elsa let it go and look at the highly underrated "Tangled."
The movie put a twist on the classic fairytale kids know all too well. The film follows the story of Rapunzel, a princess trapped in a tower who can only get down when she lets her long locks fall to the brave knight below. Throw in some songs and a cute chameleon, and you have all the makings of a classic Disney princess story. You can watch the gorgeously animated movie on Disney+, and after the credits roll, you and your kids may wonder what's in store next. "Tangled 2" may never come to fruition, but Rapunzel has plenty of other adventures you can enjoy where Mandy Moore returns to voice the blonde, gullible princess. 
Rapunzel's Tangled Adventure shows what life's like after Tangled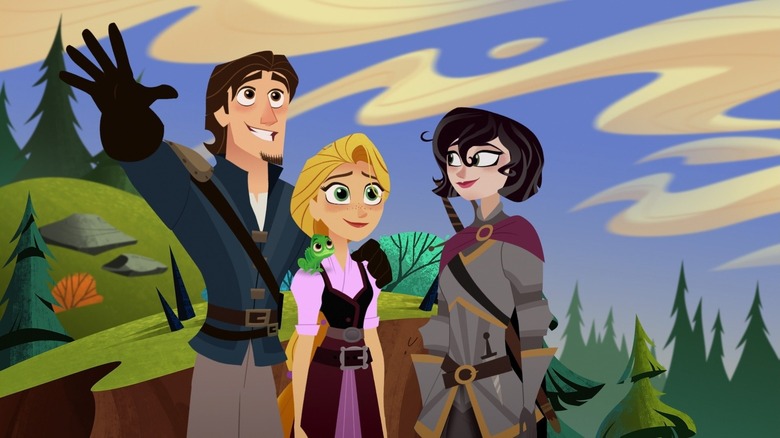 Disney Channel
On the surface, a series following the events of "Tangled" may not make sense. After all, Rapunzel cut her hair at the end of the movie, and she and Eugene (Zachary Levi) tie the knot. Then again, one should never underestimate a studio's ability to find a way to bring back characters for a TV show, and there are some solid explanations for why "Rapunzel's Tangled Adventure" takes place. 
The series ran on Disney Channel for three seasons from 2017 to 2020, and kids of all ages can now view it in its entirety on Disney+. While you're there, you won't want to miss the made-for-TV movie "Tangled: Before Ever After," which effectively functions as a pilot for the rest of the series that sets up Rapunzel and Eugene's new lives together. The show follows Rapunzel as she craves adventure instead of staying inside of a castle all the time. After getting her hair restored from touching a magic rock, she sets out with Eugene and her new best friend, Cassandra (Eden Espinosa), to see what exactly the world has in store for her. 
The cartoon boasts an impressive voice cast, including Clancy Brown, Julie Bowen, Dee Bradley Baker, Bruce Campbell, and Jonathan Banks. It's a fun series fans of the movie, and you're bound to love, and if you like what you see, then make sure to check out other series based on popular Disney movies like "Big Hero 6: The Series" and "The Mighty Ducks: Game Changers," which are also available on Disney+.