World On Fire Season 2 - What We Know So Far
PBS
BBC and PBS' Masterpiece Theater hit a home run with the sprawling World War II drama "World on Fire." The star-studded series focuses on characters in locations as far-flung as Manchester, Warsaw, Berlin, and Paris at the start of the war in 1939. Season 1 of "World on Fire" first aired in Europe in September 2019, before premiering on PBS in the spring of 2020, and fans have anxiously been awaiting news on Season 2 ever since.
The good news is "World on Fire" Season 2 is definitely happening, despite production being delayed due to the pandemic. In fact, series creator Peter Bowker told Radio Times in a 2019 interview that he has the characters' stories mapped out through six seasons. "I know what happens over six series for the main characters," he said. "If you pitch a show, people will often ask 'What happens in series four, episode three? What happens to this character?' You've got to know and not be English about it."
Of course, that doesn't necessarily mean the drama will run for six seasons, but fans can rest assured Season 2 is definitely a go — and happily, Bowker and the cast have even revealed a few tidbits about what viewers can expect to see when the show finally returns to our screens.
Season 2 is confirmed, and so are some plot points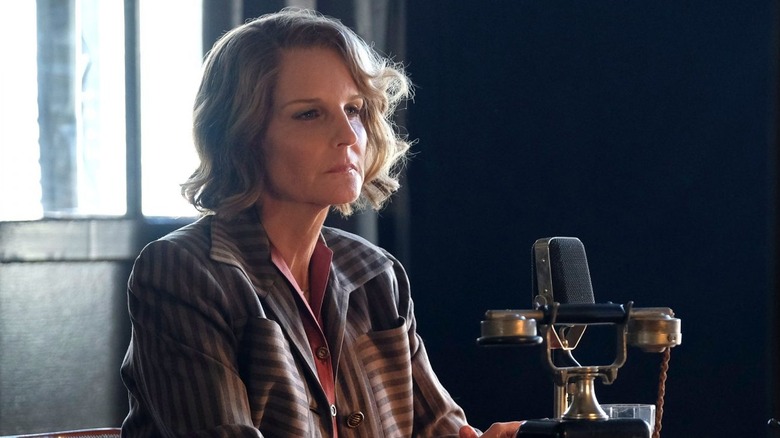 PBS
Like so many other shows and movies, "World on Fire" had its production schedule shifted due to the pandemic. As of right now, no official premiere date for Season 2 has been announced, but in the comments section of an October 2020 Instagram post on the show's official account, it was confirmed filming was set to start in the summer of 2021. The PBS Masterpiece Theater website has similarly confirmed that "World on Fire" will be returning to the network for a 2nd season but stressed that it's also "too early" to reveal how many episodes it will have or who exactly will be in the cast.
In a 2019 interview with Town & Country, PBS Masterpiece executive producer Susanne Simpson shared Season 2 will cover the year 1940, and how World War II affected people across the U.K. and Europe during that fateful time. Additionally, Bowker has already teased next season's major storylines. "In Season 2, Kasia [Zofia Wichlacz] and Lois [Julia Brown] will meet, and the fallout from that, I think for everybody, will be interesting and fascinating," he said.
"Season 2 will start, historically, with the blitz in the Northwest of England," Bowker continued. "And North Africa will be very much the field of battle. We'll find out more about Webster's [Brian J. Smith] family history. Nancy [Helen Hunt] will finally have to leave Berlin near the start of the series, for crossing a line, and we will also find out more about Nancy ... She will definitely be in the Soviet Union for some of it."
He also said Lois will be in a "Brontë-esque, loveless marriage with Vernon" after accepting his proposal at the end of Season 1. For Lois, Vernon (Arthur Darvill) represents stability for her and her daughter, but a marriage without love could take its toll on her determined and independent character.