Jobless Reincarnation Season 2 - What We Know So Far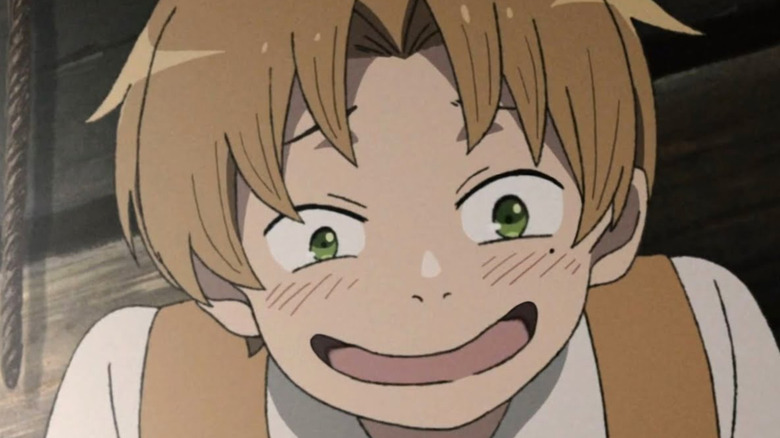 Studio Bind
In the past several years, Isekai has become an increasingly popular genre in the realm of anime. Shows like "Konosuba," "Re:Zero," and "Sword Art Online" have enchanted anime fans and given them a taste for stories about starting a new life in an idyllic fantasy world. As influential as these anime are, few are regarded as highly as "Mushoku Tensei: Jobless Reincarnation."
According to Anime News Network, while "Jobless Reincarnation" (created by author Rifujin na Magonote) was far from the first Isekai web novel, it is one of the most influential. In particular, it is responsible for popularizing the protagonist's death and subsequent reincarnation as an initiating event in the genre. After "Jobless Reincarnation" became one of the most popular "Narō" stories, shows like "Konosuba" and "That Time I Got Reincarnated as a Slime" quickly copied the reincarnation concept.
Despite this, "Jobless Reincarnation" was one of the last popular Isekai to earn an anime adaptation. The reasons behind this are plentiful, but that hardly matters anymore. What does matter is that "Jobless Reincarnation" eventually received an adaptation. With its first season now complete, fans are clamoring to see what happens next in the life of Rudeus Greyrat — an adult Japanese shut-in who is reincarnated in the fantasy world of his dreams. Luckily, Season 2 is on its way, and here is what we know so far.
When will Jobless Reincarnation Season 2 release?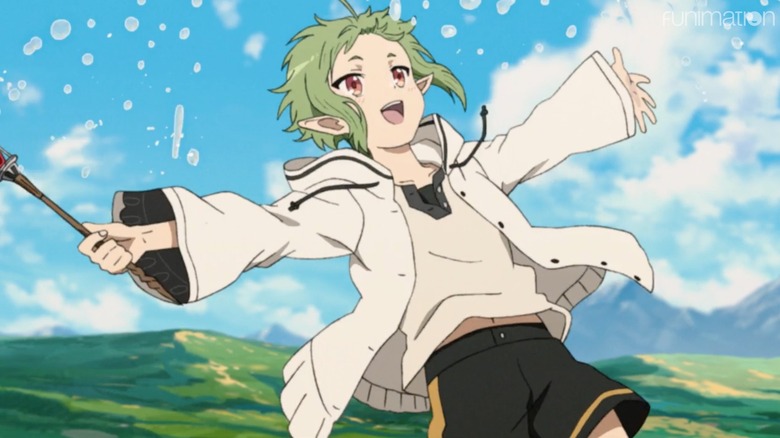 Studio Bind
Those familiar with "Jobless Reincarnation" might be wondering why it and other anime often have seasons that last for about 13 episodes, only for those seasons to gain a second half months down the line. This is because, on top of seasons, Japanese TV programs often release on a different time system called "cours." For this reason, "Jobless Reincarnation" Season 1 technically hasn't ended, and we're simply waiting for the next cour. Thankfully, it isn't far away. In a Tweet posted this March by the official "Mushoku Tensei" page, the creators announced that the show "will return for its second cour in July 2021."
Unfortunately, the story isn't quite so optimistic for fans of the English dub. Despite the fact that the show's first cour aired its final episode back in March 2021, Funimation has only released 9 out of the 11 episodes in question. The likelihood is high that Dub watchers will have to enjoy Cour 2 of "Jobless Reincarnation" on a staggered schedule.
Who is in the cast for "Jobless Reincarnation?"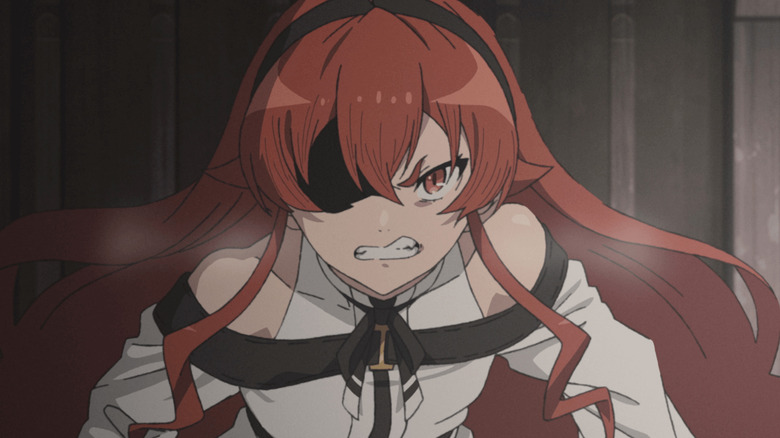 Studio Bind
So far, "Jobless Reincarnation" has backed up its strong characters with equally strong cast of voice actors. Accompanying the animation of Studio Bind, the cast has done an amazing job of bringing "Job Reincarnation's" characters to life. Luckily, fans can hear more of the same voice work throughout the rest of the series. The voices behind Rudeus are Japanese actor Yumi Uchiyama and Western actress Madeline Morris, respectively (via Behind The Voice Actors). Joining them are the voices for characters like Roxy (Konomi Kohara/Michelle Rojas), Eris (Ai Kakuma/Lindsay Seidel), and Ruijerd (Daisuke Namikawa/Christopher Wehkamp).
Of course, new characters are sure to appear by the end of the "Jobless Reincarnation" series, meaning that new voice actors are sure to join the cast. Unfortunately, no official announcements regarding new cast additions have been made at the moment. Fans will have to wait for Cour 2 and beyond before learning who they'll hear next in "Jobless Reincarnation."
What is going to happen next?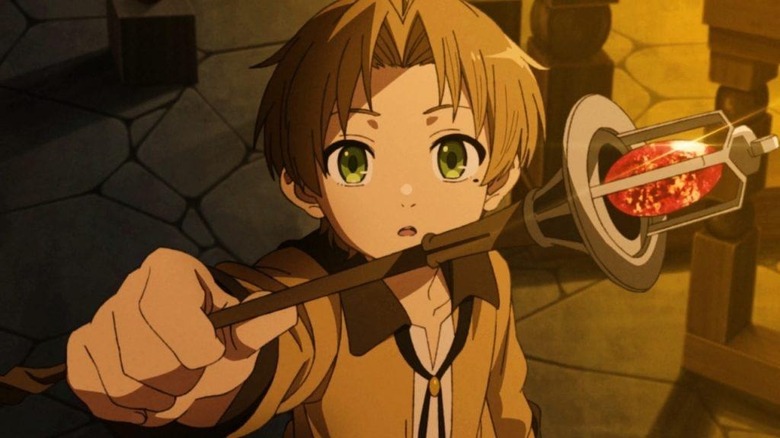 Studio Bind
The final episode of "Jobless Reincarnation's" first cour concluded with a moral lesson for Rudeus, who has been stranded on the Demon Continent with his older cousin/student, Eris. So far, the fact that he has an adult's mind in a child's body has worked to his benefit. But he gets a bit overconfident, and his plans to earn money and recognition by adventuring go south. He has also struggled to cooperate with his newest party member, Ruijerd, whose blunt mannerisms and strong moral compass is often at odds with Rudeus' plans. However, the two manage to patch things up and continue working together to accomplish their goals.
Meanwhile, Rudeus' magic teacher, Roxy, has learned that Rudeus is stranded on the demon continent. A demon herself, she links up with some ex-adventuring partners of Rudeus' parents and ventures out to rescue her pupil. Furthermore, nobody knows who is responsible for the magical anomaly that sent them there. All we know is that Rudy isn't the only one who got transported.
The mystery behind the anomaly, as well as if Roxy will meet up with Rudeus, are two dangling threads that "Jobless Reincarnation" will likely answer as its second cour releases. The show could also address Ghislaine's whereabouts. Fans can expect to see much more of "Jobless Reincarnation," as the anime has only adapted three of the original novel's 25 volumes.