The Movie Like They Live That Sci-Fi Thriller Fans Need To See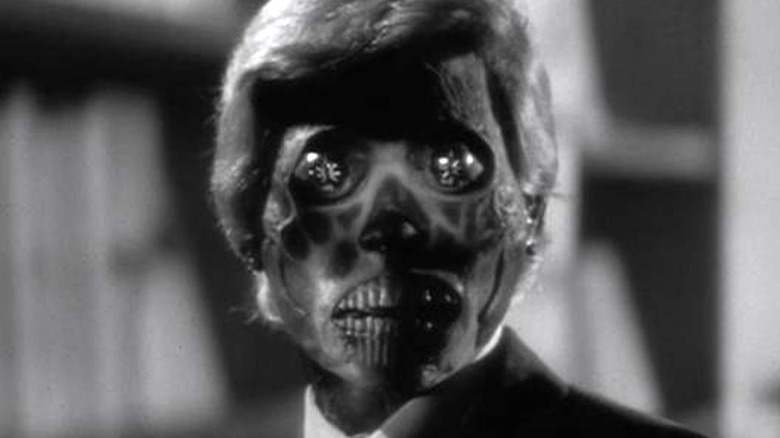 Universal Pictures
John Carpenter is one of horror's great auteurs. He brings a unique vision (and soundtrack) to everything he touches — from Lovecraftian horror ("In the Mouth of Madness"), to classic slashers ("Halloween"), to Hong Kong action ("Big Trouble in Little China"). You always know a movie is John Carpenter's, not in the least because Kurt Russell is usually there.
One of Carpenter's best non-Russell movies is the sci-fi dystopia "They Live." Starring wrestling legend Rowdy Roddy Piper and "Voice of the Marines" Keith David, the film is a take on our consumerist society and subliminal messages in media. Though "They Live" was originally panned, critics have come to praise the movie for its political stance and stark visuals. Rolling Stone called it a subversive masterpiece, the film inspired the work of graffiti artist Shepard Fairey (per Wired), and the absurdly long fight scene between Piper and David was remade shot-for-shot by "South Park." The fight utilized Piper's background in pro wrestling, and David even credited Piper with teaching him how to sell a punch: "He teaches me about this stuff, reactions, when you get punched and when you get hurt," he said.
The Stuff is another creepy '80s consumerism send-up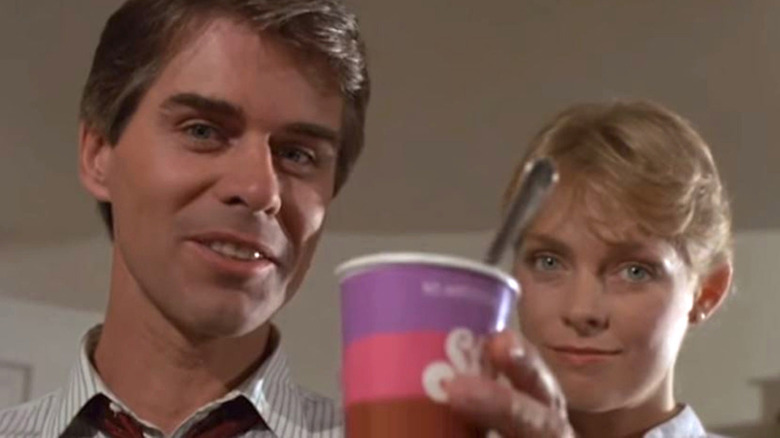 New World Pictures
Fans of "They Live" should absolutely check out "The Stuff." Written and directed by genre auteur Larry Cohen ("Phone Booth," "It's Alive," and "Bone"), "The Stuff" is another sci-fi fable about American consumerism. An alien substance is discovered and turned into a dessert by corrupt food execs. Named The Stuff, the substance is sweet and filling. It's also an alien parasite that turns people into zombies. But hey, zero calories!
"The Stuff" stars frequent Cohen collaborator Michael Moriarty. Moriarty is perhaps best known as the DA on the original "Law & Order," who was eventually replaced by Sam Waterston's Jack McCoy. The film also features performances from original Not Ready for Primetime Player Garrett Morris, Paul Sorvino ("Goodfellas"), and Danny Aiello ("The Godfather Part II"). Mira Sorvino, Paul's daughter, makes an uncredited cameo. She told the AV Club that she can be seen as "one of the drones that had already been converted by the evil Stuff." If you've ever side-eyed a triple stuffed Oreo, "The Stuff" is the film for you.