The Disney Game That The Seller Wanted Big Money For On Pawn Stars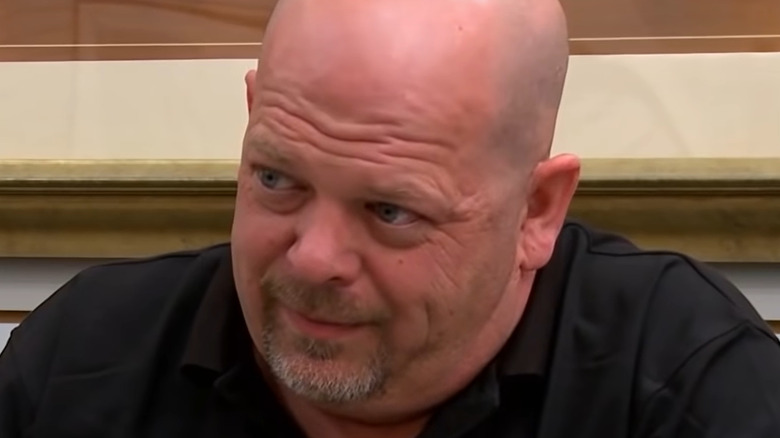 History Channel
Disneyland, the self-professed happiest place on Earth, has been around so long that most people can't imagine a world without it. But prior to 1955, the concept for a Disney-based theme park was nothing more than an idea in Walt Disney's head. However, thanks to some creativity, ingenuity, and the $17 million dollars it cost to make, Disneyland became a reality.
As you may have surmised by being a living, breathing Earth human, Disney merchandise is very popular. And this was true back in the 1950s as well. Disneyland marked the occasion of its opening in part by selling things — pennants, snack trays, pencil sets, and all sorts of other items to celebrate the new venture and help counterbalance the millions of dollars spent getting the theme park off the ground.
One interesting piece of memorabilia from the opening of Disneyland comes courtesy of Rand McNally (yes, the people who make maps) and our friends from "Pawn Stars." The item in question is a toy called Disneyland Game – A World In Itself, a ten-inch tin litho globe based on the attractions of the park, including Tomorrowland, Frontierland, and a host of other attractions that still exist in the park to this day. The game was sold before Disneyland even opened and originally came with a number of cardboard character pieces with magnetic bottoms. 
When a seller arrives at Rick Harrison's World Famous Gold & Silver Pawn Shop with one of these classic original souvenirs in tow, he wants a lot of money for it. But is the piece worth it?
How much to own the (Disney) world?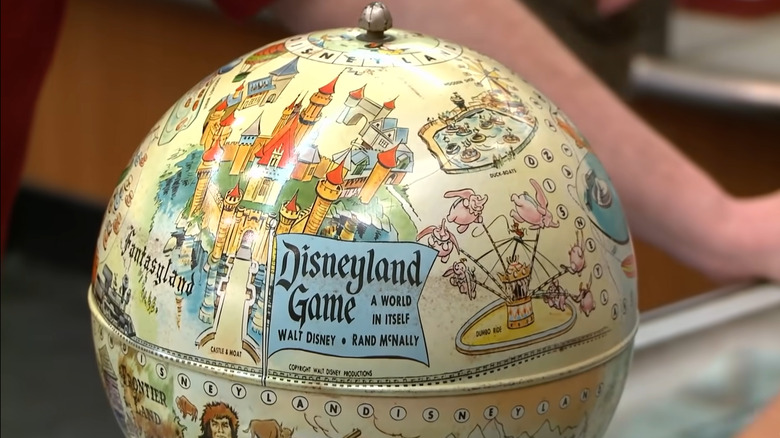 History Channel
Going in, there's a lot of promise for how much Disneyland Game – A World in Itself could be worth. It's a toy that technically existed prior to Disneyland itself, and it features many facets that would come to be synonymous with the park, such as the teacup ride, Pinocchio's Whale, and the iconic Disney castle. And, of course, it's a Disney product — and the pull of Disney always has an impact on what people are willing to pay for that hit of nostalgia.
However, there are a couple of hiccups with the piece our collector brought in to the gang of "Pawn Stars." First of all, the piece includes only the globe, meaning none of those cardboard game pieces with the magnetic bottoms are included. (Other games are available that do still have them). Secondly, there's some general scuffing across the globe itself, including a dent that the potential seller admits happened on his watch.
But the biggest issue is how much the seller wants — $3,500. The reason for the cost, according to the seller, is that there are only three globes like this one in existence. Disney is very popular, but is this item popular enough to warrant such a high price tag? The short answer is "no."
As happens on "Pawn Stars," a specialist is called in. In this case, it's Johnny from Toy Shack in Las Vegas who surmises a few things, including the damage and the missing pieces. The biggest takeaway, however, is that there are more than three of these globes in existence. Johnny's belief is that a piece like this would sell for $400-500. Unsurprisingly, the seller turns an offer down of $350. But the final question is whether the piece actually is worth more than Johnny thinks.
Did that Disney globe deserve better?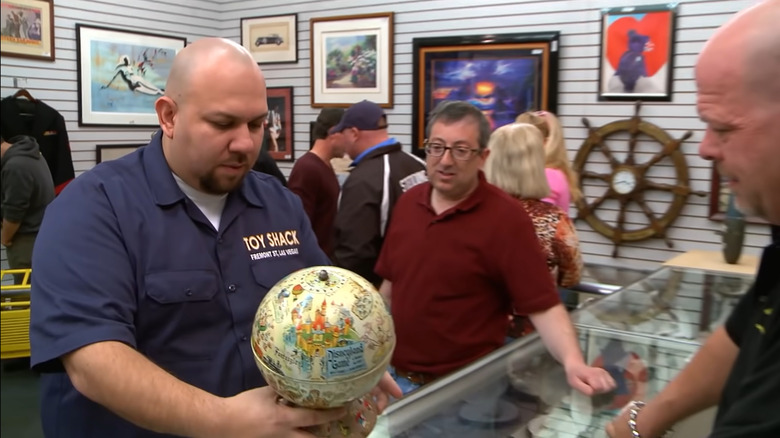 History Channel
Before the seller turned down the "Pawn Stars" offer of $350, he said he paid about three times that. We're talking about spending over $1,000 on a toy globe, which isn't a small amount of change. So, let's dig a little deeper and see what we can find in past online auctions. Is the Disneyland Game – A World in Itself worth more than $500 anywhere that we can see?
The short answer, once again, is "no." EBay has one for sale with a "buy it now" value of $299.95. Another globe was sold on Barnebys, and, although we can't see the closing price, the estimated value listed on their site is $200-$300. The highest value code we were able to find as of publication was on Hake's Auctions' website where a globe with its original box and two of the original cardboard figures was valued at $400-$700.
The simple truth is that this piece of Disney history isn't as rare as the seller on "Pawn Stars" thought it was. If there were only three left, that might be a different story. Unfortunately, as long as there are multiple listings easily googled for Disneyland Game – A World in Itself, it's simply not going to be worth thousands of dollars.