This Is Where Family Feud Is Filmed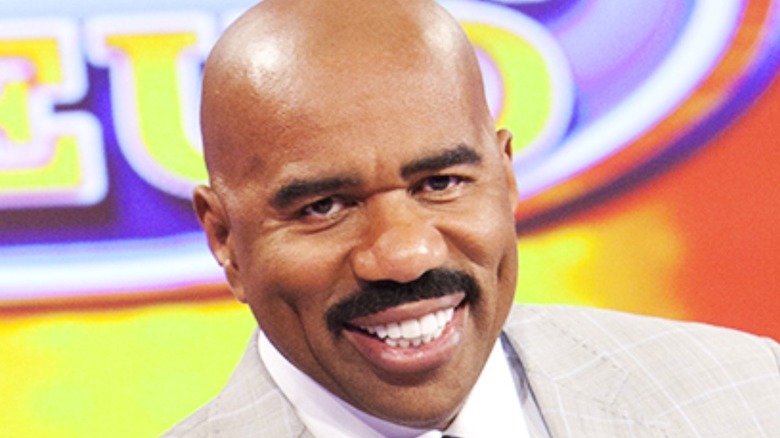 CBS
"Family Feud" has long been one of the world's most popular game shows. The franchise has adaptions from all over the globe, including the Netherlands, Russia, Thailand, Germany, the Philippines, and other countries. The competition has been airing on television since 1976, when "The Match Game" creator Mark Goodson brought the game show concept to ABC. Decades later, the show's popularity has endured.
According to Nielsen National Syndication Rankings, "Family Feud" was the No. 1 show in syndication for the second quarter of 2020, a period where television ratings were heavily impacted due to the COVID-19 pandemic, via The Wrap.
After having to shut down production during the pandemic, the show has since resumed production. For the time being, show hopefuls are auditioning via Zoom. With any luck, the show will soon bring back live studio audiences as well. If you're looking to attend a live taping with host Steve Harvey, we've got details on where "Family Feud" is filmed.
Family Feud is being filmed in the Atlanta area
Deadline was first to report that "Family Feud" had resumed production in the summer of 2020. Earlier episodes for the season were filmed in Los Angeles behind closed doors. Beginning in August, filming was split between the studios in Atlanta and Los Angeles. Strict protocols were put in place to resume filming, including plexiglass partitions and social distancing between Harvey and the contestants.
Georgia casting company ProjectCasting announced this May that casting for the show had just resumed. Their casting notice detailed work dates, COVID testing protocols, and rates, and listed the filming location as Trilith Studios — an expansive backlot located near the Hartsfield-Jackson Atlanta airport. Harvey, who has hosted the show since 2010, making him the longest-running host so far (via Gossip Cop), purchased an Atlanta home in 2020. The $15 million home was previously owned by Tyler Perry and sits along the Chattahoochee River, according to The Oklahoman. With 17 acres to worry about, we don't blame Harvey if he wants his job to remain close to home.