Every Friends Ex Ranked Worst To Best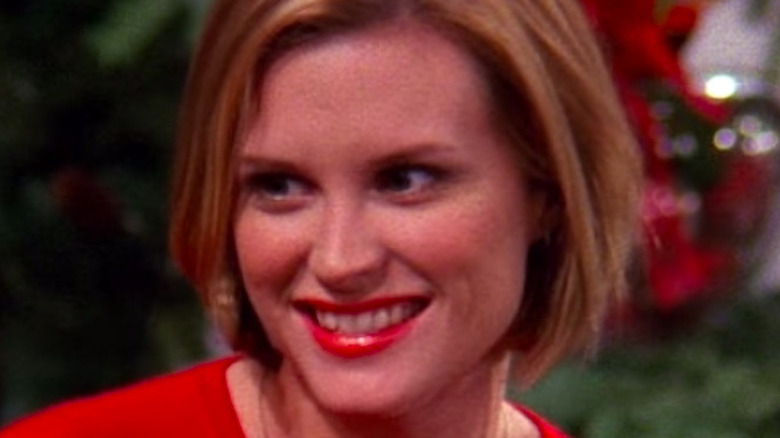 For 10 satisfying seasons, fans watch the six main characters of "Friends" engage in a whole lot of relationships. The show is basically centered around their love lives, and each individual character has a very meaningful relationship or two over the years, some of which are very difficult to watch come to an end. Even though all of the friends — minus Joey Tribbiani (Matt LeBlanc) — enjoy solid romantic finales, there are plenty of other outcomes for each of them that fans probably could have been happy with. In fact, it's impossible not to ponder what might have been, had things gone differently — and boy, are there a lot of options to choose from.
After a while, every "Friends" fan finds themselves considering how these many romantic partners stack up against each other. That's why we're here to rank every single significant "Friends" ex, from the absolute worst to the swoon-worthy best. The ones we love to hate, the ones we want to last, and the ones who never stood a chance — they're all in here.
Please note: We're not going to talk about one-episode romances here. These flings are never meant to be taken seriously, so we have not included them on our list.
17. Barry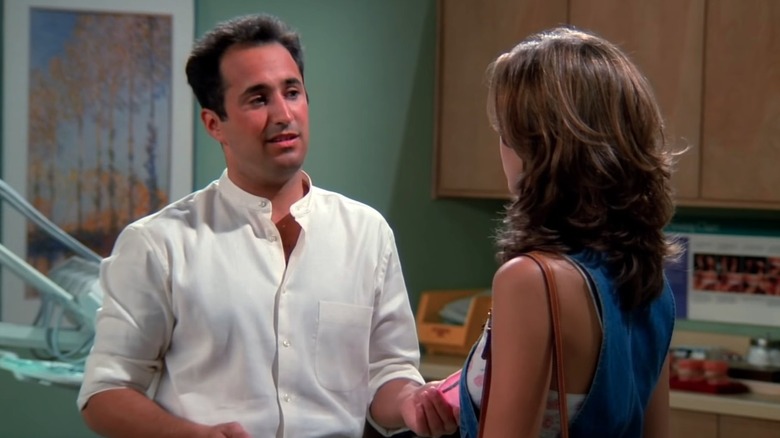 NBC
Exes just don't get any worse than Barry (Mitchell Whitfield). We meet the orthodontist in Season 1 of "Friends" after learning Rachel (Jennifer Aniston) has left him at the altar. While we feel bad for Barry at first, we eventually find out that he actually cheated on Rachel with her best friend Mindy. Two years later, Barry and Mindy get engaged, and, being the slimeball he is, he cheats on his now-fiancé with Rachel. That doesn't bother Mindy, however, who decides to marry Barry anyway. Rachel even serves as Mindy's maid of honor.
Rachel ends up being absolutely humiliated at the wedding, however, thanks to Barry and his parents. Barry makes a terrible joke at Rachel's expense in front of all the guests, while his parents tell everyone she's gone crazy from syphilis. Also, let's not forget that we find out in Season 9 that Barry used to make out with Rachel's sister, Amy (Christina Applegate), while they were dating. 
16. Kathy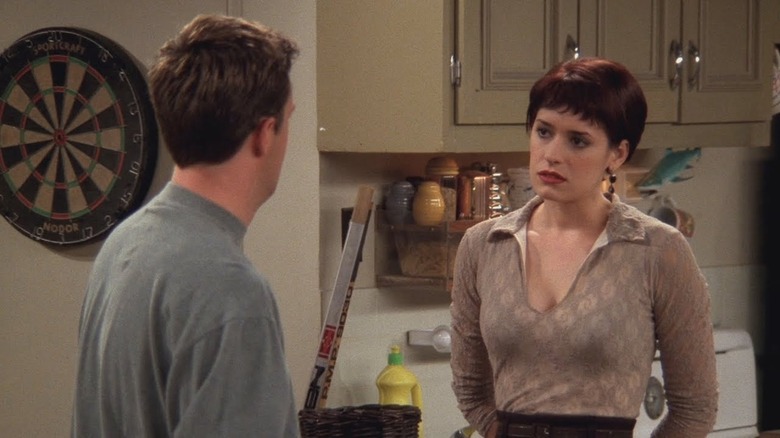 NBC
If we're being quite frank, Kathy (Paget Brewster) does not receive as much animosity from the "Friends" fandom as she deserves. She cheats on two of the main cast members — something no one else does in the entire series — and she almost decimates one of the strongest bonds on the show. Joey begins dating Kathy first in Season 4, and Chandler (Matthew Perry) is instantly head-over-heels for her. After realizing she has feelings for Chandler, Kathy cheats on Joey by sharing a passionate kiss with his best friend. Chandler eventually confesses to the transgression, and he and Joey come to a dire point in their relationship.
Joey is somehow able to overcome his girlfriend cheating on him with his best friend, and supports Kathy and Chandler's new relationship. But Kathy isn't done cheating: She ends up sleeping with a theater colleague of hers, putting a knife directly into Chandler's heart. As the old saying goes, how you get them is how you'll lose them. Kathy is pure proof.
15. Paolo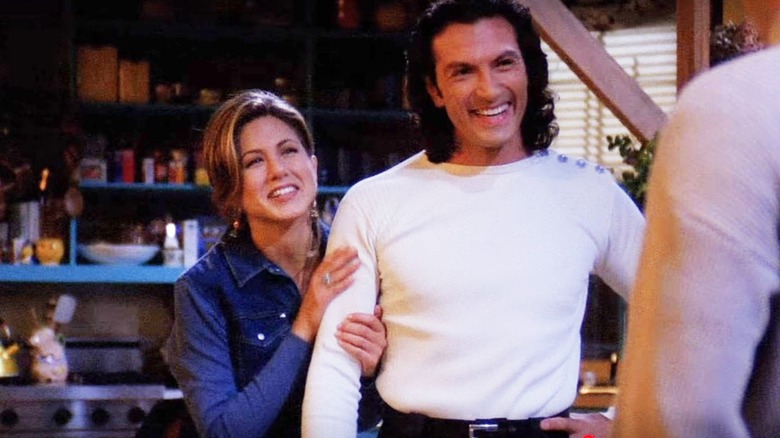 NBC
Rachel really knows how to pick 'em, doesn't she? In Season 1, Episode 7, "The One With the Blackout," we are introduced to Paolo (Cosimo Fusco), an attractive Italian neighbor. Rachel and Paolo meet after she discovers his lost cat. She brings Paolo back to meet all of her friends, much to the dismay of Ross (David Schwimmer).
Paolo appears in three episodes throughout Season 1, where he mostly serves as Rachel's hookup buddy. In Episode 12, "The One with the Dozen Lasagnas," Paolo makes a pass at Phoebe (Lisa Kudrow) while she gives him a massage, which ultimately leads to his breakup with Rachel. He does appear for one more episode in Season 2, after Rachel seeks him out for a one-night stand upon finding out Ross has a new girlfriend. Paolo is easily the grossest ex of the bunch, and his blatant disregard for Rachel's feelings puts him rightfully toward the bottom of our list.
14. Janine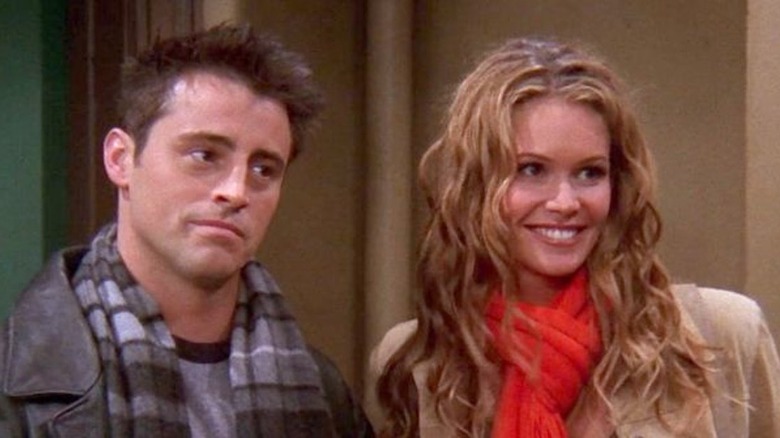 NBC
Most of Joey's exes are one-offs, but he has a lengthier relationship in Season 6 with his new roommate, Janine (Elle Macpherson). Right off the bat, Janine redecorates the entire apartment, making it ultra-girly. She is also not a fan of Monica (Courteney Cox) and Chandler. Anyone who isn't going to gel with Joey's closest friends has no future with him, which ultimately leads to this couple's downfall. 
It's definitely a treat to see Joey get rejected by Janine at first. But when they eventually get together, it just isn't very believable. This could be due to the fact that Macpherson is a subpar actress, rendering a lot of their one-on-one scenes a little cringey. Fans aren't too keen on Janine either, as proven by a very popular thread on the "Friends" subreddit. Here, longtime viewers of the show debated some of the series' most annoying side characters, and over 440 fans upvoted Janine as one of the worst of all time.
13. Elizabeth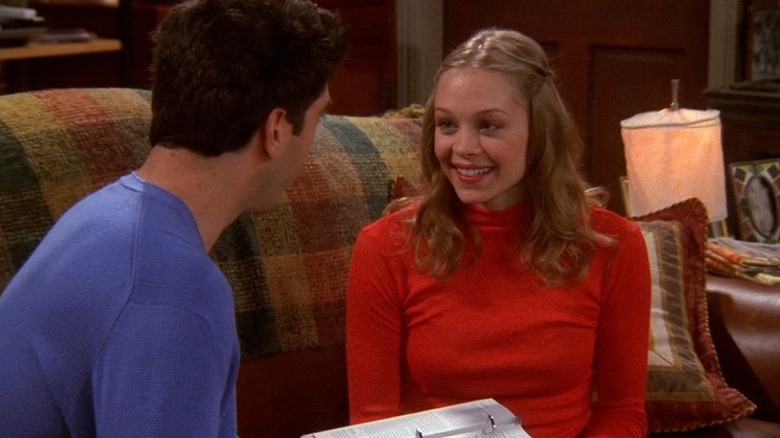 NBC
One of the most inappropriate relationships we see on "Friends" is the one between Ross and his student Elizabeth (Alexandra Holden). Despite knowing that it's against the rules for them to be together, they stay a couple and hide their relationship from Ross' superiors and co-workers. In a bizarre plot twist, Elizabeth's father Paul (Bruce Willis) also enters the picture and begins dating Rachel.
While Elizabeth is a nice enough girl, she's just too young for Ross. They're at irreconcilably different places in their lives. No one roots for them to succeed, especially not Ross' friends — they do nothing but crack jokes about Ross and Elizabeth's age difference. One of the only good things to come out of their coupling is Ross' appearance on "MTV Spring Break," when he crashes Elizabeth's vacation and dances like a total moron on television.
12. Mona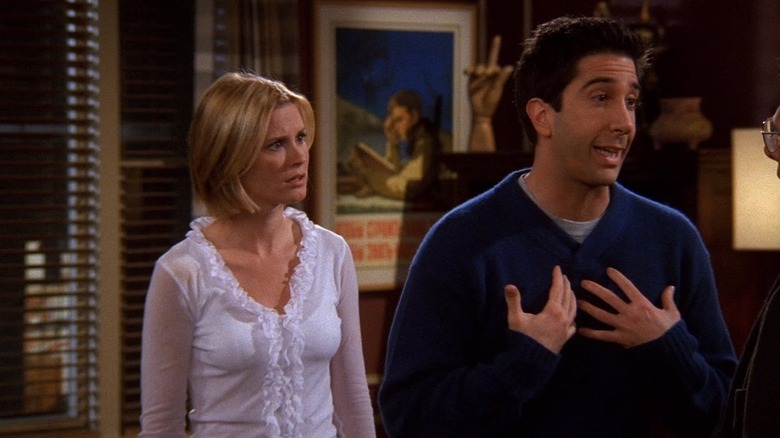 NBC
We first meet Mona (Bonnie Somerville) in the Season 8 premiere, "The One After 'I Do,'" during Monica and Chandler's wedding reception. There is an immediate attraction between Mona and Ross, although it looks like Joey is going to sweep in at one point. The two begin dating shortly after, and surprisingly enough, Mona is very supportive of Ross and Rachel having their baby together. At times, Mona does draw a line if she feels the duo are getting too close, especially when Rachel moves into Ross' apartment without her knowing.
Mona is actually very nice, and one of the more level-headed exes we see throughout 10 seasons of "Friends." The reason we've put her so low on our list is solely based on the fact that she's just a bit "blah." She mostly acts as a force that keeps Ross and Rachel from getting together, during a time when they should be recoupled. It also should be mentioned that Mona suggests sending out a holiday card with Ross after they've only been dating for a few months. Let's be honest, that's pretty insane.
11. Gary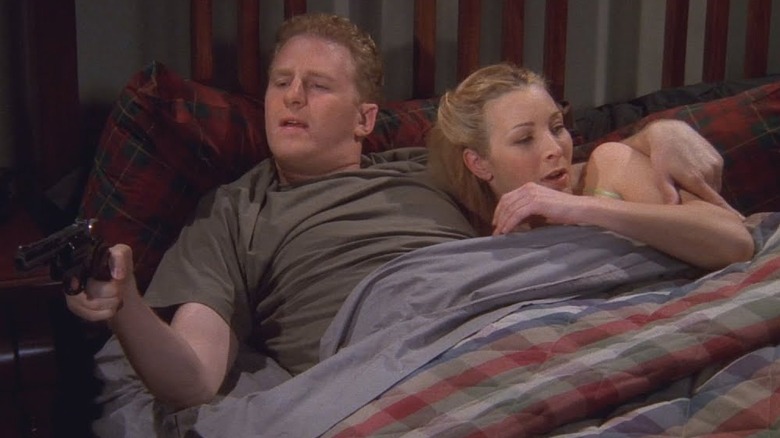 NBC
One of the most serious relationships we see Phoebe in is with police officer Gary (Michael Rapaport), a coupling that happens in Season 5. The pair are together for the span of four episodes, and seem to be over the moon for one another. This makes Monica insanely jealous, since she's fallen out of the honeymoon phase with Chandler. Things get super serious between the duo when Gary asks Phoebe to move in with him.
Phoebe is extremely hesitant about moving in with Gary at first, as it's a major step and totally out of the ordinary for her. Eventually, she gives in and decides to move into Gary's apartment. Everything is hunky-dory as they wake up together on their first morning. While they're in the middle of a conversation about how happy they are, Gary pulls a handgun out of his nightstand and shoots a bird just outside the window. Naturally, the relationship is instantly over as Gary is clearly someone Phoebe can't be with. He does treat Phoebe remarkably well, but he lands low on the list for blowing Tweety's head off.
10. Charlie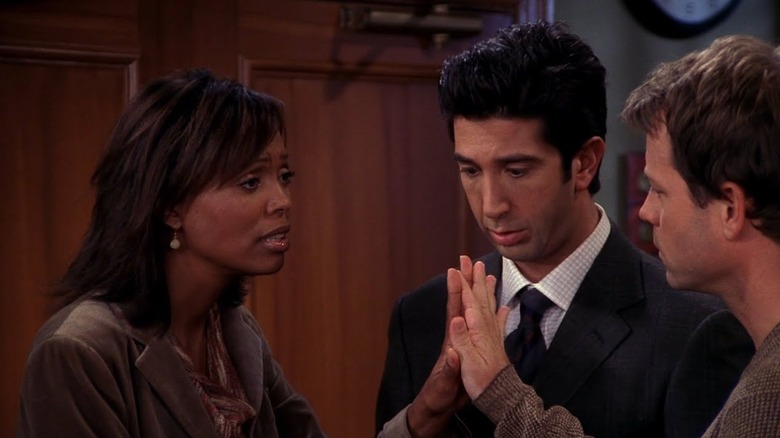 NBC/YouTube
Charlie (Aisha Tyler) is a "Friends" ex who has a relationship with more than one main character. First striking up a romance with Joey, Charlie eventually finds herself falling for Ross, as they have more in common. This turns out to not be such a big deal for Joey, who falls into a relationship with Rachel shortly after. In terms of all the "Friends" exes, Charlie is a bit ho-hum, which lands her in the middle of our list. She's nice, funny, intelligent, and beautiful, but she's definitely not a fan-favorite and doesn't leave her mark on the series as some others do.
Some Redditors have pointed out that Charlie doesn't have great chemistry with Joey or Ross, which makes her relationships with them less believable. This doesn't apply to just Charlie, however, as users on this popular thread also discussed Janine's lack of chemistry with Joey. Things don't pan out for Ross and Charlie, as she goes running back to her ex, Benjamin (Greg Kinnear). Despite only having a few scenes together, those two actually do have quite nice chemistry.
9. Emily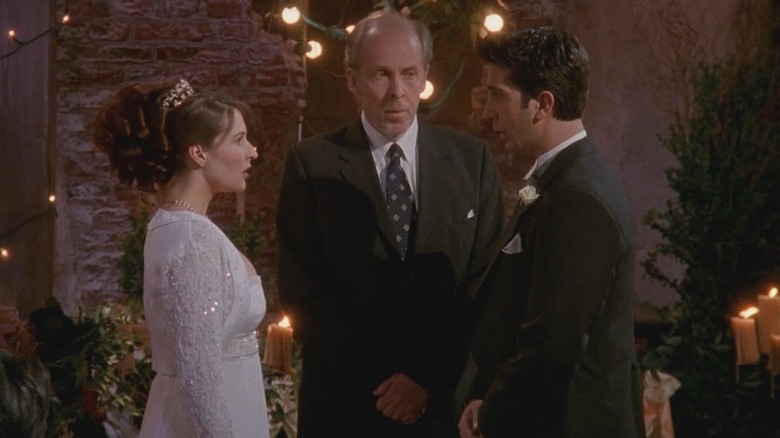 NBC/YouTube
The "Friends" fandom has not been shy about showing its dislike for Emily (Helen Baxendale). In the middle of Season 4, she and Ross begin dating and fall in love rather quickly. The duo ends up getting engaged after knowing each other for only six weeks, and a prompt London wedding follows. As we all know, Ross says Rachel's name at the altar, but Emily agrees to continue on with the ceremony and the two are legally married.
Really, the fact that Emily gets such hate to this day is ridiculous. If you put yourself in her shoes, you'd probably do all the same things that she does. If your partner said someone else's name at the altar, then continued to hang out with said person after the fact, that would probably irritate you just as much as it does Emily. Emily's response to the whole situation, and her demands afterward, are pretty justified. She's a nice woman who goes out on a limb for a man she falls in love with, yet she's the one who gets obliterated. "Friends" fandom should at least be honest with itself and admit that Emily gets hate because she gets in the way of Ross and Rachel being together, not because she's some irrational jerk.
8. Julie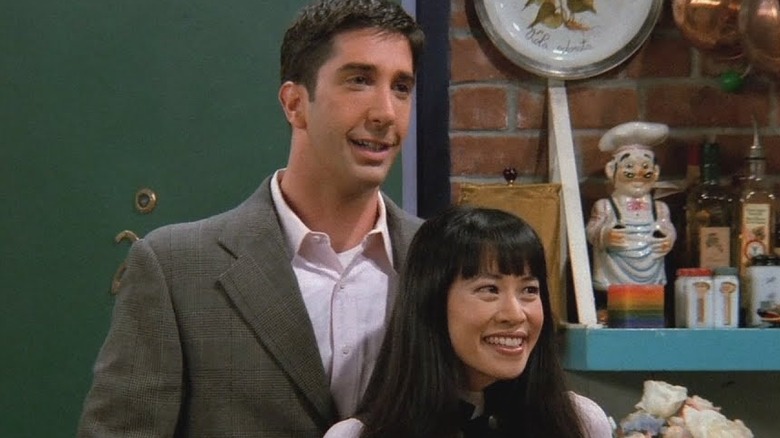 NBC/YouTube
Julie (Lauren Tom) is another not-too-bad-not-too-great ex on "Friends," who prevents Ross and Rachel from getting together at the very end of Season 1. After Rachel finally finds out Ross' true feelings for her, she goes to meet him at the airport to surprise him. What should be a wonderful romantic moment is ruined by the introduction of Julie, which sends Rachel's world crashing down. Ross and Julie know each other from grad school and are reunited in China, where Ross is sent to procure a newly discovered dinosaur bone.
Ross and Julie are together for several episodes in Season 2. Ross really seems like he falls hard for Julie, despite the fact that he's been in love with Rachel for so many years. If Rachel didn't eventually confess her love for Ross, it's likely he and Julie would have stuck together for a long time. Thankfully, we know Julie ends up finding new love after she's dumped by Ross — in his doppelgänger Russ, once dated by Rachel.
7. Bonnie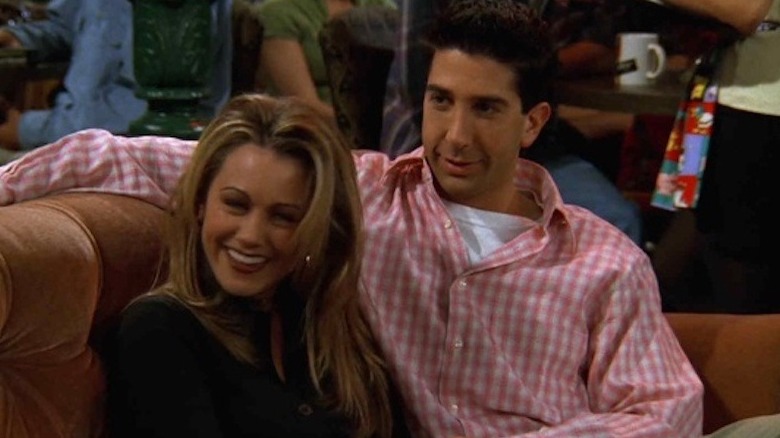 NBC
It's easy for Ross to fall for Bonnie (Christine Taylor) in Season 3. It's easy for viewers to fall for her as well — she's gorgeous, funny, and adventurous. This formerly bald friend of Phoebe's is one of Ross' shorter relationships, but she makes a lasting impression. The pair are all over each other all the time, making for some hilarious comments from Rachel (albeit under her breath). Bonnie is a breath of fresh air for fans of the show, being so unproblematic. No wonder the gang — minus Rachel — welcome her with open arms.
Joining the gang at Phoebe's client's beach house for two very memorable episodes, Bonnie ends up shaving her head again, thanks to some encouragement from Rachel. When Ross approaches his ex about helping Bonnie shave her head, Rachel admits that she still has feelings for him. This brings about the end of Ross and Bonnie as he chooses to pursue things again with Rachel, and the 18-page letter is born.
6. Joshua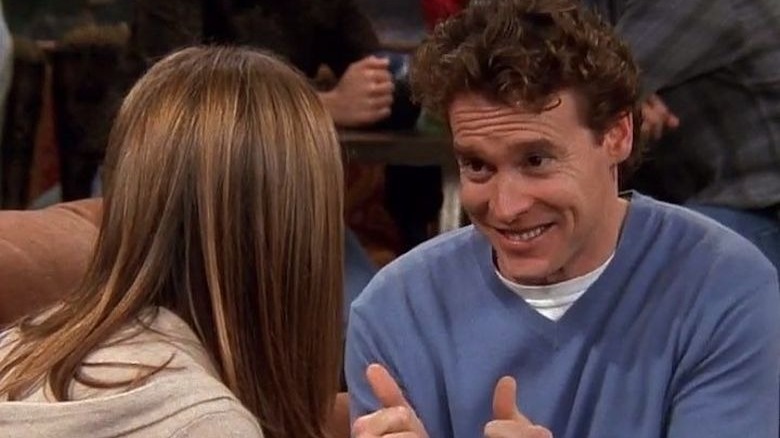 NBC
Rachel develops quite the crush on Joshua (Tate Donovan) in Season 4, when the two are both on the rebound from serious relationships. After being assigned to be his personal shopper, Rachel and Joshua start dating and really hit it off. He's a refreshing partner for Rachel after some of the dummies she's dated in the past, including Barry, Paolo, and Josh, the college bro she hooks up with to get back at Ross in early Season 4.
Yep, Joshua and Rachel have something pretty special. But it ends up going down the tubes, thanks to a too-early proposal from the latter party. After Emily and Ross get engaged, Rachel goes a little loco and decides to bring up the idea of marriage to Joshua. Understandably, he freaks out, and their relationship promptly ends. Joshua ends up having second thoughts and goes back to Rachel's apartment to talk, but she answers the door in a wedding gown while messing around with Phoebe and Monica. Needless to say, that's the end of the Joshua and Rachel romance.
5. Carol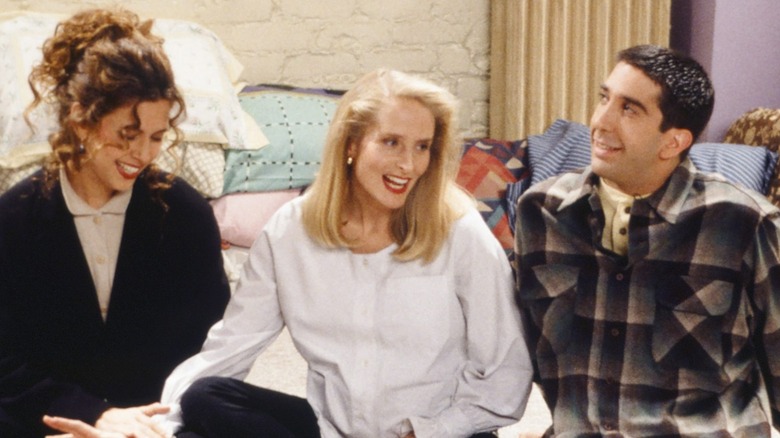 NBC
The very first ex we meet on "Friends" is Carol (Anita Baron/Jane Sibbett), Ross' pregnant ex-wife who also happens to be a lesbian. Carol is so easy to love, it's no wonder Ross fell for her so many years ago. Throughout seven seasons — she doesn't appear in Seasons 8, 9, or 10 — we see Carol put Ross in check many times, always acting as the voice of reason, especially when he's having issues with Rachel. She and Ross prove that you can move on and have a healthy relationship with an ex, especially when you're co-parenting. There's still much love and respect between the two of them: Ross even walks Carol down the aisle at her second wedding to Susan (Jessica Hecht).
Carol is also very well-liked and respected by Ross' friends, which makes all of her appearances over the years very natural. We would rank Carol higher on our list if she hadn't cheated on Ross with Susan while they were still married, even though it's never explicitly stated.
4. David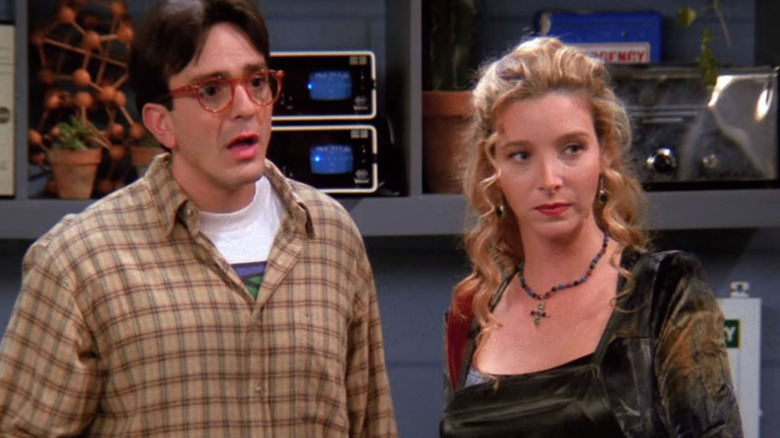 NBC
There's something very special about David (Hank Azaria) the scientist. Despite only appearing in five episodes, David leaves Phoebe and the viewers feeling warm and fuzzy, as their relationship is uniquely authentic and pure. It always sort of looks like Phoebe is going to end up with David in the long run, until another charming son-of-a-gun named Mike (Paul Rudd) makes his way into her life in Season 8.
As it turns out, Phoebe was going to end up with David, but Rudd was so lovable that the plan changed. Azaria told The Huffington Post in 2016 that the show's original intention was to bring David back to be with Phoebe. "I think, honestly, what happened was Paul Rudd is so awesome that they sort of found a groove with him and [my character] became more of just the grist for that mill, as opposed to the other way around," he told the outlet. Despite how things pan out, David will always be remembered as one of the great "Friends" exes.
3. Pete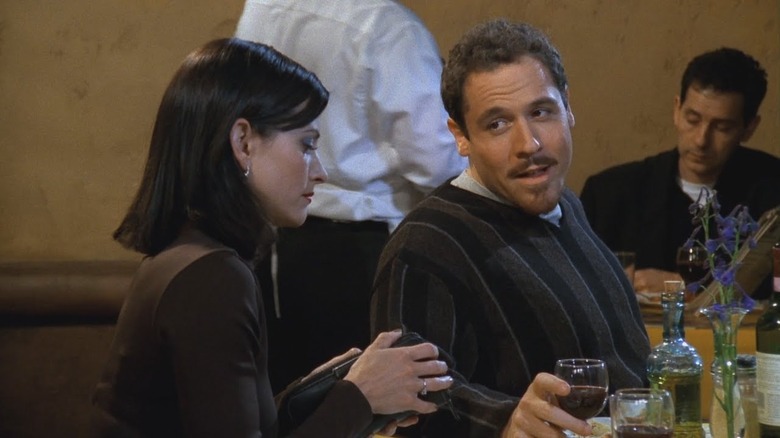 NBC/YouTube
It's hard not to love Jon Favreau, therefore it is impossible not to fall for Pete. Favreau is now one of the biggest movie directors in the world, but during his stint in Season 3, he was still a relatively unknown name in the business. Pete is an admirer of Monica's while she's working at the Moondance Diner, but she isn't too sure about him at first. After agreeing to go out with Pete, she still has reservations, since she isn't attracted to him at all. After they share a kiss, however, she falls head over heels, and even contemplates marrying him when she thinks he's going to propose.
But Pete has other ideas: He wants to become the Ultimate Fighting Champion. Not being the world's best fighter, however, Pete routinely gets his butt handed to him in the octagon. This is too much for Monica to bear, so the duo calls it quits. It's truly an unfortunate circumstance, since Pete and Monica make such a great couple. He's charming, funny, rich, and charismatic, and viewers of the show absolutely love him.
2. Janice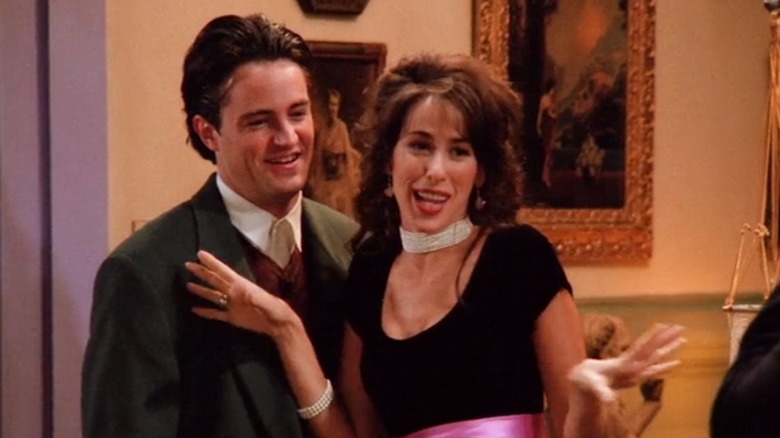 NBC
Janice (Maggie Wheeler) is one of the greatest sitcom supporting characters of all time. She's Chandler's longtime on-again-off-again girlfriend, appearing in 19 episodes throughout all 10 seasons. She's over-the-top, rather obnoxious, and annoying, but the good in Janice definitely outweighs the bad. Her no-nonsense attitude often puts Chandler in check, and she is never anyone but her authentic self.
Even in the episodes where Janice and Chandler aren't together and she just happens to pop up out of nowhere, she offers words of wisdom and calms her ex when he's in a nervous state. A great example of this happens in Season 9, when she runs into Chandler and Monica at a fertility clinic and tells them that they're meant to have children and everything is going to be just fine.
Chandler and Janice even get a nice end to their never-ending story in Season 10, when they run into each other while house-hunting on Long Island. In an effort to get her to look in a different neighborhood or city, Chandler admits to Janice that he still wants her, which makes her decide to not put an offer on the house next door to the one Monica and Chandler want. She gives her ex one last kiss on the lips, and departs from his life with a final utterance: "Goodbye, Chandler Bing."
1. Richard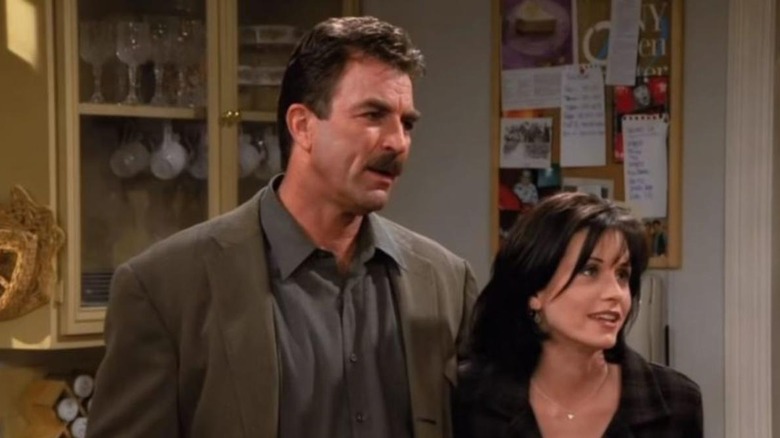 NBC
No one else could top a list of "Friends" exes. Tom Selleck portrayed Richard, one of the great loves of Monica's life, for four seasons, appearing in nine episodes in total. The pair fall for each other after Monica caters an event Richard hosts in his apartment. Their love affair can't be stopped, despite their drastic age difference — or the fact that Richard is a friend of her father, Jack (Elliott Gould).
The love between these two is real and deep, and probably the strongest bond outside the three couples who end the show together. Richard is intelligent, funny, handsome, and dedicated. Even after he and Monica split in Season 3, due to him not wanting to have children, he knows he can't live without her. Ultimately, he changes his outlook and tries to win her back in Season 6. Monica contemplates the opportunity for a moment, but ultimately says yes to Chandler, who proposes to her in the season finale, "The One with the Proposal."
Despite not appearing in Season 7 and beyond, Richard is still mentioned on numerous occasions as the show plays out. This often happens when Chandler wants to poke at Monica over something, even suggesting that she has him hiding in one of her locked closets. Exes just don't get better than Richard.