The AHS: Murder House Actress Who Had To Re-Audition For Roanoke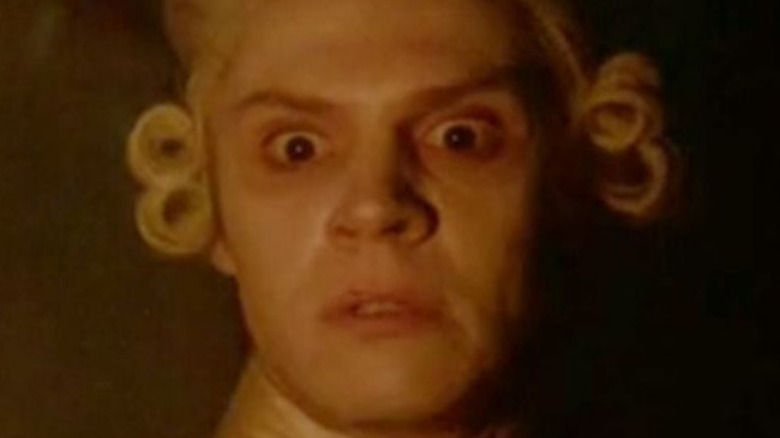 FX
As fans of "American Horror Story" are aware, the acclaimed anthology series recycles cast members throughout each season. It seems "AHS" creator Ryan Murphy has a fondness for certain actors and utilizes their talents to play different roles. For instance, in eight of the show's nine seasons, audiences watched Sarah Paulson show off her signature sob while portraying distinct characters who all happened to find themselves in horrifying circumstances. However, appearing on one season of "American Horror Story" does not guarantee that an actor will have a recurring role in future "AHS" installments. 
According to an interview with the Motion Picture Association, one actor who had a guest appearance in "American Horror Story" Season 1 — affectionately referred to as "Murder House" — had to re-audition in order to become a part of the cast for the FX anthology horror series' sixth season, "American Horror Story: Roanoke."
Adina Porter discussed having to audition for Roanoke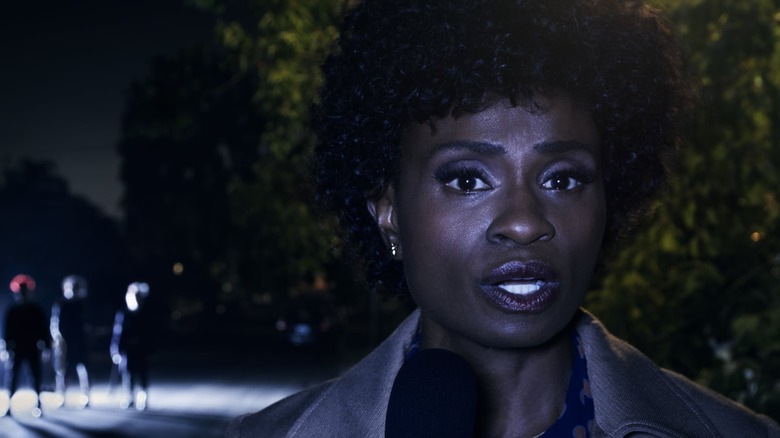 FX
While speaking to The Credits in August 2018, Adina Porter discussed the audition process for "Roanoke." She explained that she received limited information about the script and "had to sign an NDA." She also revealed she was aware that Ryan Murphy liked to rehire cartain cast members. "I know about Ryan's tendency to use the same actors, so I wanted to do a good enough job to be invited back," Porter said. "I was told they liked my audition, but he went back to look at what I did back in 2011 to see if he still liked that, and he did. I didn't hear from them for about close to a month, then it was right away, you're working tomorrow on 'AHS.'"
In Season 6, Porter portrayed Lee Harris, a disgraced cop who survives several harrowing events. The show's producers were impressed by her performance and offered her the role of Beverly Hope, a crazed newscaster in "American Horror Story: Cult"; she ended up snagging an Emmy nomination for her portrayal of the murderous journalist. Porter explained that her co-star offered her words of wisdom following her nomination. "Sarah Paulson told me to have fun. Your life's not going to change, it's not like all of a sudden everything comes rolling in. You've still got to prove yourself," said Porter.
Adina Porter has spoken about wanting to impress Sarah Paulson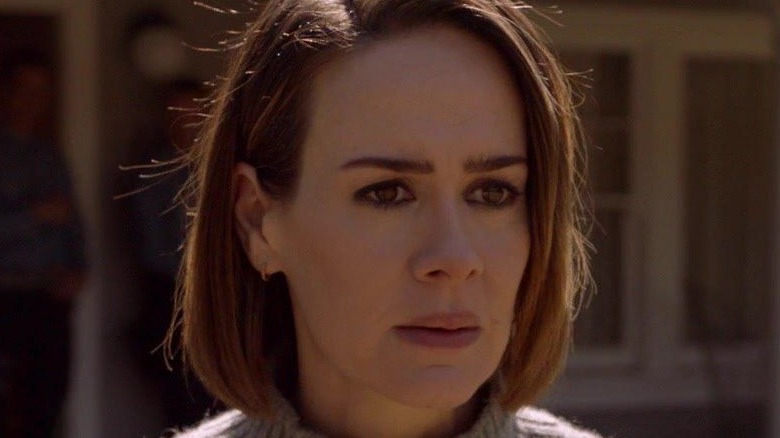 FX
In a 2017 interview with the "Allegedly Podcast," Adina Porter revealed that she made an effort to impress both Ryan Murphy and Sarah Paulson to secure her spot on "American Horror Story." She explained that "if you are in the Ryan Murphy club and also Sarah Paulson appreciates what you have to do then you're good." She clarified that Paulson does not control the show's casting, but she feels the need to give her best performance when working with the Emmy-winning actress.
"She knows what she's doing and so, you know, you gotta bring it. You gotta bring it. If you don't bring it and you have scenes with her, you know, she doesn't want to be bored, so make sure you bring it... She's very, very kind but when she gave me a compliment, I thought, 'okay I'm doing well' and I just want to keep that up," Porter said.
According to Digital Spy, both Paulson and Porter will have major roles in "American Horror Story" season 10.