Friends: The Reunion Trailer Is Making Fans Feel All The Feels
Ever since the "Friends" reunion special was hinted at, announced, postponed, and finally confirmed, fans have been waiting to see what it would look like. We knew it wouldn't be a new episode or a movie (alas), so what exactly did HBO have in mind? And would the famously high-brow network be able to pull off a special episode about one of the most popular sitcoms in TV history, over 15 years since it went on a break?
The first hint of an answer to those questions made its way to us when the trailer for the reunion episode was released on May 19, 2021. "Friends" fans around the internet put down their ridiculously large coffee mugs and sunk into their BarcaLoungers to get their first glimpse of the special, scheduled for release on May 27 on HBO Max. Judging by their reactions on Twitter, they weren't disappointed — but they were emotional. This is how fans are responding to the trailer, and we'll share some clues we gleaned about the special.
The cast is as emotional as the fans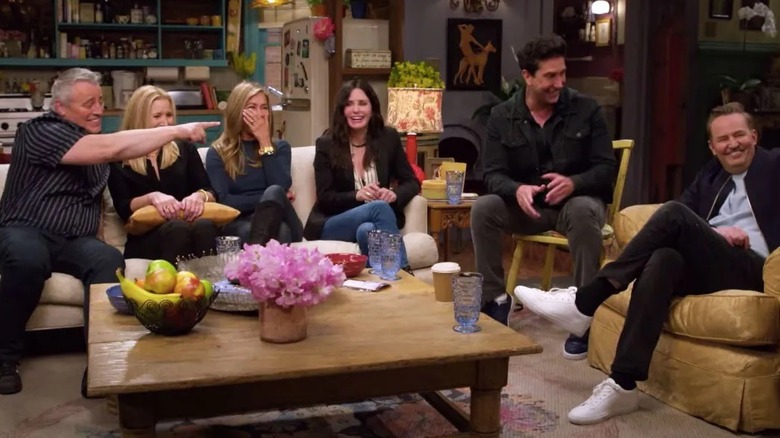 HBO
Judging by the short trailer, the special is aiming to strike a balance among several angles. It will show clips from the series, table reads of certain scenes, interviews about making the show, and a panel section filmed with a live audience.
The six main cast members return, of course, as do actors who played some of the series' most iconic guest characters. And they're all feeling the emotional weight of the episode.
As you'd expect from six old friends, there are tears as well as peels of laughter. If you've seen these bloopers that make us love the cast of "Friends" even more, you already know that one of the reasons the actors had such incredible onscreen chemistry was because they knew how to make each other crack up off screen — or mid-scene, in some cases.
The interviews also cover the time right before the show aired, with Jennifer Aniston (who played Rachel Green) explaining how she got cast, and Lisa Kudrow (aka Phoebe Buffay) recalling the first time she met her castmates at their first table read.
We even get a sneak preview of their answers to that most important of "Friends" questions: were Ross (David Schwimmer) and Rachel really on a break? One member of the cast has strong opinions, and it's not who you might think.
The internet is already crying with joy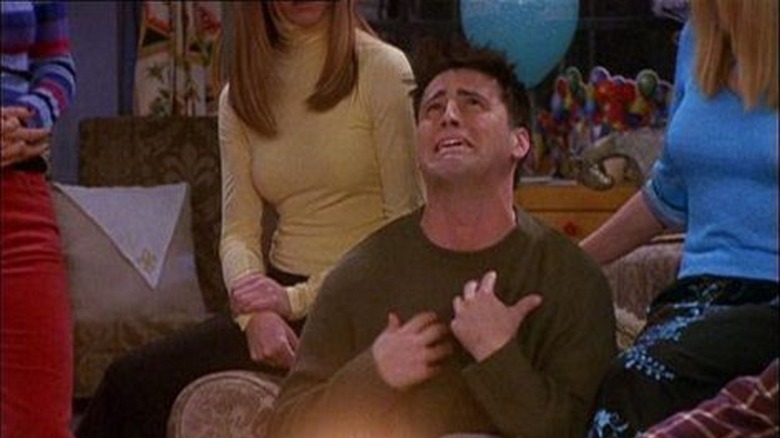 NBC
Before the trailer dropped, the general attitude of the "Friends" internet towards the special was excited apprehension. Of course, there was a clamoring to see the group back together and to reminisce over the show. At the same time, could an hour-long oasis in a 17-year desert completely barren of "Friends" possibly satisfy such an obsessive fanbase?
Seeing the trailer has alleviated some of those fears. Some Twitter users admitted that they'd had their doubts, but this small preview has given them hope that the reunion will work out. However, others still have a level of fear. @nikos1977 wrote that the reunion looks "both emotional and scary." They did not clarify exactly what they're afraid of, although various mentions of destroyed legacies from other users may provide a hint. After all, "Friends" changed TV and no one noticed at the time, so nearly 20 years later would be a good time to give it the proper credit.
The only major criticism was the choice of host. James Corden of "The Late Late Show" and, er, "Cats," hosted the part of the reunion that was shot with a live audience. It's not necessarily personal, but perhaps a case of overexposure. As less-than-impressed Twitter user @thefultonizer put it: "STOP inserting him into EVERYTHING... he is in my life more than a steady relationship!"
Overall, people are more than ready — and so are their tissue boxes. If watching the trailer made them cry — and it did — you can only imagine what's going to happen when they're finally treated to the whole special.