Is Netflix Actually Making A Live-Action Berserk?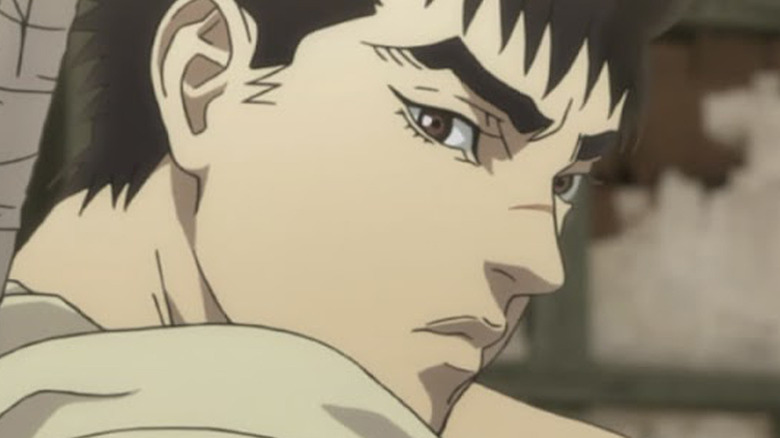 Crunchyroll
Kentaro Miura's dark, medieval-inspired comic book series "Berserk" was first published in the United States by Dark Horse in 2003, meaning that the series was a notably early example of a Japanese manga translated for American audiences. That was the same year Viz Media began publishing its American version of comic anthology magazine Shonen Jump, which included the American debuts of landmark series like "One Piece" and "Naruto." The fact that the latter two series are arguably more recognizable than "Berserk" is likely due in part to the fact that, while the likes of "One Piece" and "Naruto" are relatively family-friendly, "Berserk," in both its original comic book form and subsequent anime adaptations, is extremely graphic.
Despite its notability, "Berserk" has never been adapted into a completed work. The original "Berserk" anime series ended on a cliffhanger that remains unresolved. A 2016 anime adaptation similarly has yet to continue after a two-season run that likewise ended on a cliffhanger. This recent adaptation of "Berserk" was notability controversial among fans, making the prospect of its continuation all the more unlikely.
Recently a rumor began circulating that "Berserk" was set to receive yet another adaptation by Netflix, this time as a live-action movie. Like many rumors, however, news of a live-action adaptation of "Berserk" is unsubstantiated by official sources.
No guts, no glory
According to a report about the incident by the blog What's On Netflix, the source of the live-action "Berserk" movie rumor was a fan's Instagram mock-up of what a poster for such a film might look like. They included in their mock-up a Netflix logo, presumably to give the fake movie poster the veneer of officiality. The poster was never intended to be present the idea of a Netflix "Berserk" movie as a reality, however. Included in the caption that accompanied the photo was an outright confirmation that the post was "a joke." That said, that same fan shared their mock-up to Twitter without that all-important qualifier. Though they linked to their Instagram post including the disclaimer that the poster is indeed unofficial, replies to the widely shared tweet seem to indicate that at least some of those who saw it thought it to be genuine.
So, in short, Netflix is not producing a live-action "Berserk" movie. That said, the fact that a fan-made movie poster could spur widespread interest does indicate that a sizable audience exists for such a project. While this is far from a confirmation that "Berserk" will one day be adapted in live action, it's nevertheless proof that it remains something at least some fans would like to see.