The Vengeful Crime Drama That's Crushing It On Netflix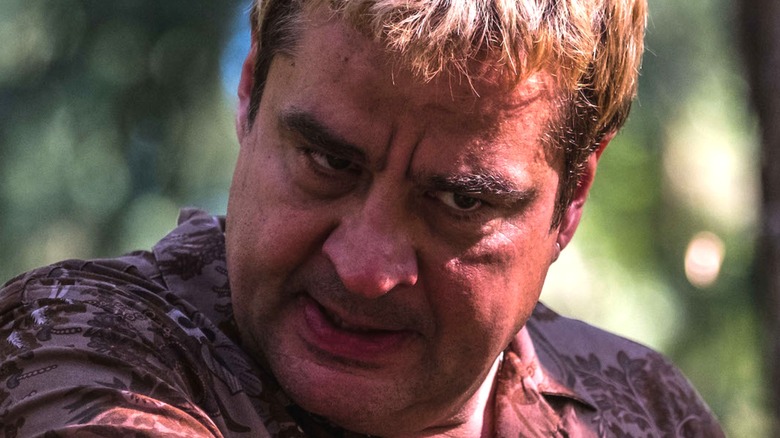 Netflix
There are many, many crime dramas out there for your watching pleasure, in more than 31 different flavors that range from (mostly) comforting police procedurals to violent thrillers with an ax to grind. In 2019, Netflix livened up that scene a bit when it added "Undercover," a Belgian-Dutch drama focusing on two agents infiltrating the drug operation of Ferry Bouman (Frank Lammers). Considered generally to be a decent yet formulaic and oddly paced addition to Netflix's lineup, the 10-episode first season did well enough (especially in Amsterdam, according to executive producer Pieter van Huyck), to get a second season in 2020. Fans of the show were disappointed, however, to see that the villain and his wife didn't get much play. But now, there's another chapter to the story in the film "Ferry," which focuses on the origin story of the drug kingpin. 
Although "Ferry" was announced last year by Netflix, it didn't appear on most people's radars until its release on May 14. On Monday, May 17, though, it made a brief appearance on Netflix's Top 10, cementing its status as one to watch right now. At this point, it has a 79% Audience Score (and no Tomatometer Score) on Rotten Tomatoes, which means that most viewers seem to agree with the few reviewers who've covered the film: It's nothing original, but "Ferry" enjoyably incorporates a revenge narrative and a love story that feeds into the world of "Undercover." Basically, this is a film and part of a series that's "not bad" — if you need something to put on your TV one of these days.
Ferry is a solid addition to the Undercover universe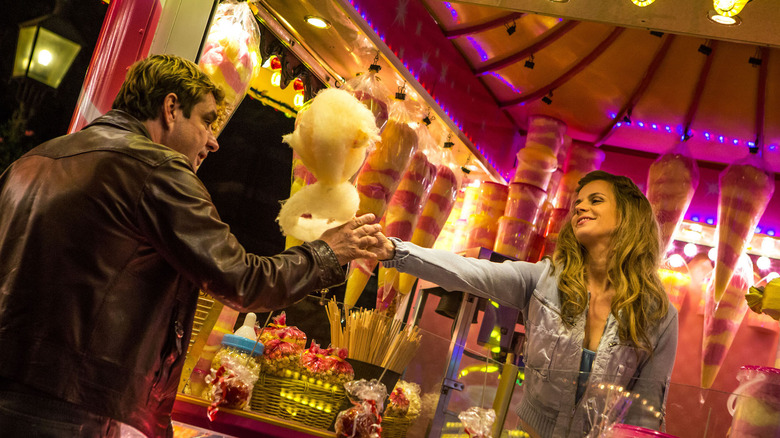 Netflix
The story takes place in 2006, years before the events in the original Netflix series, in the beautiful western European setting of Amsterdam. Ferry (Frank Lammers) works for Ralph Brink, a powerful drug lord who acts as his mentor. One day, the gang is mugged, and Ralph's son is injured. Ferry is sent out to find the perpetrators, who look to be a group of campers in Brabant. As it turns out, Ferry has a history in Brabant, which includes his estranged family. There, he also meets with his neighbor Danielle (Elise Schaap), who appears in "Undercover" as well. In its original announcement, Netflix said, "The film will have all the elements 'Undercover' fans are used to: suspense, surprising plot twists, emotion and humor."
In an interview with the Dutch-language FilmTotaal, Lammers said he believed people responded to the two sides of his character, a dark one and a soft one. "I think everyone has something like this or recognizes something about it, but it cannot be expressed," he said. He said both "Ferry" and "Undercover" show that Ferry's criminal side isn't his ultimate goal — that it just causes "misery" for him. And Schaap told Manners, another Dutch publication, that the movie provides the popular characters with more depth, explaining how they became who they are. "There is still a whole world," she said.
Word has it that a third season of "Undercover" is currently filming, although Netflix hasn't made an official announcement. Netflix's Netherlands account posted an Instagram video from star Lammers in October 2020 in which he said they had just started filming on the next season. It's unclear exactly when Season 3 will debut, but in the meantime, there's "Ferry." And if you're ready to jump on the bandwagon, "Ferry" is a good introduction to the characters and situations that make up the world of "Undercover."