The Thomas Jane Horror Film You Can Watch On Netflix Right Now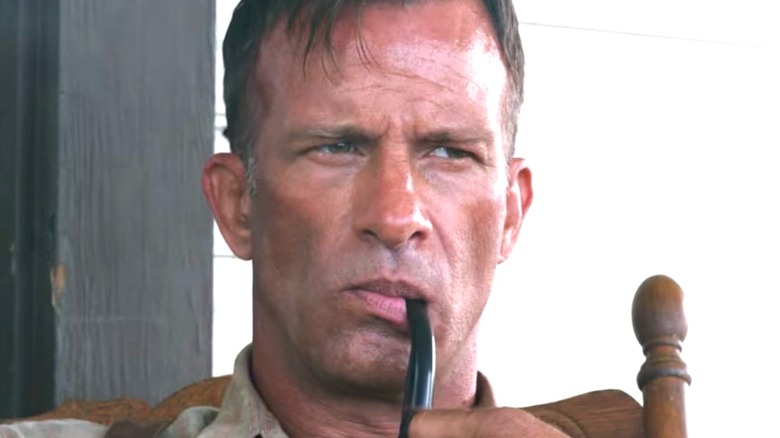 Netflix
The Stephen King adaptation renaissance has been in full effect since 2017. That year saw the start of a wave of high-quality movies and shows based on books by the legendary author. King adaptations from 2017 include "IT," the hit movie that really kicked off the King gold rush; the TV series "Mr. Mercedes"; and the unsuccessful film adaptation of King's magnum opus, "The Dark Tower."
That year also saw a pair of King adaptations debut as Netflix movies. The first was Mike Flanagan's "Gerald's Game," a critically acclaimed horror movie  based on King's 1992 novel of the same name. It was followed a few weeks later by "1922," an adaptation of King's novella of the same name from his 2010 collection "Full Dark, No Stars." "Gerald's Game" is the better-known film (and the better one, if we're being honest), but "1922" is a hidden gem about guilt and regret, with a great performance by Thomas Jane and some gnarly scares.
Netflix's "1922" tells the story of a corn farmer named Wilfred James (Jane) in the titular year. His wife Arlette (Molly Parker) wants to sell their farm and move to Omaha, which Wilf is unwilling to do. So Wilf convinces his 14-year-old son Henry (Dylan Schmid) to help him murder her. After they do the heinous deed, Wilf and Henry have trouble living with themselves, which manifests in different ways. For Wilf, it's being haunted by visions of Arlette — and the rats that ate her body after he hid her down a well.
1922 is slow-burn horror done right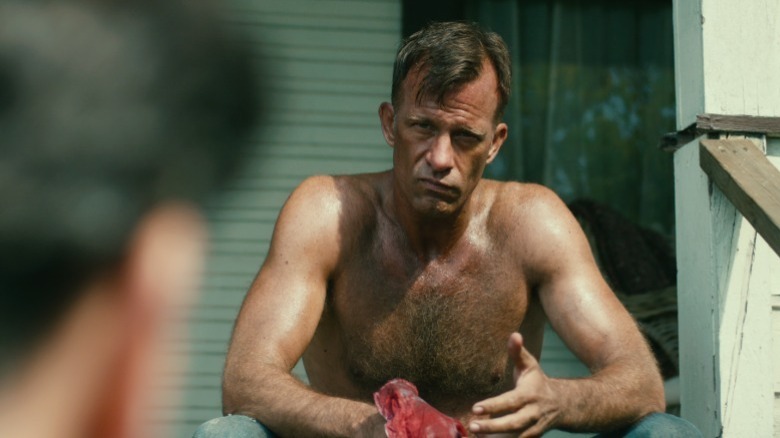 Netflix
The dark "1922" was written and directed by Zak Hilditch. It's Thomas Jane's third time starring in a Stephen King adaptation, after "Dreamcatcher" and "The Mist." The small cast also includes Brian d'arcy James as the local sheriff investigating Arlette's disappearance and Neal McDonough as the patriarch of the neighboring family farm. It's set in Hemingford Home, Nebraska, a location well-known to King fans as the home of Mother Abigail in "The Stand." The film received positive reviews from critics, and has a Certified Fresh 91% critics score on Rotten Tomatoes. "There are no creepy killer clowns or journeys into fantastical realms, but for those King fans who know nothing is more horrifying than the horrors of man, '1922' delivers a mix between 'There Will Be Blood' and Edgar Allen Poe's 'The Tell-Tale Heart,' featuring Jane at his darkest and most disturbing," Comicbook.com's Patrick Cavanaugh wrote in his review of the film.
The film is much less popular with viewers, however. It has only a 57% audience score on Rotten Tomatoes. The main criticism from viewers is that it's slow and it does move at a deliberate, slow-burning pace; whether that's a selling point or a turn-off is up to you. Viewers in the mood for a character-driven, psychological horror-thriller with that Stephen King touch — felt in dialogue like "waiting for a teenage boy to come to his senses is like waiting for a broomstick to sprout flowers" — should check out "1922."