This Is The Best Bromance Moment On Friends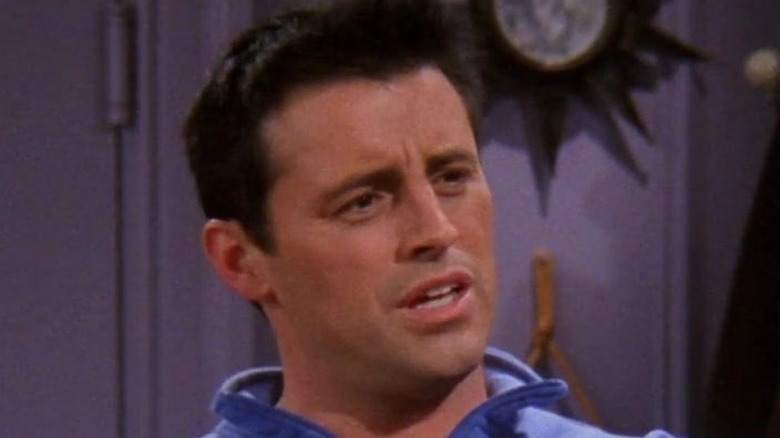 NBC
Joey Tribbiani (Matt LeBlanc), Chandler Bing (Matthew Perry), and Ross Geller (David Schwimmer) had some amazing moments together throughout 10 seasons on "Friends" and the trio formed quite the bromance. Ross asking both Chandler and Joey to be his best men in Season 4 was one of the best moments for the group, as was the brief instance where the three were all roommates in Season 5.
Joey and Chandler's friendship got a little more attention throughout the years, mostly because they two shared an apartment for the first half of the series. The duo had one of the greatest bromances in sitcom history and their best moments together were always ones that would make the audience "aww." Seeing Joey and Chandler co-parent the chick and duck was always exciting and cute, as was their making up after the whole Kathy-Chandler-in-a-box-Thanksgiving incident. Perhaps the best bromance moment in all of "Friends" came early on in the show's timeline, and it's one we'll never forget.
The best bromance moment on Friends came in Season 2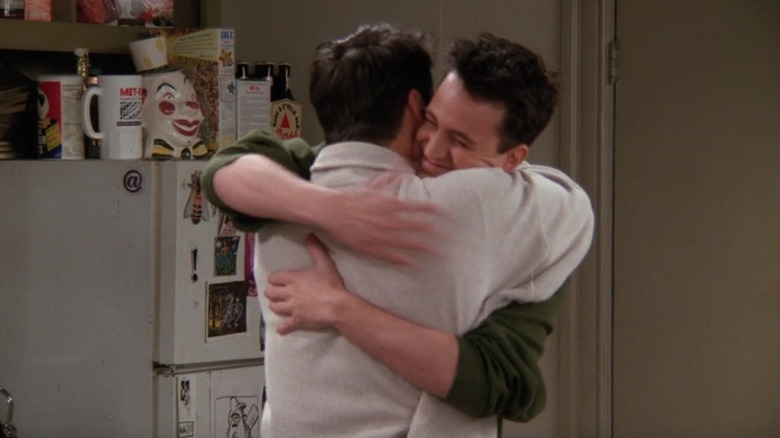 NBC
In a shocking turn of events in Season 2 of "Friends," Joey moved out of his apartment with Chandler and into a swankier pad, thanks to his cash flow from "Days of Our Lives." Fans were devastated to see the two friends split up, as was the rest of the friend group. Chandler ended up bringing in a new roommate — Eddie (Adam Goldberg) — who was off the wall bonkers. Even after telling Eddie to get out of the apartment when he couldn't take him anymore, the crazy new roomie wouldn't leave, causing Chandler to hatch a scheme. 
Joey ended up having financial issues and couldn't afford to stay in his new place anymore, so he and Chandler plotted off-screen to move him back in. One day Eddie shows up at the apartment and his key doesn't work, and when he knocks on the door, he finds out Joey has moved back in. Chandler somehow convinces Eddie that Joey never left, as he pretends to not know who he is. Eddie ends up leaving, and Joey and Chandler share a very special moment. After welcoming him home, Chandler hugs Joey in a very sweet exchange, and the pair dance around in their kitchen, and follow it up with a second hug. 
Throughout eight more seasons, Chandler and Joey embraced in a hug several more times, which even spurred a montage in Season 6.