The Big Jupiter's Legacy Scene That Wasn't Even In The Script - Exclusive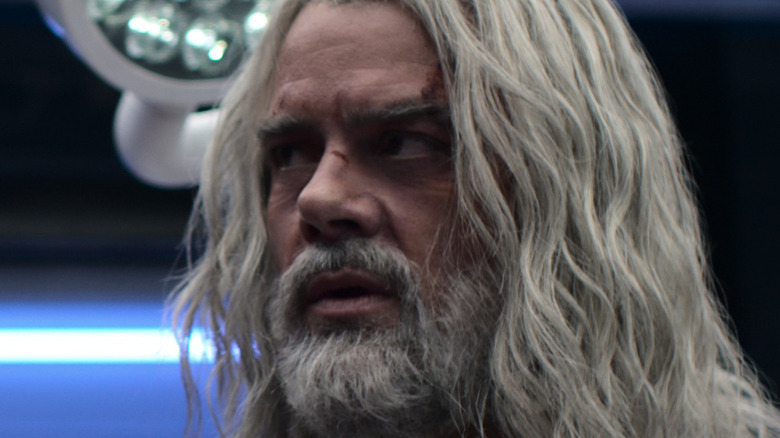 Netflix
Netflix's superhero series "Jupiter's Legacy" dropped less than two weeks ago and it seems like everyone's talking about the show. Looper recently spoke with cinematographer Nicole Hirsch Whittaker about her work on the streaming platform's latest. Whittaker was the director of photography for several episodes, including "Omnes Pro Uno" — the season's penultimate episode and the climax of the past storyline. Finding a shooting location for the island proved difficult — it's a tropical island in the comics, but they wanted a variety of landscapes in a more convenient location than an island in the actual tropics.
"So when Mark [Millar], and VFX, and everybody sat down and talked about it, they just really felt like we could look around Canada," Whittaker said. "We had a really long prep time, and lots and lots of scouting. Weeks of cars, and buses, and driving around, and trying to find these unusual locations in Canada. I was really amazed at the kinds of places that we could find because a lot of the stuff that we shot for that was practical." Their work paid off: they found a healthy variety of locations — including an Ontario conservatory that offered the rock formation used in the cliff-facing scene.
Shooting in Canada also meant they ran into a particular weather-related obstacle, one that got seamlessly written into the "Jupiter's Legacy" script with some quick thinking.
Jupiter's Legacy featured some unplanned snowfall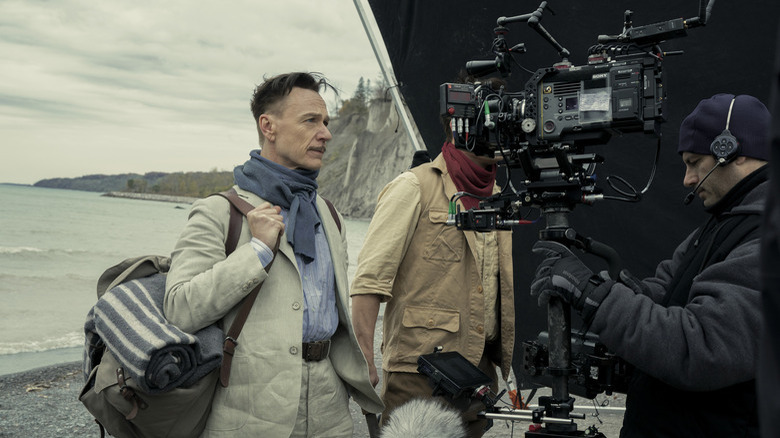 STEVE WILKIE/NETFLIX
"The snow was just a happenstance," cinematographer Nicole Hirsch Whittaker said. That's right, the critical "Jupiter's Legacy" scene in which the party realizes the island is fighting them by changing the weather was unplanned. "We were shooting that whole scene where they get to the trees, and trees start popping out of the ground," she recalled. "We all went back to our hotels and woke up in the morning, and there was two feet of snow on the ground, which is very Canadian. We were like, 'Oh my gosh, there's a snow storm.' So basically we got to set, everybody talked about it, and decided this is an island that's alive, so let's embrace it." The crew briefly considered packing up and leaving before realizing it was beautiful enough to include in the story. "So they started writing and within an hour we had a new script."
None of the crew was prepared for snow, nor were any members of the "Jupiter's Legacy" cast dressed for it. "So it was really cold, but everybody was just like, 'This is so cool. Let's just do it.'" Whittaker in particular gives credit to the Canadian crew. "I have to just give a shout out to the camera crew because they're used to the weather, and the weather being very unpredictable ... And it was mind-boggling to me. We could never do that in California. People would be like, 'That's insane. We can't do that.' They're just so used to it. I feel like the Canadians sleep with their snowsuits on or something, I don't know. They're amazing."
"Jupiter's Legacy" is streaming on Netflix. Stay tuned to Looper for more exclusive coverage.