Hotel Transylvania 4's Incredibly Revealing Trailer Has Twitter Buzzing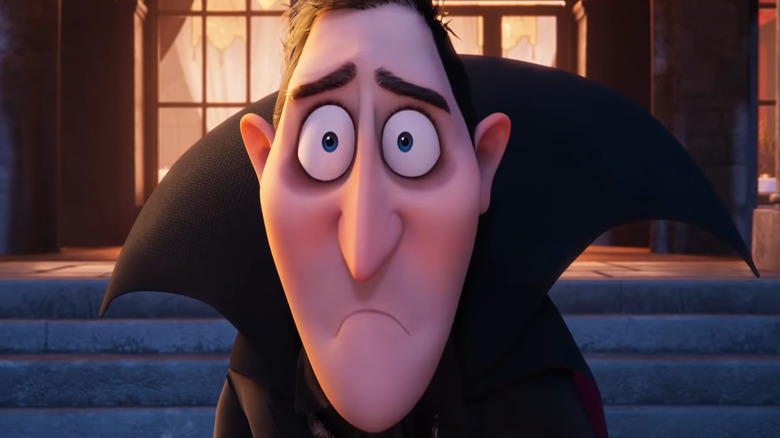 Sony Pictures Releasing
What if Count Dracula had a hotel designed as a resort for whenever monsters needed a break from the worst monsters of all — humanity? Since 2012, the "Hotel Transylvania" franchise has repeatedly found new was to explore that simple formula. From a hotel to the suburbs and even a cruise, over three films the franchise has brought in tons of guest stars, from Mel Brooks to Kathryn Hahn. Across the first three films, "Hotel Transylvania" has one rock solid principle — Dracula (Adam Sandler) is a vampire and he often comes into conflict with his son-in-law Johnny (Andy Samberg), who is a human. However, all that is set to change with the reveal of the trailer for the fourth film, "Hotel Transylvania: Transformania," when the formula gets unexpectedly inverted.
Professor Abraham Van Helsing (Jim Gaffigan) offers Johnny a chance to become a monster himself with the power of a monsterfication ray. There's just one problem — the ray goes out of control, causing the monsters to become human. The ray effects everyone a little differently, but there's one monster in particular who changes in ways we've quite literally never seen before.
An unexpected side effect of turning human is surprise nudity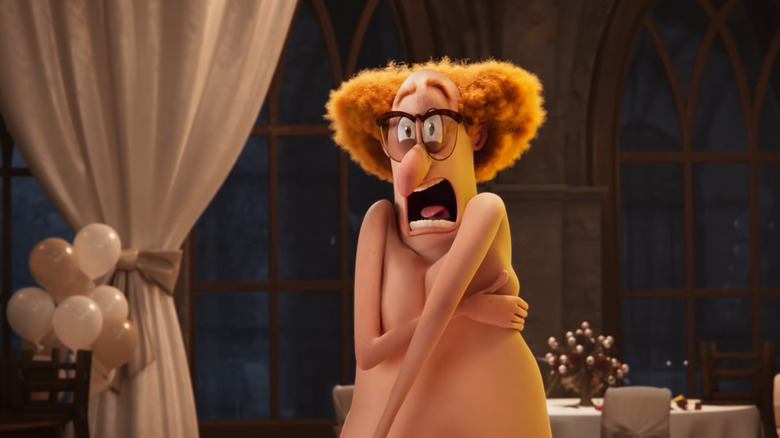 Sony Pictures Releasing
The monsterfication ray in the latest "Hotel Transylvania" story changes Wayne the werewolf (Steve Buscemi) into a regular guy with a massive beard; Murray the mummy (Keegan-Michael Key) becomes an old Egyptian man; and, in a stunning twist, Frankenstein (Kevin James) becomes hot — all bets are off! The biggest change we see in the film comes in the form of the invisible man named Griffin (David Spade). When Griffin turns visible, he resembles Larry Fine from The Three Stooges. And he is extremely naked. Nudity is one of the perks of being invisible, we guess!
Twitter user @NoirOffense was caught off guard: "Hotel Transylvania 4 ??! Ok I'm so hyped literally childhood. Didn't expect this." Another user shared how they found out about the upcoming film; "why was it because of people complaining about the invisible guy not being sexy. like im as upset as you all too but," said user @YOKAIRAVE. "Can't wait for my 3 y/o niece to come visit me tomorrow, she's gonna jump and scream with me when I show her the trailer for Hotel Transylvania 4 OMG!!!!!" said user @eBEphany7. One user is happy, but still wants more: "Listen im like happy with the hotel transylvania 4 trailer but where is ericka van helsing," user @ultysx asked.