Leslie Jones And Regé-Jean Page Team Up For The Perfect Bridgerton Snyder Cut Parody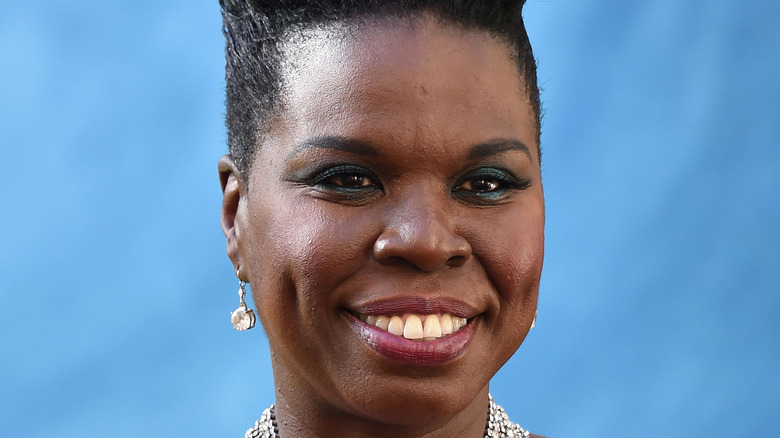 Shutterstock
When it comes to the MTV Movie & TV Awards, the highest honor isn't one of the awards. It's being selected for one of the awards show's legendary parodies. Since the inaugural MTV Movie Awards in 1992, the show has a nearly 30-year track record of producing some of the funniest pop culture parodies anywhere. These parodies lovingly poke fun at the biggest and most zeitgeist-y movies and TV shows of the past year. So, if your project gets parodied at the MTV Movie & TV Awards, you've officially made it.
The 2021 MTV Movie & TV Awards were no different. Host Leslie Jones parodied many of the biggest movies and shows from the past year by inserting herself into scenes from them. There had to be a spoof of Marvel's "WandaVision," and there was. There had to be a parody of Netflix's big, steamy costume drama "Bridgerton," and there was one of those, too.
To parody "Bridgerton," not only did Jones bring in that show's breakout star, Regé-Jean Page, but she also mashed it up with another hit from this year, "Zack Snyder's Justice League." Between "Bridgerton," DC superheroes, and national treasure Leslie Jones, there's something here for everyone.
If there's one thing wrong with Bridgerton, it's this
The MTV Movie & TV Awards shared the parody on its Twitter account. It starts off with a classic "Bridgerton" setup: Page's character, the Duke of Hastings, has just been married, and now it's time to consummate the marriage. His bride is played by Jones, who's donned an impeccable wig that would make Marie Antoinette jealous. The Duke is his usual poetic and romantic self, but the Duchess doesn't have time for that nonsense. She orders him to undress, and he does.
But then Jones voices a complaint that many have had about "Bridgerton" as a series: It doesn't have enough lingering close-ups of Regé-Jean Page's sculpted physique. So, Jones stops the scene and asks for a "Snyder Cut" version — which here is basically the same thing, but a lot longer. We're treated to close-up after close-up of Page's bod. Eventually, the weary narrator steps in and summarizes that this went on for four more hours, to which Jones responds, "Mind your own business, Lady Whistledown, you gossipy b*tch."
And there you have it, the "Snyder Cut" of "Bridgerton" you never knew you needed. Hopefully, it's only a matter of time until Snyder is brought in to direct an episode of "Bridgerton."