Elizabeth Olsen's Latest WandaVision Win Has Fans Flipping Out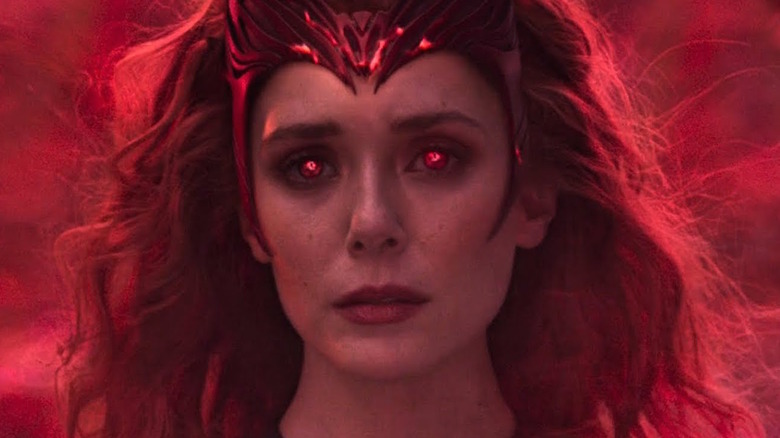 Marvel Studios/Disney+
Hard to imagine there used to be a time when the notion of movies based on comic books claiming hardware at industry awards shows seemed almost laughable. Aside from the odd technical award for costuming or visual effects, and a notable Best Kiss win for Spidey's (Tobey Maguire) upside-down smooch with Mary Jane (Kirsten Dunst) back in 2003, superhero adaptations weren't exactly awards darlings. That was then, though.
Fans of the Marvel Cinematic Universe — and quality, dramatic television, in general — got an early treat in the 2021 MTV Movie and TV Awards when Elizabeth Olsen took home the gold for Best Performance in a Show for her outstanding work as Scarlet Witch aka Wanda Maximoff in Disney+'s reality-bending "WandaVision" (via Us Weekly).
As the first-ever MCU streaming series (questionably canonical Netflix adaptations notwithstanding) "WandaVision" had a lot to prove, but thanks to the creative team's incredible efforts from top to bottom, it apparently got it done. Long before anyone started handing out statues this year, the limited series had already won over both critics and fans, but it's still nice to see the awards recognition.
The fans, of course, were over the moon.
Fans can't stop gushing over Elizabeth Olsen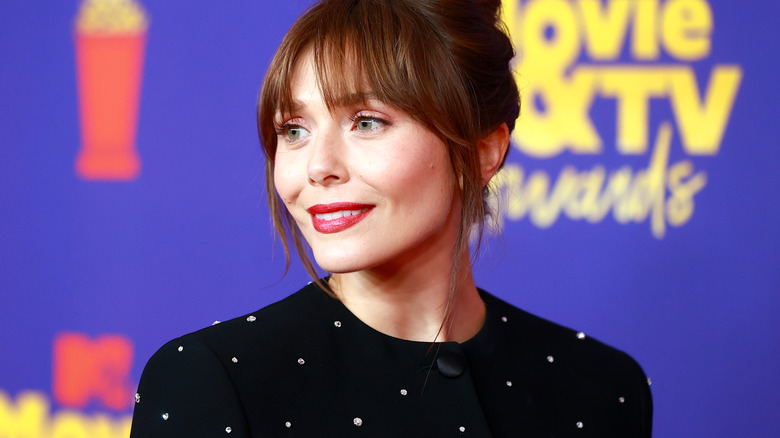 Matt Winkelmeyer/2021 Mtv Movie And Tv Awards/Getty Images
Understandably, there's been an outpouring of support for Olsen's win on Twitter. In reply to the official MTV Twitter account's first post celebrating the win, hundreds of fans chimed in with some variation of "well deserved." The second most popular refrain on social media was a rousing "Yas Queen!"
Others were quick to contextualize the win with all the other recent Marvel domination. "Marvel coming for all the awards," tweeted @lightyearcevan, an account that is neither officially linked to Chris Evans nor Buzz Lightyear.
"Marvel sweep," @wilsonshield noted.
@wu_elon was right on the same page with the MTV Movie and TV Award voters, proudly declaring that Olsen's turn on "WandaVision" was "the best performance of the series." It's unclear whether they just meant "WandaVision" or the entire MCU, but either thesis is defensible.
Despite a few toxic run-ins in the past, Elizabeth Olsen seems refreshingly aware of her support among the fanbase. She even shouted out Marvel fans directly in her acceptance speech, so tweets like these don't go unnoticed.