Here's How To Make Sense Of Every Evan Peters Character On AHS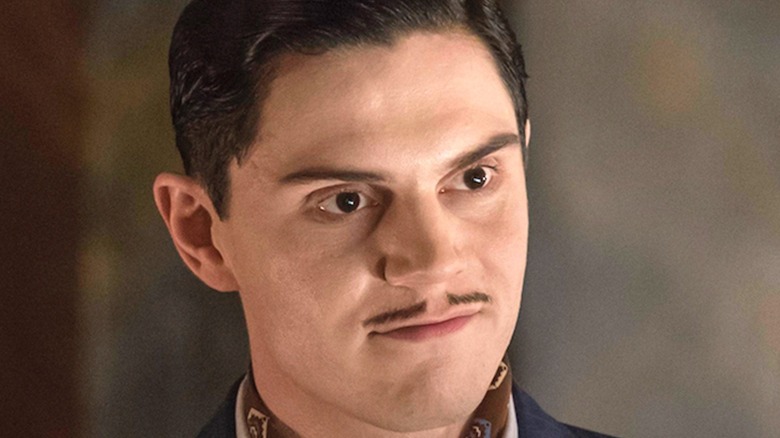 FX
Evan Peters may be known as Quicksilver in not one, but two superhero franchises (sort of), but he's also shown the ability to undergo some superhuman transformations as a regular cast member on "American Horror Story." The 34 year old actor has been in every season except "1984," with dramatically different characters from year to year. 
Many "American Horror Story" alumni have admitted that delving into the show's darkest corners, again and again, can be difficult. Evan Peters is no exception, and he's been open about the mental toll stepping into the mindsets of his various characters can take. In an interview with GQ, he explained the roles are "mentally draining, and you don't want to go to those places ever in your life."
It's no wonder: over the years, the man has had to delve into the psyche of everything from a school shooter to a cult leader. With a list of characters in the double digits over eight seasons, it can become difficult to keep them all straight. So, we've provided a clear-cut explanation of each of Evan Peters' primary roles. Timelines can get a little fuzzy in "AHS," so for the sake of clarity, we'll go through Peters' characters by the order of the seasons themselves, if you watched straight through.
Evan Peters in American Horror Story seasons 1 and 2: School shooter, and wrongfully accused asylum patient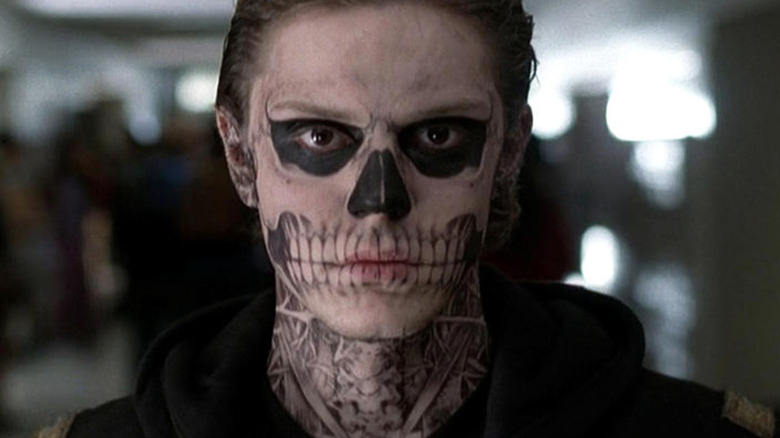 FX
The popularity of Evan Peters exploded early on in the first season, "Murder House," where he played ghostly teenager Tate Langdon. At first, Tate seems like a lovesick, misunderstood outcast — only wanting to be loved and accepted. His love interest Violet (Taissa Farmiga) eventually finds out that Tate is a murderous psychopath, and one of the main reasons for her family's torment and eventual death. Even though their spirits roam in the same house, Violet refuses to see Tate, augmenting his eternal feelings of rejection in the afterlife.
In Season 2, "Asylum," Evan Peters returned as the much more sympathetic Kit Walker. At first, Kit is blamed for the work of serial killer Dr. Oliver Thredson (Zachary Quinto). After years of struggling against the evil forces associated with the Briarcliff Asylum, Kit finally lives in peace. That is until he is abducted by (presumably) the same aliens who abducted his first wife Alma (Britne Oldford). Kit isn't confirmed dead, so there's always a chance he returns in another "American Horror Story" storyline, someday.
Evan Peters in American Horror Story seasons 3 and 4: a Frankenstein's monster, and Lobster Boy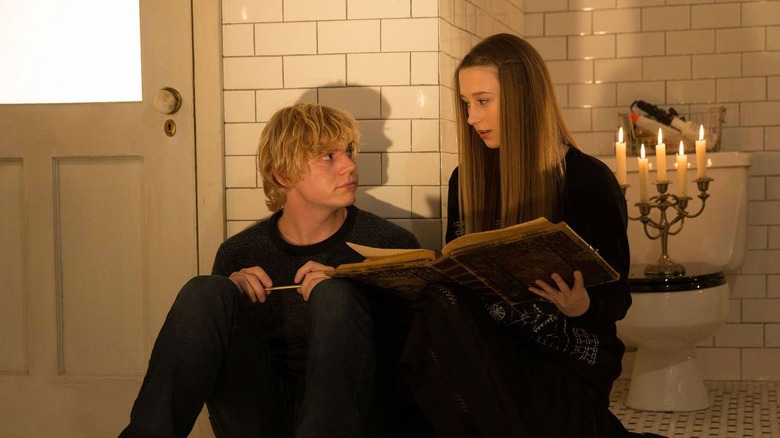 FX
The third season of "American Horror Story" was "Coven," which focused on a powerful coven of witches. While many fans loved this season, that were also many who lamented that Evan Peters had a reduced role this time around: he played well-meaning frat boy Kyle Spencer, who is only really himself for a little while. Soon enough, he's killed in action, and spends most of the season as a modern-day version of Frankenstein's monster, resurrected through magic, with his post-autopsy body constructed from the available parts of his fellow fraternity brothers. His storyline includes one of the most disturbing scenes in "AHS" history, but ends with a (sort of) happy ending. He remains at the school with Zoe (Farmiga) and becomes the new in-house help for the coven.
Season 4, titled "Freak Show" brought us the tragic story of Fräulein Elsa's Cabinet of Curiosities, a traveling carnival. Jimmy Darling (Peters), aka Lobster Boy, is portrayed as one of the few survivors after Dandy Mott (Finn Wittrock) eliminates the majority of the freaks. After he helps avenge his family's death, Jimmy, Bette and Dot (Sarah Paulson) live happily ever after.
Evan Peters in American Horror Story seasons 5 and 6: serial killer and actor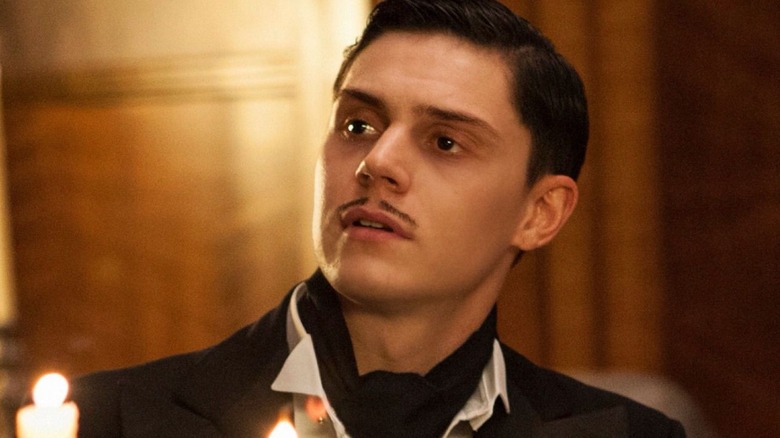 FX
As "AHS" continued, the actor continued pushing himself to new limits. In "Hotel," Evan Peters played a fictional version of serial killer H.H. Holmes. His character, James Patrick March, built the infamous Hotel Cortez as a place to fully indulge his murderous predilections. As portrayed on the show, this character is the epitome of evil, having influenced the likes of Richard Ramirez and John Wayne Gacy. At the end of the season, March and the hotel are still standing, leaving their fates open.
When season 6, "Roanoke," rolled around, Peters was challenged to a more meta role, ala "Tropic Thunder," where he played a dude, playing a dude, playing a part that gets too real. His character, Rory Moynahan, is acting the part of Edward Phillippe Mott on the reality TV show (within the "AHS" franchise) titled "My Roanoke Nightmare." During the season, he is just about to quit for greener pastures when he's swiftly killed by the real ghosts of two killer nurses.
Evan Peters in American Horror Story seasons 7 and 8: cult leader, nuclear scientist, nuclear survivor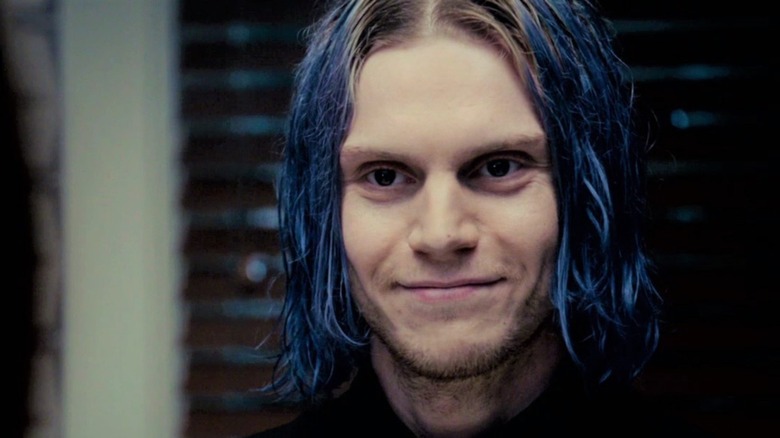 FX
One of Evan Peters' most prominent — and most disturbing — "AHS" roles to date was in season 7, "Cult," where he played cult leader Kai Anderson. Kai is a sociopath, who has gained followers by using fear and racism as motivators. He runs for city council and has his cult eliminate anyone who doesn't fall in line with his ideals. Kai is sent to prison, escapes, and attempts to reconnect with Ally (Sarah Paulson) but is shot by former cultist Beverly Hope (Adina Porter). As a bonus, this season also had Evan Peters portray real cult leaders Charles Manson, David Koresh and Andy Warhol (via Pop Sugar).
Evan Peters pulled quadruple duty in season eight, "Apocalypse." He first appears as nuclear scientist Jeff Pfister. Pfister dabbles in cocaine addiction, AI, and satanic tendencies. He sells his soul to the devil in order to survive nuclear warfare. Evan Peters also plays Malcolm Gallant, another nuclear survivor held captive at Outpost 3. The actor also reprises his roles as Tate Langdon and James March for a couple of flashbacks in the season. All the events in "Apocalypse" are undone when Supreme Witch Mallory (Billie Lourd) travels back to 2015, taking out the Antichrist before the nuclear event takes place.
So far, Evan Peters has portrayed the largest amount of characters on "AHS," to date. Looking ahead, Ryan Murphy (via Gay Times) has confirmed that Evan Peters will return for the upcoming 10th season of the horror anthology.