What Chiaki Kuriyama From Kill Bill: Vol. 1 Is Doing Today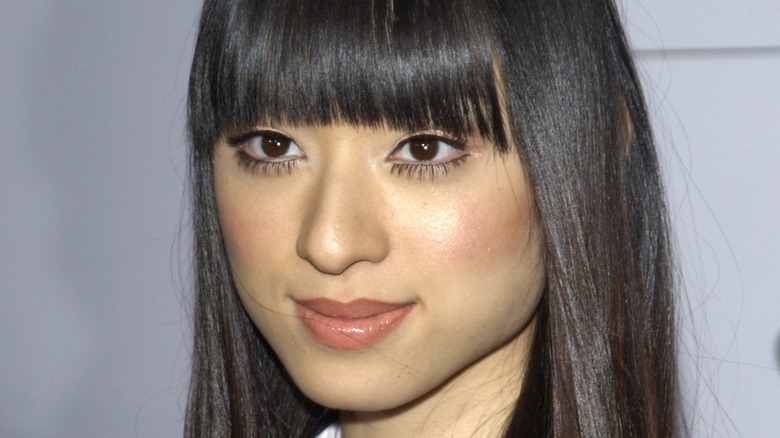 Shutterstock
Quentin Tarantino's 2003 martial arts masterpiece "Kill Bill: Volume 1" wasn't just memorable for the filmmaker's distinct storytelling style, its hyper-violence, and comic book gore, or Uma Thurman's star turn as The Bride. It also boasted a cavalcade of talented performers portraying some of his best-ever characters.
While her screen time was relatively short compared to some of her co-stars, as well as those who returned for "Kill Bill: Volume 2," Japanese actress Chiaki Kuriyama notably stole multiple scenes as the film approached its bloody climax. Now 36 years old (via IMDb), the Tsuchiura, Ibaraki-born Kuriyama appeared in "Kill Bill" as Gogo Yubari, the ultra-sadistic, schoolgirl bodyguard and valet to The Bride's first objective in her quest for revenge. Namely, O-Ren Ishii (Lucy Liu), a former assassin turned leader of the Japanese Yakuza.
While Kuriyama was a known entity at the time – in 2000, she had starred as Takako Chigusa in the Japanese action-thriller and cult hit "Battle Royale" – her appearance in "Kill Bill" was her introduction to Western audiences. And what an introduction it was; during her precious few minutes on the screen, Gogo disembowels a man mere seconds after offering herself to him, grins as she witnesses Ishii beheading Boss Tanaka, and displays some wicked meteor hammer skills during her battle with The Bride before meeting her own end courtesy of a nail to the head (which causes her to shed tears of blood).
Nearly two decades later, Kuriyama's career is still running strong.
Kuriyama Takes on 24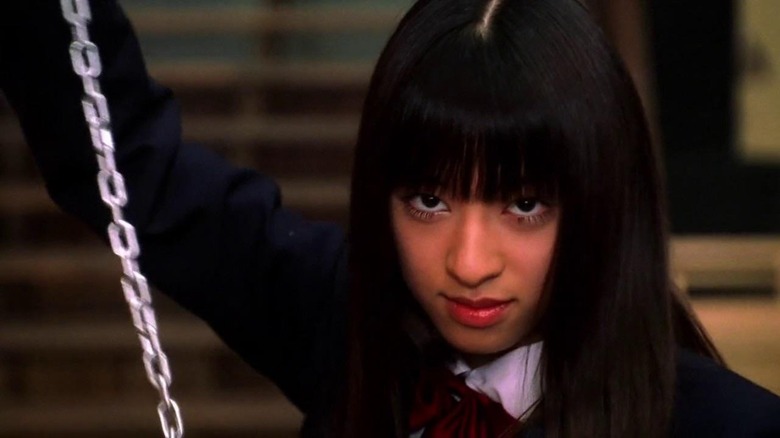 Miramax
Kuriyama continued to appear in a multitude of film and television projects in the wake of her "Kill Bill" breakout. Less than two years later, she had a starring role in Shusuke Kaneko's "Azumi 2: Death or Love," a jidaigeki film based on the iconic manga series of the same name. As relayed by Scene-Stealers, she was also named Best Fantastic Actress at Fantastic Fest 2009 for her work on the Katsuhide Motoki fantasy "Kamogawa Horumo."
She also found success as a singer; in 2010, her debut single "Ryūsei no Namida" was used as a theme for the anime "Mobile Suit Gundam Unicorn." The following year, her album "CIRCUS" peaked at No. 19 on the Japanese Oricon weekly albums chart. However, acting has continued to be her primary focus. As of this writing, nearly 90 acting credits are listed on her IMDb page.
Most recently, she landed a major role on TV Asahi's "24 Japan," an Eastern take on the Keifer Sutherland-led American action-drama "24." In the show, Kuriyama portrays Itsuki Mizuishi, a government agent at the Tokyo–based Counter Terrorist Unit (CTU). The character is comparable to Nina Myers, a former second-in-command at CTU Los Angeles turned traitor in the original "24" series. Myers was portrayed by actress Sarah Clarke in 37 episodes.
Clearly, Kuriyama continues to make waves with her unique talent.