Black Clover Season 5: Is It Returning? Rumors, News And More Details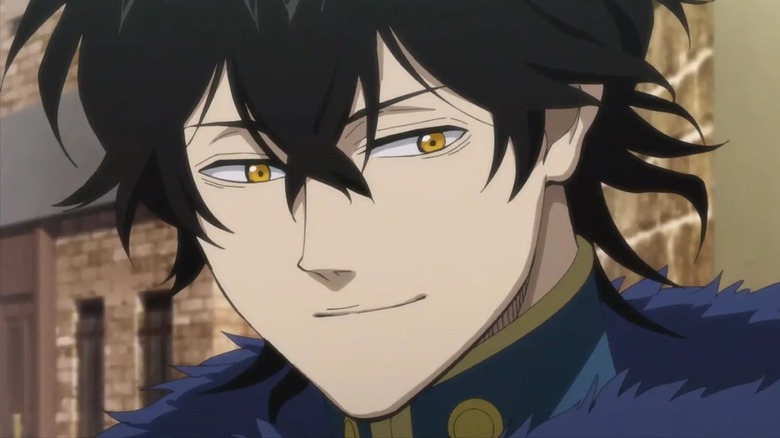 Pierrot
"Black Clover" burst onto TV screens in 2017, based on a manga series written and illustrated by Yuki Tabata. The heroes of our favorite anime are often gifted with special talents or mystic powers — but as its devotees will know, this is where "Black Clover" stands out from the crowd. Protagonist Asta is born bereft of magic in a world of witchcraft and wizardry, where the supernatural is, well ... natural. Alongside his childhood friend Yuno — a powerful wind magician — he fights through the show's fantasy world in a bid to become the Wizard King against all odds. This captivating underdog story saw the series earn a place in Crunychroll's top 100 best anime of the 2010s.
"Black Clover" fans had it great between 2017 and 2020, with 170 episodes released over the show's first four seasons. Unfortunately, the anime had pretty much caught up to the manga at that point, meaning there was nothing else to adapt without resorting to filler. A few months later, the movie "Black Clover: Sword of the Wizard King" was announced in Weekly Shonen Jump, which certainly softened the blow for viewers. Released in 2023, the film features an original story that isn't based on Yuki Tabata's manga, though the creator had a hand in making it, designing the character and overseeing the story.
The film has gone down well with fans and critics alike, and that bodes well for the main series — a fifth season of the show is now more likely than ever. Here's everything we know about "Black Clover" Season 5.
When will Black Clover Season 5 be released?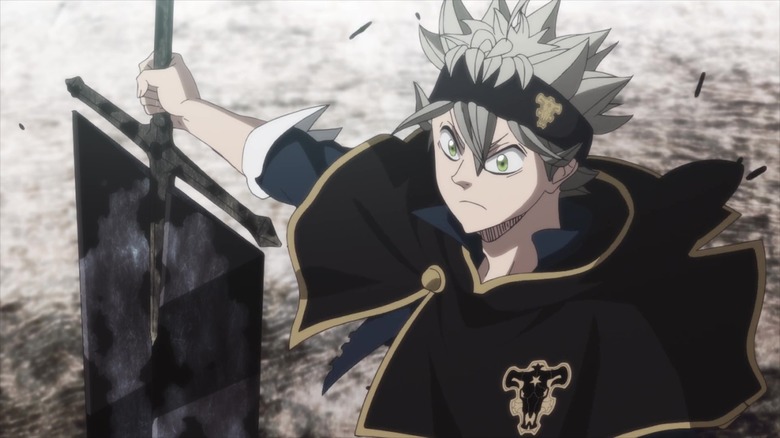 TV Tokyo
Since its October 2017 debut on Japanese network TV Tokyo, "Black Clover" has been moving at a pretty impressive pace. Its first two seasons, airing in quick succession in October 2017 and October 2018, each consisted of a hefty 51 episodes. Season 3 was hot on their heels in October 2019, but April 2020 saw the show hit the skids prematurely until July of that year, due to pandemic delays. Ever-prolific creators Studio Pierrot — also known for the seemingly eternal "Naruto" franchise — picked up there and ran with Season 4 until March 2021. Then they announced that, for now, the series was over.
General interest in the franchise waned as Pierrot quietly worked on the "Black Clover" movie, but when "Sword of the Wizard King" dropped to critical and fan acclaim in June 2023, the series was once again the talk of the anime world. Everyone wanted to know if and when a fifth season would be dropping, but, unfortunately, there's nothing official on it just yet. Season 5 has yet to get the greenlight, however — seeing as the movie was a roaring success — it's safe to say that it's in the pipeline. In fact, one insider with a good track record when it comes to anime scoops believes that Season 5 has been confirmed internally and that it's just a matter of time until it's announced.
The long gap between the end of Season 4 and the present day means that there's now a lot more manga to draw from. "The anime had 142 manga canon episodes, 28 that were filler or anime canon, and it adapted 270 manga chapters. So the adaptation rate is less than 2 chapters per episode," Redditor u/PFM18 pointed out. "Which means that since they have 91 chapters left to adapt, going at their current rate that should be 40-50 episodes worth of content." All of this suggests that "Black Clover" Season 5 will see the light of day in 2024.
What is the plot of Black Clover Season 5?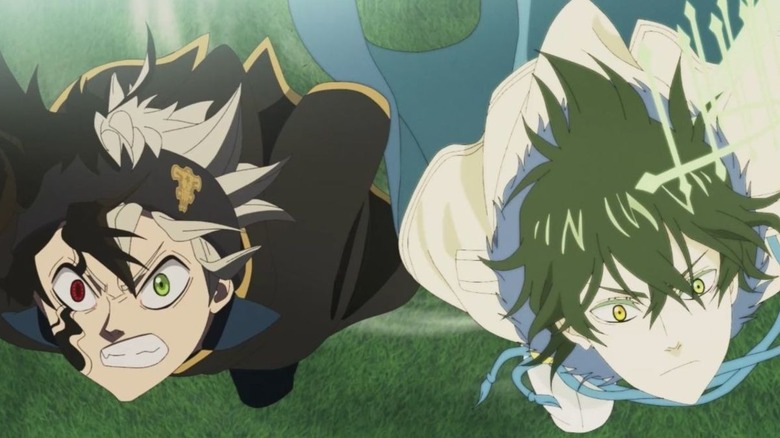 TV Tokyo
Manga spoilers ahead.
Backed up by a mammoth manga series, Season 5 of "Black Clover" is spoiled for choice on which plotlines to follow. There's plenty of potential to further explore the revelation of Asta's biological mother, and that wasn't the only cliffhanger from Season 4, either — allies of Asta like Princess Lolopechka are still held captive and in need of rescue, and the heroes are teetering on the brink of war with the Spade Kingdom. One thing's for sure — the heroes' quest to realize their shared dream of becoming the Wizard King is bound to continue. Meanwhile, the Clover Kingdom still needs defending in myriad magical ways.
Those who follow the manga already have a clear idea of where the story will head in Season 5. The existing seasons adapted up to Chapter 270 of the manga (and a few pages of Chapter 272 made it into Episode 170, the final installment at the time of this writing). Those chapters barely scratch the surface of the "Spade Kingdom Raid" arc, which begins with Chapter 261 and stretches all the way to Chapter 331. Without delving too far into spoiler territory, there will be a lot of shocking moments in Season 5 if it adapts the remainder of this action-packed arc.
In a nutshell, the arc follows the Clover Kingdom's special assault force and their allies as they attempt to stop the formation of the Tree of Qliphoth, which allows devils to travel from the underworld to the realm of the living. Magna Swing of the Black Bull squad makes an unexpected return when the Clover Kingdom raids the Spade Kingdom, engaging in a memorable fight with Dark Triad member Dante Zogratis. We learn a lot more about Zenon's past and why he's so cynical, and there's a twist regarding Yuno's wind magic. There are also some big reveals concerning Moris Libardirt and Julius Novachrono that we won't spoil here.
Who is starring in Black Clover Season 5?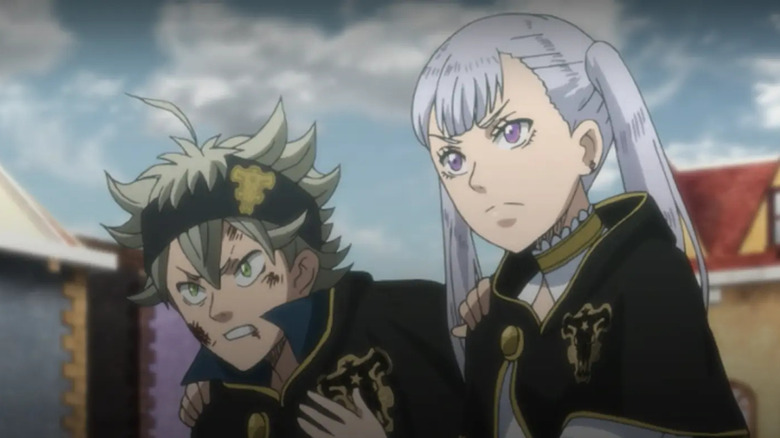 TV Tokyo
Protagonists Asta and Yuno have been portrayed throughout "Black Clover" by voice actors Gakuto Kajiwara and Nobunaga Shimazaki respectively, so they'll likely be back for the anticipated fifth season. Kana Yuki's Noelle Silva looks likely to return as a possible love interest for Asta since her deeply held feelings for him still haven't found full expression, and we're pretty sure we'll see more from Asta's uneasy companion Leibe in the future, too. This means that Nobuhiko Okamoto will probably be back as the low-ranking devil, who is the source behind Asta's Anti Magic.
It's highly likely that the English dub cast will be reprising their roles, too. Asta is voiced by Dallas Reid (who is otherwise known for "My Hero Academia" and "Classroom of the Elite"), while Yuno is played by Micah Solusod (who has also worked on "My Hero Academia" as well as the likes of "A Certain Scientific Railgun" and "Fruits Basket"). The English version of Noelle is played by Jill Harris, who counts "Attack on Titan" and "That Time I Got Reincarnated as a Slime" among her many credits. Leibe, meanwhile, is voiced by Bryce Papenbrook, who has plied his trade on anime such as "Blue Exorcist" and "Demon Slayer" but is perhaps best known as the English voice of Adrien Agreste (aka Cat Noir) in the dubbed version of the hit animated French show "Miraculous: Tales of Ladybug & Cat Noir."
Fans can also expect some new voice actors to join the cast for Season 5, seeing as a bunch of new characters have been introduced in the manga since the anime came to a halt. One of the most interesting newcomers is Komari Imari, who readers met in Chapter 341. She's a bubbly ninja with dyed hair and a passion for fashion. She's not to be underestimated, however — Komari is a member of the Ryuzen Seven, a group of powerful mages sworn to protect Hino Country. They end up training Asta and teaming up with him to fight a fearsome five-headed dragon.