The Movie Like Crimson Peak That Horror Romance Fans Need To See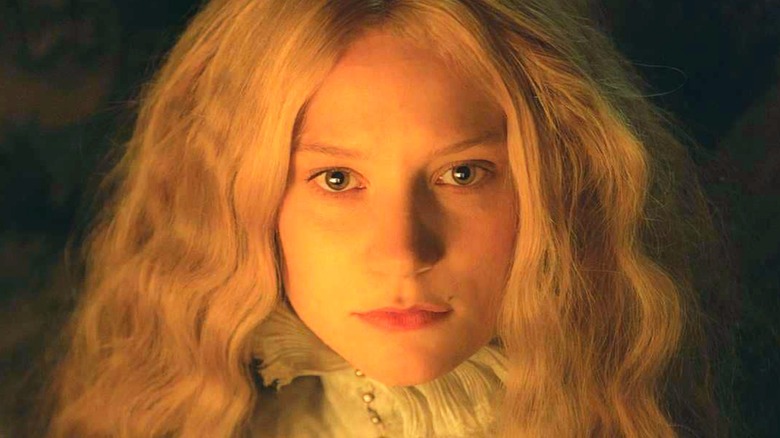 Universal Pictures
Visionary director Guillermo del Toro's underrated 2015 gothic horror romance drama "Crimson Peak" is currently available to stream on Netflix, offering up scares and swoons in equal measure. The film — a del-Toro-devised original story meant to feel like grand old horror movies like "The Haunting" and "The Innocents" — tells the tale of a young American woman named Edith Cushing (Mia Wasikowska), who meets the dashing British baronet Thomas Sharpe (Tom Hiddleston) and his sister Lucille (Jessica Chastain) while the peculiar siblings are visiting the States. Edith and Thomas fall in love and eventually they get married, and Edith goes to live at the Sharpe's manor Crimson Peak, a place the ghost of Edith's mother warned her about many years before. Edith experiences terrifying supernatural occurrences at Crimson Peak — being visited by bloody, disgusting ghosts, who seem to be trying to warn her that the Sharpes are not what they seem.
The film is particularly notable for its sumptuous atmosphere. It's loaded up with Victorian costuming and production design, and has a seriously melodramatic, borderline campy tone, which helps make it gothic.
If you like the kind of thing "Crimson Peak" is doing — with its over-the-top emotion, period setting, and gallons of blood — here's another gothic horror romance movie you should watch.
If you loved Crimson Peak, check out Interview with the Vampire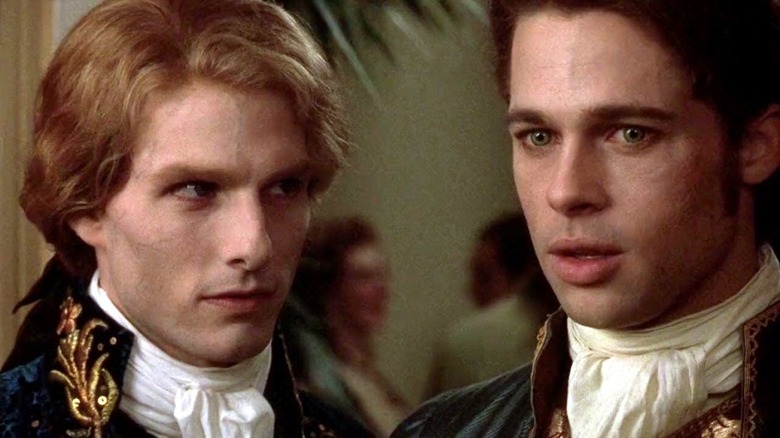 Warner Bros.
"Interview with the Vampire" is director Neil Jordan's 1994 adaptation of Anne Rice's classic vampire novel of the same name. It tells the story of the relationship between vampires Lestat (Tom Cruise) and Louis (Brad Pitt). Lestat turned Louis into a vampire in 1791, and Louis regrets it because he doesn't want to kill people to feed. He also resents being bound to the proudly evil Lestat, even as he's entranced by his charisma. Eventually, they turn a little girl named Claudia (Kirsten Dunst, in her breakout role) into a vampire to keep her from dying and raise her as their daughter. Many years later, Louis and Claudia have finally had enough of Lestat, and decide to escape from him. But Lestat isn't going to let them go easily.
It's different from "Crimson Peak" in that it's a vampire story rather than a haunted house story, and the romance is a little more subtextual, but the films have a similarity of atmosphere that romantic horror fans should find appealing. "Interview with the Vampire" is a lavish, operatic horror movie with beautiful costumes and production design, as well as aching emotions of guilt and longing. Plus, "Crimson Peak" has only one beautiful man, while "Interview with the Vampire" has two. (Cruise and Pitt famously butted heads during production.)
As of this writing (May 2021), "Interview with the Vampire" is available to stream for free on Tubi.