The Underrated Historical Action Drama You Can Watch On Hulu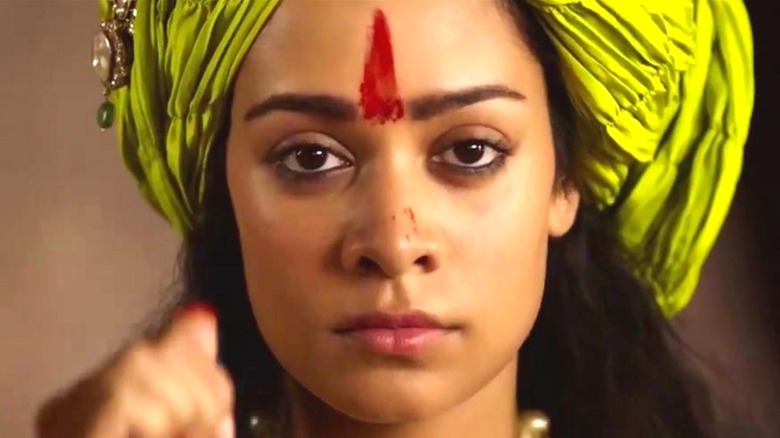 Roadside Attractions
If you are searching for something good to watch on streaming networks, there are plenty of options, from steamy romances to hilarious sitcoms. Thankfully if you're a history fan, you can check out many fantastic hidden historical dramas, like "The Last Kingdom" on Netflix, or "Robert the Bruce" on Hulu. Now there's one more to add to your watchlist from Hulu, highlighting a lesser known historical figure from the 1800s — the Rani (Queen) of Jhansi, Lakshmibai.
"The Warrior Queen of Jhansi" is a historical drama film centered around Rani Lakshmibai, born Manikarnika Tambe, who married the king of Jhansi, Maharaja Gangadhar Rao Newalkar, in 1842, taking on the name Lakshmibai in honor of the Hindu goddess Lakshmi. According to Britannica, Lakshmibai was unable to have her own child, so she adopted a son the day before her husband died, as allowed by Hindu tradition. But at this time, the British Empire and the East India Company were bearing down on India and used this as an opportunity to annex Jhansi and take over. A brave and strong-willed woman, Lakshmibaic — at only 22 years old — refused to give up her kingdom to the invading forces, leading the Indian Rebellion of 1857. 
The Hulu movie focuses on the story of the young, brilliant queen of Jhansi as she rebels against the imperialistic powers moving into India. For anyone looking for an exciting true story brought to life in a drama film, "The Warrior Queen of Jhansi" is the perfect pick.
The Warrior Queen of Jhansi tells the true story of Queen Lakshmibai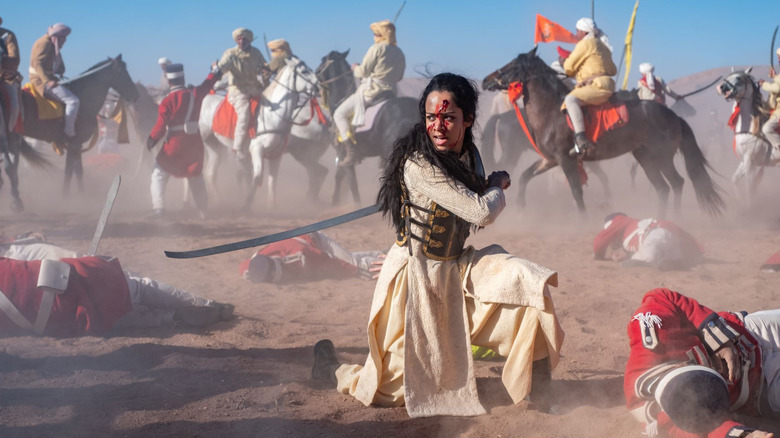 Roadside Attractions
"The Warrior Queen of Jhansi" stars Devika Bhise as Rani Lakshmibai, with a supporting cast that includes Auroshika Dey as Jhalkari Bai, Jodhi May as Queen Victoria, Nathaniel Parker as Sir Robert Hamilton, and Derek Jacobi as Lord Palmerston. Bhise, an Indian-American actress, spearheaded the film, co-writing it with her mother, Swati Bhise, who also directed and produced the project.
Originally released in late 2019, the film has a 28% rating on Rotten Tomatoes, but given the score's only based on 36 reviews and there's an audience rating of 78%, you should give "The Warrior Queen of Jhansi" a chance and come to your own opinion. Decider recommended the movie, saying that although there are "lengthy sequences of dialogue" that take away from the inspiring tale, Lakshmibai's "story of personal independence, strident feminism, and ardent belief in the rights of her people to live free of colonial tyranny is one well-suited for film biography."
Commonly seen as the Joan of Arc of the East, Rani Lakshmibai is a little known figure in history who definitely needs more attention. So why not check out an entertaining and encouraging movie on Hulu telling her story?