Here's Why Fans Have A Problem With Carlos From Gold Rush: White Water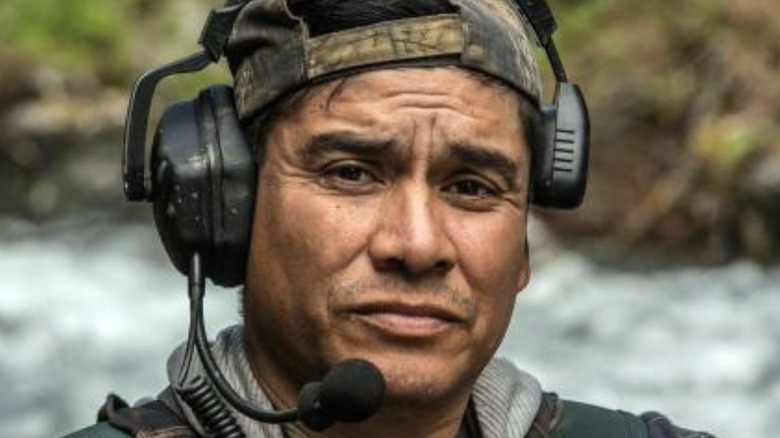 Discovery
The Discovery reality series "Gold Rush" has no shortage of fans who have worked collectively to ensure its stay on the airwaves for over a decade. Now with a total of 11 seasons under its belt, its continuity has expanded via a handful of spin-offs that spawned along the way. The most recent addition is "Gold Rush: Freddy Dodge's Mine Rescue," which premiered in January of 2021 on Discovery+, but the most successful and tenured of the bunch has been "Gold Rush: White Water."
Putting the spotlight on the father-son duo of "Dakota" Fred and Dustin Hurt, "White Water" chronicles their attempts to hit it big in the gold mining game. They specialize in the risky practice of dredge diving, which they've brought to McKinley Creek in Haines Borough, Alaska, in pursuit of fortune. Although, the "Dakota Boys" aren't the only ones putting their lives on the line, as proven by the numerous other individuals who have featured on the show at one point or another. Some, like Paul Richardson, take their leave after some time, but others stick with it through the good, the bad, and the ugly.
One of the most prolific presences on "White Water" is Carlos Minor — a former Marine drill sergeant who isn't afraid to get his hands dirty when the situation calls for it. He has been on the program since its first season, and thus his name has grown synonymous with it. Even still, some longtime fans have reservations about him and how he acts when the camera is pointed in his direction.
Carlos' personality is just too much for some viewers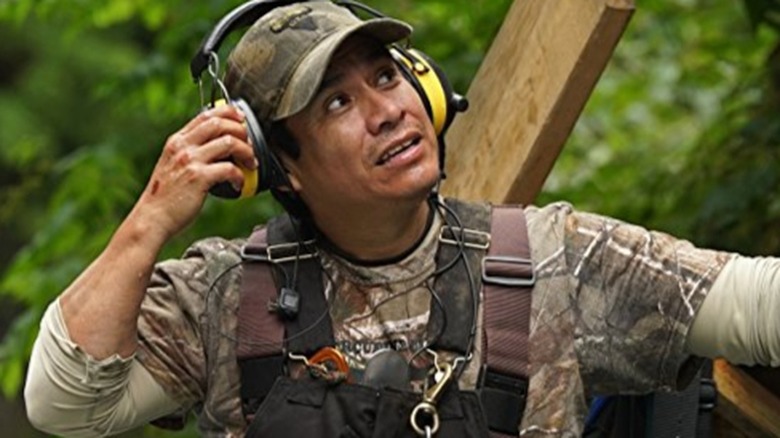 Discovery
"Gold Rush: White Water" fans took to Reddit in early 2021 to express their feelings on Carlos Minor, and the sentiments were mixed, to say the least. 
"He seems like a nice guy and a good worker but I find his constant positive attitude quite draining. Even in bad situations he's laughing and smiling and making cheesy wise cracks," wrote user CosmicQuestions, explaining that while they tend to be more negative, Minor's happy-go-lucky demeanor can be too overwhelming. Redditor OgOggilby concurred, commenting, "Love the guy and his unbridled enthusiasm and optimism, can't stand the talking it generates."
Others took their analysis of Minor's behavior a step further, contemplating where his unending positivity comes from. "Carlos is doing what he needs to do to get airtime and that sweet Discovery money. I think he is a nice person but is over the top with his acting," posited ToiletPlungerOfDoom, and Reddit user grason seemingly agreed with their response by admitting they "just feel like he's acting so hard.. always looking for the right thing to say, and then just over-doing it."
On the total opposite side of the fence, some members of the "White Water" Reddit community had nothing but nice things to say about Minor and his attitude. User bishopazrael replied, "I'll take Carlos anyday of the year. A guy like him next to you in a foxhole, it just makes life a tad easier," and SomberGuitar compared him to one of their previous coworkers, noting that "Most people are toxic to each other. Misery loves company. This guy was a ray of sunshine."
At this point, Carlos Minor is an integral piece of the "White Water" puzzle, and no matter how his personality makes audiences feel, it's safe to assume they'll have to witness it for years to come.