Monsters At Work Sneak Peek Showcases New Characters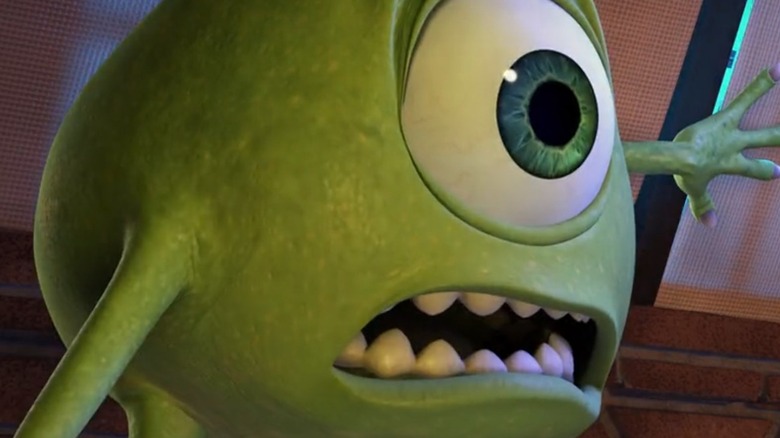 Disney/Pixar
Disney+ has a laundry list of exciting projects coming up, with new entries in the Star Wars and Marvel universes dropping on a seemingly minute-by-minute basis. "Willow" is getting a show. Baymax of "Big Hero 6" is on his way to streaming celebrity status. For the discerning cinephile, "Garfield: A Tale of Two Kitties" remains on tap 24 hours a day. With so much going on, you'd be forgiven if you lost track of the fact that the "Monsters Inc." franchise is gearing up to offer its first-ever television series with "Monsters at Work," the direct sequel to the original motion picture that came out — brace yourself — a full 20 years ago.
The series looks set to explore the lives of Monstropolis' denizens following the events of "Monsters Inc." No longer in the business of terrifying children to harvest their screams, the eclectic citizens of the monstrous side of your bedroom closet are now tasked with getting kids to laugh, yielding even more energy and causing — at least in theory — fewer permanent traumas.
Fans have been waiting for the sequel series for years, and thanks to a first-look image posted to the Disney+ Instagram page, they're getting an eyeful of Monsters University's freshest graduates.
The monsters are back in business
The sneak peek comes to us thanks to the most magical time of the year: World Facilities Management Day. In honor of this joyous occasion, Disney+ gave fans an up-close look at some of the new additions to the city of Monstropolis on their Instagram page. The peak features five fresh monsters averaging 2.4 eyes apiece.
On the far right, there's Taylor, voiced by "Superstore's" Ben Feldman, and described by EW as a world-class scare machine struggling to adapt to a world where frights are out and laughs are in. Immediately to his left is the Monsterverse's newest little green monster Duncan played by Lucas Neff of "Raising Hope."
Center stage belongs to Henry Winkler's character Fitz, a monocular blue bundle of hugs. Then there's Val (voiced by Mindy Kaling), the furry, living, upside-down letter U, and Alanna Ubach's Cutter on the far left, complete with hard hat and creepy-crawly crab legs. Clearly, fans of "Monsters Inc." and its wild character designs won't be disappointed when "Monsters at Work" hits Disney+ on July 2, 2021.