New Movies We Can't Wait To See In March 2017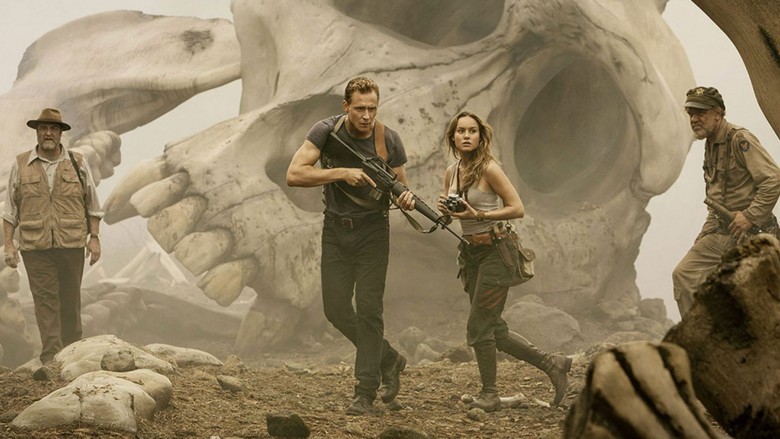 From a live-action Disney adaptation to some of the biggest sci-fi films of the year, March is stacked with movies well worth checking out at the box office.
Highlights for the month include Logan, Kong: Skull Island, Ghost in the Shell, The Belko Experiment, and Power Rangers. We'll break them all down below—be sure to update your calendar accordingly (and snag some early tickets).
Logan (March 3)
Director James Mangold's Logan, which really could be Hugh Jackman's last hurrah as Wolverine, promises to show off the darker side of the X-Men universe's future. The film is a loose adaptation of the Old Man Logan comics arc, and also offers the young Wolverine clone X-23—long familiar to X-Men readers—her big-screen debut. The story finds an aged Wolverine, with a failing healing factor and broken spirit, protecting an older Professor Xavier at the end of his life. The early trailers look fantastic, and Jackman even took a pay cut to ensure the filmmakers would have the flexibility to create the R-rated story envisioned.
Before I Fall (March 3)
This drama is based on the 2010 novel of same name by Lauren Oliver, and follows a 17-year-old girl who has to relive the day of her death. Young Sam (Zoey Deutch) uses her time loop to try and avoid her fate, and eventually finds the freedom to take chances—and learns there's a lot more to life than she thought. Before I Fall is directed by Ry Russo-Young (Nobody Walks).
T2: Trainspotting 2 (March 3)
It's been more than 20 years, but director Danny Boyle is back with the long-awaited sequel to his cult hit black comedy crime drama. The project brings back original stars Ewan McGregor, Ewen Bremner, Jonny Lee Miller, and Robert Carlyle, and has been in development for the better part of a decade. Expectations are high for Boyle to follow up his modern classic, but by loosely basing the story on the novel sequel Porno (written by Trainspotting author Irvine Welsh), he at least has a template to follow—and reviews have been largely positive in the U.K., where T2 is already in theaters.
The Shack (March 3)
This faith-based film stars Sam Worthington and Octavia Spencer, and is based on the 2007 novel of the same name. The story follows a family after their young daughter is murdered, as the father (played by Sam Worthington) deals with a crisis of faith. He receives a mysterious letter telling him to return to the shack where the crime occurred. It comes from the producer of The Blind Side, so if you're looking to have some heartstrings pulled, this should do the trick.
Table 19 (March 3)
In this comedy from Jay and Mark Duplass (Safety Not Guaranteed), Anna Kendrick plays a woman who's invited to a wedding and winds up at Table 19—along with a bunch of other folks who weren't really all that invited, either. Kendrick, who's joined by Craig Robinson (The Office), June Squibb, Lisa Kudrow (Friends), Stephen Merchant, Wyatt Russell and Tony Revolori, is hilarious; putting her in a wedding comedy surrounded by this cast should be a recipe for success.
Kong: Skull Island (March 10)
This period-set King Kong film stars A-listers Tom Hiddleston, Samuel L. Jackson, John Goodman and Brie Larson as a team of explorers and soldiers venturing into an uncharted island in the Pacific Ocean. Turns out the place is full of monsters, led by the mighty Kong. Legendary is reportedly looking to combine the worlds of Kong and Godzilla for a crossover down the line, so this one should also help set the stage for even more monster insanity.
The Last Word (March 10)
This Sundance hit is getting a wider release, and follows a retired businesswoman (played by Shirley MacLaine) who writes her own obituary to ensure her life story is told exactly the way she wants. She meets up with a young writer (Amanda Seyfried) who wants to meet the woman behind the obit. Director Mark Pellington's film scored solid reviews on the festival circuit, with critics admitting that while the story isn't anything special, MacLaine makes it work.
The Belko Experiment (March 17)
This high-concept horror film was written by James Gunn (Guardians of the Galaxy) and follows a group of 80 white-collar office workers trapped in a violent social experiment in which the work day suddenly becomes a game of kill or be killed—basically Office Space meets Battle Royale. The Belko Experiment stars John Gallagher, Jr., Michael Rooker, Tony Goldwyn, Adria Arjona, John C. McGinley and Melonie Diaz, and is directed by breakout horror director Greg McLean, best known for his hit thriller Wolf Creek.
Beauty and the Beast (March 17)
Disney has realized that turning its animated classics into live-action tentpoles is lucrative business, and this marks the latest installment. The Mouse House has assembled an all-star cast for the live-action version of Beauty and the Beast's star-crossed romance, including Emma Watson, Dan Stevens, Luke Evans, Kevin Kline, Josh Gad, Ewan McGregor, Stanley Tucci, Ian McKellen, and Emma Thompson.
Power Rangers (March 24)
For youngish adults of a certain age, this one has been a long time coming. The '90s kids' series is getting a big-screen reboot as a PG-13 action franchise. Director Dean Israelite (Project Almanac) has put together a nice mix of stars like Elizabeth Banks and Bryan Cranston plus younger up-and-comers to play the teenage Rangers. Israelite's previous film Project Almanac did a good job with its teen protagonists, so this one has the potential to be a whole lot of fun—or a total mess. Either way, we can't wait to see how it turns out.
Life (March 24)
This sci-fi horror thriller follows a team of astronauts on the International Space Station who retrieve a space probe returning from Mars. The crew is studying a sample retrieved by the probe, which could prove there is life outside of Earth, but all hell breaks loose and they have to find a way to stop the organism while trapped with it on board the ISS. It's basically a modern-day Alien, which actually sounds pretty cool. The cast includes Jake Gyllenhaal, Rebecca Ferguson, Ryan Reynolds, and Hiroyuki Sanada.
CHiPS (March 24)
This buddy cop comedy stars Dax Shepard (who wrote and directed) and Michael Peña as two California Highway Patrol motorcycle officers who get in way over their heads. The supporting cast includes Vincent D'Onofrio, Adam Brody, Rosa Salazar, Vida Guerra, and Kristen Bell—and yes, CHiPS is a comedy-centric remake of the 1977-1983 TV series. Remember how much you liked the Starsky and Hutch and Dukes of Hazzard movies? Maybe not, now that we think about it...but there's still a lot of talent and potential here.
The Boss Baby (March 31)
This CGI family comedy is basically Secret Life of Pets, except with babies instead of animals. Which, considering how much cash Pets made at the box office, should turn out to be a winning formula. As far as kid-friendly fare is concerned, the trailers actually look pretty funny, and the cast of Alec Baldwin, Steve Buscemi, Jimmy Kimmel, Lisa Kudrow and Tobey Maguire seem to be having a good time with the material.
Ghost in the Shell (March 31)
The long-awaited live-action adaptation of this acclaimed anime looks to be one of the most ambitious sci-fi films of the year. Scarlett Johansson stars in the lead role of the Major, and the story follows the counter-cyberterrorist unit Section 9 as they take on a dangerous new threat. The first footage from the film looks to be a gorgeous translation of the visuals from the anime—no matter how it turns out as an overall cinematic experience, there seems to be no doubt director Rupert Sanders (Snow White and the Huntsman) has built something gorgeous.
The Zookeeper's Wife (March 31)
This adaptation of the non-fiction book of the same name recounts the true story of Warsaw Zoo keepers Jan and Antonina Żabiński, who turned their zoo into a literal safe haven back in World War II. The film stars Jessica Chastain, Johan Heldenbergh, Michael McElhatton and Daniel Brühl and was directed by Niki Caro (McFarland, USA).