Why Mindy From Mork & Mindy Looks So Familiar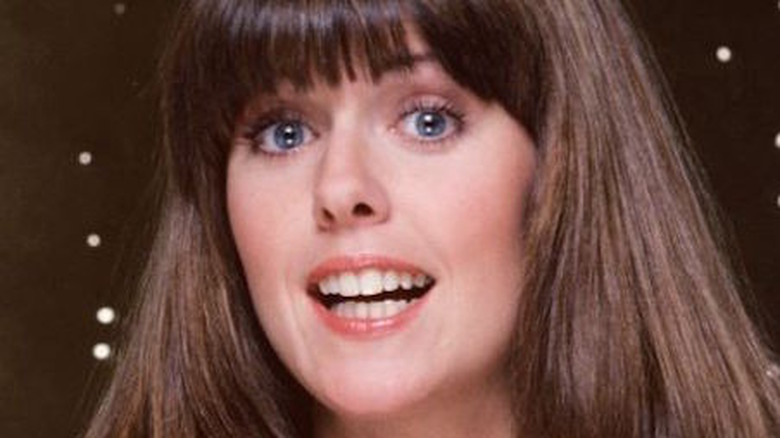 ABC
"Mork & Mindy" became a runaway hit for ABC in the late 1970s. Launching the career of comedy legend Robin Williams, the show peaked at number two on the Nielsen Charts during the show's third season in 1978. 
The show focuses on Mork (Williams), an alien from the planet Ork, a society devoid of emotions and feelings. Sent to earth to observe human life, and ordered to file reports back with his superior, Orson (Ralph James), Mork soon makes friends with his subjects, and begins to experience unexpected romantic feelings for the woman who takes him in, Mindy McConnell (Pam Dawber).
The runaway success of "Mork & Mindy" eventually flatlined when the show switched time slots — from Tuesday to Sundays. More studio meddling came in the form of a casting revamp that was intended to appeal to a hipper, younger audience. The show, which fell from second place to 27th, limped along for two more seasons before being canceled in 1982. Though "Mork & Mindy" ultimately cratered, the careers it launched continued on into the stratosphere.
The role of cheerful reporter Mindy McConnell was Pam Dawber's first starring role, and she used it to springboard herself into a career that's gone some surprising places since. Here's why she looks so familiar.
Pam Dawber got her start in commercials
Before Dawber was cast as Mindy, she spent a lot of time picking up commercial work in the early 1970s. Among the products and services she helped sell were Prell Shampoo, Neet, Underalls and Fotomat. In 1982 she returned to her pitch woman roots as a rep for Noxeema.
According to an interview conducted for ABC's "The Happy Days of Garry Marshall" in 2020, Dawber was a catalog model as well as a commercial actress, with very little real acting experience before "Mork & Mindy." Surprisingly, her girl-next-door good looks landed her that part without an audition (via Variety).
Dawber initially balked at the idea of the role: "It sounds stupid, it sounds really stupid, I don't want to do a show like this!" she told her agent at the time. But a lunch with Garry Marshall — during which he gave her a video tape of Williams chewing the scenery in his appearance on "Happy Days" — ultimately changed her mind.
"It was so clear, he was adorable, he was so funny, he just had it — I mean that was it, it was like 'where do I sign?" she said.
After Mork she had a whale of a tale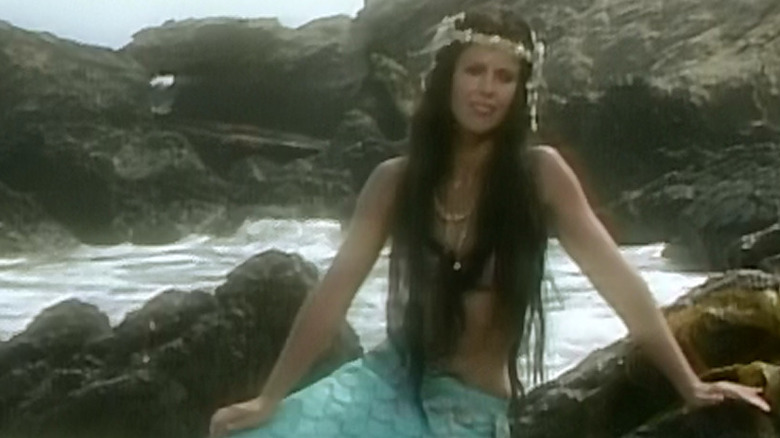 Showtime
It's likely that a lot of folks remember one of Dawber's post-"Mork" projects quite clearly, especially if they were a child of the '80s. In 1987, Dawber portrayed Pearl in a pre-Disney rendition of Hans Christian Anderson's "The Little Mermaid." Her episode was part of Season 2 of the anthology series "Faerie Tale Theater."
Since "Faerie Tale Theater" was resolutely loyal in its portrayal of the show's stories, Pearl's tale is no romantic cakewalk toward fulfillment, and there are no singing crabs. Instead, she trades her voice for feet that pain her endlessly as she tries to walk on land. Soon, she learns that the prince whom she has long loved from a distance is infatuated with another. Given the chance to murder the prince and obtain the blood she needs to save her own life, she instead chooses to sacrifice herself. Becoming nothing more than seafoam, Pearl is given the opportunity to redeem her soul through a series of good deeds. Talk about a hard-won redemption arc. Ariel's got nothing on Pearl.
Her next role is memorable for tragic reasons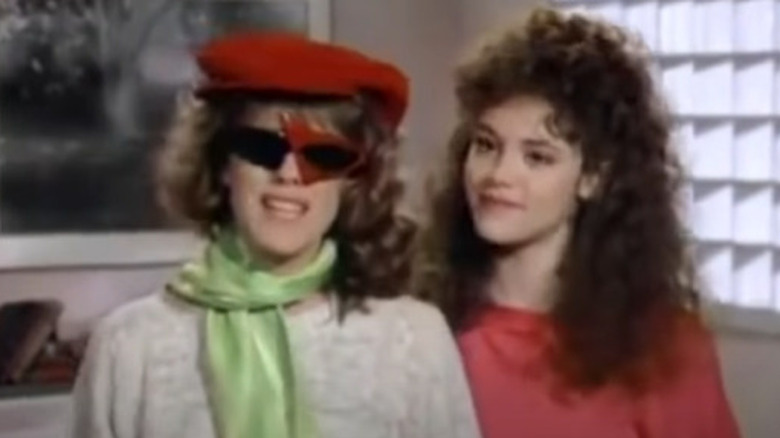 CBS
After appearing in "The Pirates of Penzance" with Andy Gibb on Broadway, Dawber did some theatrical work and TV movies before returning to episodic television. In 1987, dhr produced and starred on the CBS sitcom "My Sister Sam." Co-starring Rebecca Schaeffer, the show followed photographer Samantha "Sam" Russell as she takes her younger sister, Patti, under her artistic wing. The twosome try to ford their way over the generation gap, while attempting to navigate life in 1980s San Francisco.
The show lasted for two seasons before being canceled in 1988. Tragically, Schaeffer was murdered by Robert John Bardo on July 18, 1989, a little less than a year after the show ceased production. According to a notice from E Online, Bardo had been stalking Schaeffer for some time, and had actually sent gifts to the studio where "My Sister Sam" was recorded. He is currently serving a life sentence in prison.
Dawber was inspired by her grief over Schaeffer's death to "make a difference," according to ABC News. She testified before Congress to ask for "saner gun laws," and appeared with the show's remaining cast in 1989 for a PSA.
You'll have to Stay Tuned to remember this one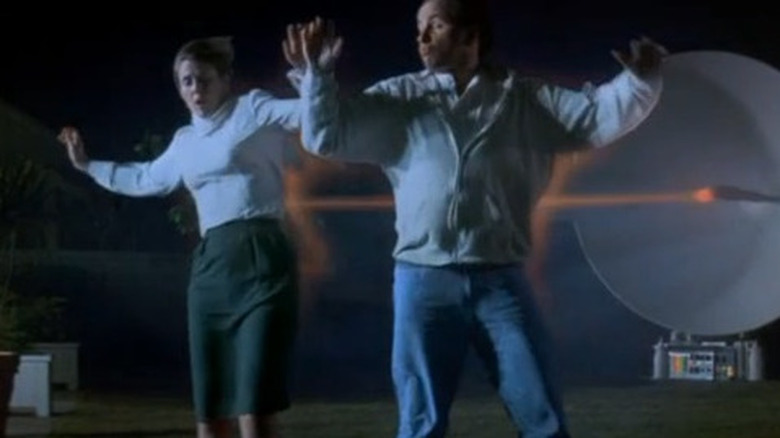 Warner Bros.
In 1992, Dawber and John Ritter shared comedy firepower in the 1992 family film "Stay Tuned." The film focuses on the dissatisfied life of tv-obsessed plumber husband, Roy Knable (Ritter), and his long-suffering wife Helen (Dawber). The husband is talked into buying a satellite dish which serves up 666 channels by Spike (Jeffrey Jones), a salesman with much more sinister designs. The couple are sucked into their TV set and forced to participate in Hellvision, which features parodies of various sitcoms and programs popular at the time. If they can last in the realm for 24 hours, the couple will escape with their souls. If not, they will be killed and their souls become the property of Satan.
The film, directed by Peter Hyams (famous for "Timecop" and "Running Scared" among other films), opened sixth in the United States according to the LA Times. It eventually went on to gross $10,736,401 million worldwide, according to Box Office Mojo.
A reunion with Robin ... and a whole new role
In 2014, Dawber reunited with Robin Williams for his CBS dramedy The Crazy Ones, on which they play ex-lovers. She also appeared on the 2016 "Odd Couple" reboot in the episode entitled "Taffy Days," which includes many actors connected to Garry Marshall projects, intended as a salute to the recently deceased producer, director, and actor.
In March of 2021, she was cast on her husband, Mark Harmon's, CBS blockbuster series "NCIS." According to EW, she portrays Marcie Warren, "a seasoned investigative journalist who uses her savvy wit and down-to-earth people skills to aid in her tireless pursuit of truth," in a four-episode arc on the show. 
"The show has been on for a hundred years, and they have come at me a few times. Either I just didn't want to do it or I didn't appreciate what it was they wanted me to do. Or it was near Christmas and it was like, ;I can't do this. I've got my parents coming into town.' I just haven't been interested in, you know, chasing the business. At this age, that's what you do. You'd have to really want it. I just don't want to put myself out anymore," she told EW. But then she read the script. "The character is so good. I just fell in love with what they wrote. And then I had anxiety like, 'Oh my God, am I going to do this?'"
She did it, and we're glad she did.