The most awkward on-screen love scenes in television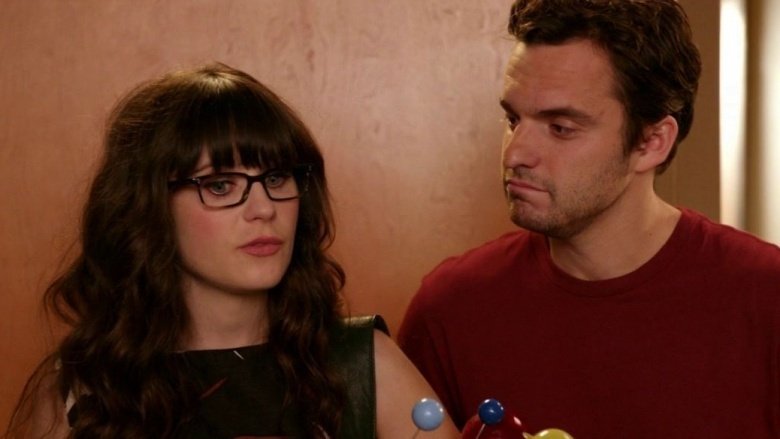 Television has evolved from its simplistic, happy-go-lucky form. Now, instead of The Andy Griffith Show, we have shows like Game of Thrones and The Walking Dead to push the envelope with more adult themes—and, of course, sex. But not all sex scenes are made equal; while some are written into a show to give it a little spice, others are there to bring the awkward side of relationships directly into our living rooms. Without further ado, here are some of the most awkward love scenes ever broadcast on television.
The One with Rachel's Sister - Friends
On the long-running hit sitcom Friends, Courteney Cox played Monica, a control freak who entertains the preposterous notion that being sick is a sign of weakness. In this sixth season episode, Monica sets out to prove that illness isn't going to stop her from having a good time, and she aggressively attempts to seduce boyfriend Chandler (Matthew Perry). He refuses at first, encouraging Monica to rest and heal, but she finally gets her way with the "ruse" of convincing Chandler to help her apply some VapoRub.
All or Nothing - Cougar Town
In real life, there isn't much of an age difference between the stars who played Travis Cobb and Laurie Keller on Cougar Town—Dan Byrd is a mere six years younger than Busy Philipps. But their onscreen relationship was mildly scandalous: Laurie is best friends with Jules (Courteney Cox), who just so happens to be Travis's mother. Cougar Town is a show about sexual freedom, and to that end, Jules comes to accept the relationship. That's a hard task, especially after she discovers her son and her best friend going at it in the shower. Nobody wants to see that.
An Affair to Forget - Will and Grace
When Will and Grace are asked to be the best man and maid of honor in their friends' wedding, Grace's secret—that she slept with the groom, Rob, in the past—gets exposed. In an attempt at revenge sex, the bride-to-be, Ellen, tries to seduce Will in an obvious miscalculation. Clearly, this wouldn't have worked with even the sexiest of temptations, but that is not what happened here at all. Ellen approaches Will with subtlety of speeding train, declaring, "Get a load of these torpedoes!" after ripping off her shirt. She then does a creepy shimmy while singing "Give it over to your mama," which adds another layer of weirdness. She then feigns sadness at Will's rejection, which proves to be a ruse to physically pounce on him. And just in case you're thinking, "Honestly, this isn't that awkward at all," just imagine if their roles were reversed.
Water Tower - That '70s Show
It's every child's worst nightmare: stumbling upon their parents doing the thing that made them in the first place. In this first season episode of Fox's retro sitcom, Eric Forman (Topher Grace) comes home when he shouldn't have and walks right into his parents' room, where they're going at it like a couple of teenage rabbits. Eric should've known—the porno-style music and mood-setting candlelight clue in the audience just a split second before Eric realizes what's going on. Viewers don't see Kitty and Red in the buff, as the scene unfolds entirely in the form of Grace's horrified and confused face.
The One Where Joey Moves Out - Friends
What's worse than interrupting one's step-grandmother getting busy? Well, lots of things, but definitely being in the same room as their parents while they're getting busy. Early on in Friends, Monica (Courteney Cox) started dating her father's friend, Dr. Richard Burke (Tom Selleck). In this Season 2 episode, they both attend a birthday party for Monica's father/Richard's friend, where everybody is gossiping about Richard having a new girlfriend half his age. Richard and Monica convene in the bathroom to discuss whether they should admit  she's the woman in question. He leaves, but she stays back for a minute … only to be forced to hide in the bathtub when her parents (Elliott Gould, Christina Pickles) also seek privacy in the bathroom. And so Monica must stay quiet and still as she listens to her parents do what mommies and daddies do.
Will Gets A Girlfriend - The Inbetweeners
Nothing is more awkward than losing your virginity, unless of course you're almost-but-not-really have sex and it's on television. This is exactly what happens in E4's The Inbetweeners, with Will almost having sex with Charlotte. His methodology is completely strange and awkward to watch, and when he asks if he "can count that one" afterward makes for hilarious television.
Noretta - How I Met Your Mother
When Barney's (Neil Patrick Harris) brother (Wayne Brady) comes for a visit, he points out the many similarities between Barney's new girlfriend Nora (Nazanin Boniadi) and their mother (Frances Conroy), such as a similar hugging style and how they both call Barney "my sweet boy." The thought gets into Barney's head, and before long, he starts seeing his mother when he looks at Nora. After a little split-screen trickery in which Nora and Mom sing a duet of "My Favorite Things" from The Sound of Music, Nora initiates sex with Barney on the couch. But he, and the audience, see Mom lying on top of him.
The Mango - Seinfeld
This episode opens with George expressing his worry to Jerry that his new girlfriend has been "faking it." When Elaine joins them, Jerry brags that Elaine never had to fake it with him—to which she responds that she did. Jerry begs her for 30 minutes to prove himself, which she declines because it will "ruin the friendship." When Jerry continues moping, she changes her mind for the sake of saving their friendship. It concludes with a shot of Jerry and Elaine lying in bed, with Elaine reading a magazine and Jerry looking crushed. He of course blames George for psyching him out.
Natural Born Kissers - The Simpsons
While The Simpsons has often depicted Homer and Marge Simpson in bed together, both before and after what Marge euphemistically calls "snuggling," the show has also made the audience privy to rough spots in Homer and Marge's relationship. In the 1998 episode "Natural Born Kissers," the Simpsons mark their 11th wedding anniversary, and while not particularly wanting to, they try to have some obligatory marital relations. They can't seem to get in the mood at all, and then Homer asks Marge to stop doing some little trick she thought he liked. They call the whole thing off and focus all their attentions on the welcome distraction of Santa's Little Helper barging in. But one awkward love scene deserves another—the rest of the episode is about Homer and Marge getting their groove back by "snuggling" in public places.
Gimme an O! - Felicity
This college-set series was about a bunch of young adults trying their hardest to grow up and often failing. Like in this Season 1 episode, when Felicity (Keri Russell) returns to school after winter break and tells her sort-of-boyfriend Noel (Scott Foley) that she thinks they should have sex for the first time (which would also be her first time ever). Leading up to the big night, Felicity gets very type A, responsible, and practical about the whole thing, which includes buying books about sex and determining the right form of birth control. But when the sex actually happens, it doesn't quite happen. The couple's first time ends in a blaze of non-glory when Noel knocks over a candle and starts a fire, which is to say nothing of the guys who walk in on them.
Episode 1 - Fleabag
Amazon's British import Fleabag is a source for many less-than-magical depictions of love and sex—in fact, that's kind of the point of Fleabag. The main character (Phoebe Waller-Bridge) has made such a mess of her life that the audience never learns her real name, only the nickname Fleabag, as she undergoes one misadventure after another to cope with loss, trauma, and sadness. (It's what we'd call a "dark comedy.") At any rate, Fleabag is the kind of person who takes matters into her own hands…like in an R-rated way, while watching the news, with her boyfriend asleep in bed beside her. Yes. She. Can.
The Infestation Hypothesis - Big Bang Theory
Leonard and his girlfriend are attempting a long-distance relationship after she moves back to India. They have a date for "dinfast" (as Sheldon calls it), and they attempt cyber sex. After an awkward and obviously scripted attempt at dirty talk, Priya tells him to let her guide him, only to have the screen freeze as she's taking off her shirt. Leonard then decides it's a good time to ask about her parents, while Sheldon suggests from the other room that he "try resetting the TCP/IP stack." He later decides to attempt it again (after apparently Googling how to talk dirty), oblivious to her warnings, and ends up on the receiving end of disapproving looks from her parents—who were apparently in the room and heard every word he said.
The Robotic Manipulation - The Big Bang Theory
What's more awkward than getting caught masturbating? How about when you outsource the job to a robot, then have to call your friends for help when the program controlling it goes all "Hal from 2001: A Space Odyssey." That's what happened to Howard on "The Robotic Manipulation" episode of The Big Bang Theory. Of course, the situation only got worse when Raj and Leonard come to the rescue and their best suggestions were to either saw it off or cut it off with a torch. Meanwhile, Howard's mom started yelling from off camera that she was about to walk in with cookies and Hawaiian Punch. At this point, we're not sure if this scene is more uncomfortable for the dude being manhandled by a disembodied part of the T-1000 or for the beverage company that probably had no idea what they were getting when they paid for that product placement.
I Called Him Magoo - Two and a Half Men
Charlie (Charlie Sheen) seemed to be the brother who got the fun and glamorous adult fun times on Two and a Half Men; Alan (Jon Cryer) got the difficult ones. In this 2010 episode, he takes girlfriend Lyndsey (Courtney Thorne-Smith) to a hotel for a romantic getaway. He makes every effort to impress, ordering aphrodisiacs like strawberries and oysters. But Lyndsey gets stuck in the bathroom for awhile, leaving Alan alone to eat way too many oysters. Rather than get him in the mood, the raw shellfish gives him some gastrointestinal discomfort, which strikes right as Lyndsey emerges from the loo. It's then his turn to rush to the bathroom…although things weren't going well anyway, what with Lyndsey constantly comparing Alan to her ex-husband.
Virgins - New Girl
It's probably not surprising that Schmidt from New Girl has made this list. In fact, he has so many strange moments throughout the series that it's tough to pick just one. But when one of Schmidt's escapades from college gets a little messy and out of hand, his good ol' buddy Nick is there to make things even more awkward. And all the while, Boyz II Men's "I'll Make Love to You" plays in the background.
Ders Comes In Handy - Workaholics
For a show like Workaholics, which is a lunatic glimpse into the lives of three perpetual man-children, awkward is the only way sex scenes ever play out. That said, when Ders receives the friendliest of all handshakes from a seemingly random pregnant woman in a sporting goods store, it is hilariously uncomfortable even if it doesn't come close to the craziest thing they've ever done on the show. From the speed with which he finishes, to the pregnant lady's creepy dirty talk—"Don't you worry about what's in this belly"—to the fact that later in the episode it's revealed she's Montez's wife, the scene is as funny as it is squirm-inducing.
McStroke - Family Guy
Family Guy is all about pushing boundaries, so they probably had no qualms about the scene in which Stewie, in disguise as popular high school kid "Zac Sawyer," tries to get it on with Connie D'Amico at "Anal Point," a secluded overlook in Quahog where teenagers park and get frisky. The rendezvous goes sour when Stewie reveals himself, believing in his naive infant mind that he prepped for the sexual encounter by drinking "eight gallons of water." Upon seeing his appropriately tiny baby member, Connie laughs and kicks him out of the car. She later mocks him in front of her friends, so Stewie's revenge, naturally, is to frame her as a pedophile.
Offred - The Handmaid's Tale
The Handmaid's Tale doesn't traffic in awkward content as much as harrowing, terrifying, and depressing content. In Hulu's acclaimed adaptation of Margaret Atwood's 1985 dystopian novel, a religious sect has taken over the United States and forced women of child-bearing age to be property for prominent couples. (Elisabeth Moss stars as Offred, as in she is the property "Of Fred.") These "handmaids" are tasked with bearing a couple's children—and they're impregnated the old-fashioned way. As if that wasn't horrible enough, it's also the central action in a series of cold, creepy rituals.
Alarm - My Mad Fat Diary
Nothing is quite so awkward as a teenage sexual encounter, not to mention one a parent interrupts, which is exactly what happens to Rae in this scene from the U.K. series My Mad Fat Diary. It starts out with Rae mentally cataloging every insecurity every teenage girl has ever had about sex before having her mind literally blown when her love interest, Finn, turns out to be a "sex wizard" with his skills in the sack. But the moment is fleeting, as Rae's mother enters the room for a silly reason, then breaks down in tears, fearing that she's going through "the changes." Is there a stronger mood killer for teens than dealing with someone's mom's menopause? We think not.
Caught in the Act - Modern Family
The kids decide to serve Phil and Claire breakfast in bed on their anniversary, and you'll never guess what happens next. Okay, it wasn't that tough: they walk in on them having sex. This one isn't so much about the awkwardness of the actual sex in the scene as it is about Claire screaming "I'm sorry!" and Phil blurting out "Nothing's happening!" as the horrified kids run out of the room. Then, to seemingly amplify the squirm factor, Claire and Phil sit the kids down for a sex education chat so uneasy it feels like it's being delivered by a sixth grade gym teacher. Come on, Dunphys, you can do better than that.
Raisin Balls and Wedding Bells - The Last Man On Earth
The Last Man On Earth is a show built on increasing absurdity, so it's saying a lot that they set the bar so high in the third episode with what is unquestionably one of the weirdest sex scenes ever on television. Newlyweds Carol and Phil climb into bed to consummate a marriage that Phil clearly isn't sure about. Then Carol's dirty talk begins—if you can actually call it that. "Oh, throw your sleeping bag down, Phil, that's your camping spot! You big camper! You better put the food in the trees before the bears get it. Oh, you hear 'em comin'? Uh oh, uh oh, nicely done, Phil!" she screams, then rolls over and eats directly out of a can of beans. "I'm just gonna roll over and try to figure out what just happened," Phil says. Us too, Phil. Us too.
Lois Comes Out of Her Shell - Family Guy
It makes for a super awkward moment anytime kids become aware of their parents' sexual behavior, so of course, Family Guy had to take it way beyond in a scene when Peter and Lois go at it in the basement laundry room. They don't even show the sex, but it's overheard by Chris, Meg, and Brian, who are seated directly upstairs and are exposed to Lois saying "Destroy me and this laundry," and Peter saying "Put Meg's bra in your mouth." The audience is made to feel the exact comic horror reflected on the characters' faces as Brian offers one last observation, saying, "Yeah, my hearing's a lot better, so I hear, like, suction and stuff." So gross.
Cersei and Jaime, every time - Game of Thrones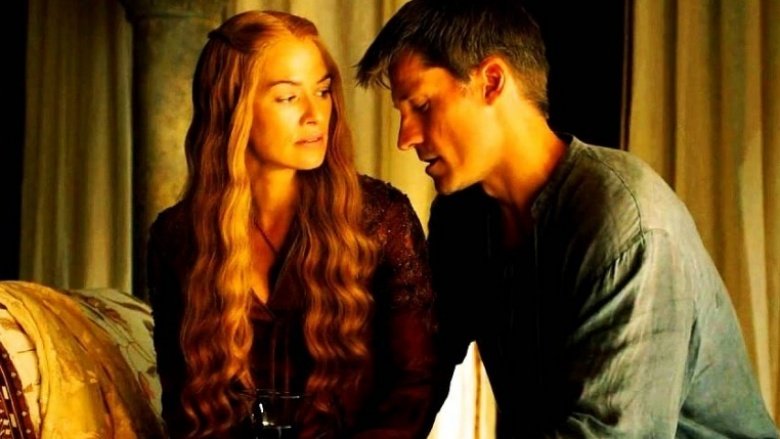 Of course, every instance of intimacy between twin sister and brother Cersei and Jaime Lannister makes all of us a little uncomfortable—for obvious reasons. In this particular instance, the awkwardness is amplified when they are discovered in an unused part of the castle at Winterfell by ten-year-old Bran. Bran's engaging in his favorite pastime of climbing the walls when he hears them. Naturally, when Jaime spots him peering in the window, he seeks to rectify the situation by pushing the boy and watching him fall to his (almost) death—before which he laments, "the things I do for love." Nothing spices things up like attempted murder.
'Bummer/Blueberries' - Louie
The Louie series is filled with awkward moments, but the show rarely delves into things of a sexual nature. One of the exceptions to that is a sex scene between Louie and a nameless mother at his daughter's school. The encounter is made no less awkward by the fact that in the first half of the episode, Louie watches a homeless man get decapitated by a garbage truck. In the second segment, he is propositioned by the aforementioned mom at his daughter's school for no-strings attached "intercourse." After changing into a shapeless, unflattering nightgown and rubbing lotion on her legs, she sends Louie on a freaky scavenger hunt for necessary items (including blueberries) before they get down to it. The scene ends with her sobbing on the bed and eating those blueberries.
'At the Codfish Ball' - Mad Men
Walking in on a loved one doing the deed is certainly near the top of many people's "most awkward moments in life" list. It's highly relatable and deeply uncomfortable, when the same thing occurs on TV. On Mad Men, it happens to young Sally Draper (Kiernan Shipka). A couple times, actually. In one episode, she catches her dad doing the dirty with Sylvia (Linda Cardellini) the next-door neighbor. Another time, her dad's friend and business associate Roger Sterling (John Slattery) brings her as his "date" in a cute, grandfatherly way to a charity dinner. He disappears, Sally goes looking for him and finds him in an unused room getting some special attention from Marie (Julia Ormond), the married mother of her step-grandmother.