KonoSuba Season 3: Will We Ever See The Sequel?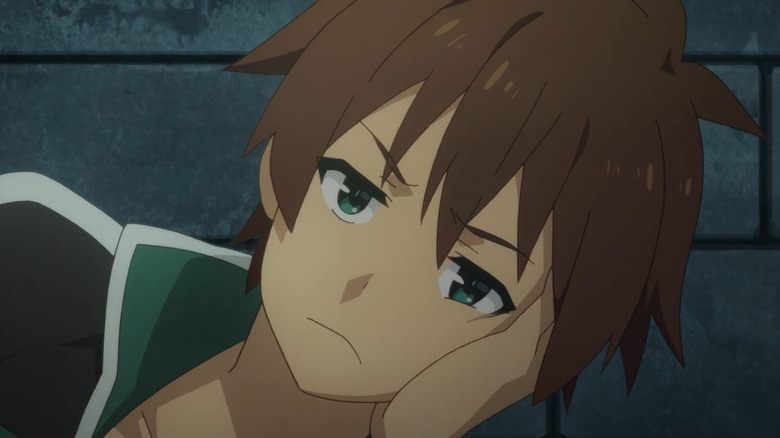 Crunchyroll
The power of anime often lies in its ability to transport viewers to other worlds. There's even an entire subgenre that's focused on this idea. Known as isekai, it revolves around the concept of other dimensions, allowing creators to showcase an assortment of imaginative wonders in the process. "KonoSuba: God's Blessing on This Wonderful World!" fits into this strand of anime, but what makes the show so great is its willingness to poke fun at the tropes and ideas that define many isekai titles.
Based on Natsume Akatsuki's light novels of the same name, "KonoSuba" centers around the fantastical adventures of Kazuma Satō, a sleep-deprived loner who winds up in a magical world after suffering a heart attack following a tractor accident. Following his demise, Kazuma meets a self-proclaimed goddess called Aqua, who, after mocking him for dying in such a silly way, takes him to the new realm to battle the Devil King. Upon arrival, they are joined by a spellcaster named Megumin and Darkness, a knight with some serious issues. Thus begins an action-packed journey that pits them against giant frogs, dastardly snowballs, and other mischievous foes.
The anime's last season aired in 2017, and a spin-off film, "KonoSuba: God's Blessing on This Wonderful World! Legend of Crimson," premiered in 2019. Some of the characters have also appeared in the crossover saga "Isekai Quarter" since the show entered hiatus. However, fans haven't given up hope of seeing another "KonoSuba" series. But will it ever happen?
The future of KonoSuba is uncertain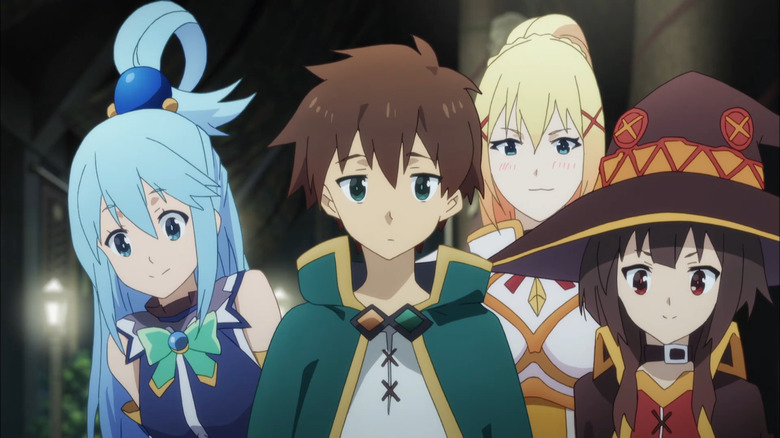 Crunchyroll
"KonoSuba" was a massive hit among anime fans when it first hit the screen, and the series is still extremely popular. While that type of success usually leads to more installments at some point, the future of "KonoSuba" is currently up in the air. No plans for a third season have been announced at the time of this writing, but it's not out of the realm of possibility — in fact, there is arguably more optimism surrounding the show's future right now than there was back in 2017.
According to Monsters and Critics, Junichiro Tamura, a "KonoSuba" producer, previously stated that a third season still has a "good chance" of happening. At the same time, more "KonoSuba" isn't a priority for original director Takaomi Kanasaki at the moment. Back in August, Crunchyroll noted that "Princess Connect! Re: Dive" will be returning for a second season, meaning that Kanasaki has a full plate for now. Unless another director takes the helm, fans will just have to be patient. However, it's not all doom and gloom. The characters from "KonoSuba" will continue to have adventures in "Isekai Quartet" for the foreseeable future. As Funimation pointed out, a third season of the crossover series was confirmed last year, which will keep Kazuma and the gang in the spotlight.