The One Ozark Scene People Think Went Too Far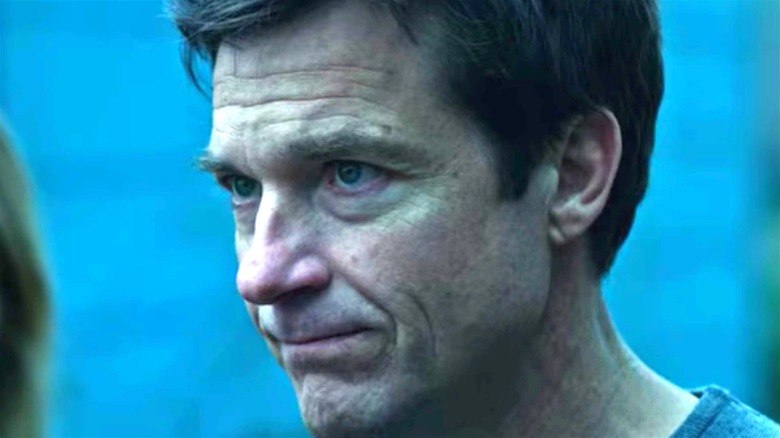 Netflix
Fans of Netflix's gritty crime drama, "Ozark," have seen some pretty questionable things brought to life on the smash-hit streaming series. As the show's plot unfolds, giving viewers a look into the seedy, dangerous life of money launderer Marty Byrde (Jason Bateman) — with his wife Wendy (Laura Linney), daughter Charlotte (Sofia Hublitz), and son Jonah (Skylar Gaertner) getting drawn into his enterprise, making it a truly family affair — they bear witness to some of the expected violence that comes along with having a drug cartel as your employer and a few twists on those expectations; it's not like having an elderly, basement-dwelling nudist friend of the family is a trope of the genre, after all. 
The folks behind "Ozark" set the WTF bar pretty high, pretty early on, with Marty's private eye sharing news of Wendy's affair within the first five minutes of Episode 1, Marty's cartel contact Camino "Del" Del Rio (Esai Morales) killing his business partner Bruce Liddell (Josh Randall) within the first 25, and Wendy's lover, Gary "Sugarwood" Silverberg (Bruce Altman), getting thrown from a building just shy of the 40-minute mark. Given the series' penchant for extremes, we wanted to figure out which moment was too much for "Ozark" fans. Looper polled 536 readers to figure out which scene people think went too far, and the answer might surprise you.
Ozark fans think Del Rio ripping off Marty's toenails went too far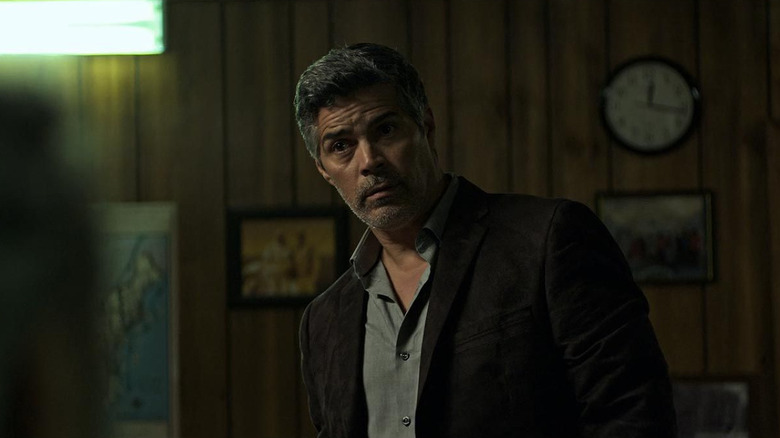 Netflix
"Ozark" fans are spoiled for choice when it comes to pondering which scene went too far — illustrated by the results of this survey being pretty darn close — but the sequence that came out on top was Camino Del Rio ripping off Marty Byrde's toenails, a scene from the "Ozark" Season 1 finale, "The Toll." Del is looking for his missing operative, Garcia (Joseph Melendez) — whom the Byrdes' benefactor, the aforementioned nudist Buddy Dyker (Harris Yulin), killed to help the family escape — and is torturing Marty to get the information he wants. It's a shot that's both visceral and graphic, sure to induce a cringe in even the most hardened of viewers, and one for which 23.69% of respondents voted.
Coming in second, just a little more than 2.5 percentage points behind, is another scene from the Season 1 finale: Pastor Mason Young (Michael Mosley) nearly drowning his baby, Zeke, as selected by 21.08% of respondents. The newly minted single father was a mere 10 minutes removed from Marty showing him how to swaddle his young son when he decided to wade into the river and plunge the newborn into the water for what had to be longer than a standard baptism.
Cade Langmore (Trevor Long) bashing in Agent Roy Petty's (Jason Butler Harner) skull with a rock was about a point and a half behind, with 19.59% of the vote, good enough for third place. Ruth Langmore (Julia Garner) electrocuting her uncles went too far for 13.43% of those surveyed. Rival casino owner Anita's (Marceline Hugot) death at the hands of her husband Carl (Adam LeFevre) managed to sway 13.06% of respondents, though perhaps they're just mad at the lack of follow-up on what should have constituted a major plot point in the third season of "Ozark." Bringing up the rear, Darlene Snell's (Lisa Emery) decades-wide-age-gap-spanning love affair with Wyatt Langmore (Charlie Tahan) was enough to send 9.14% of the survey's respondents over the edge.