Free! Season 4 - Will It Ever Happen?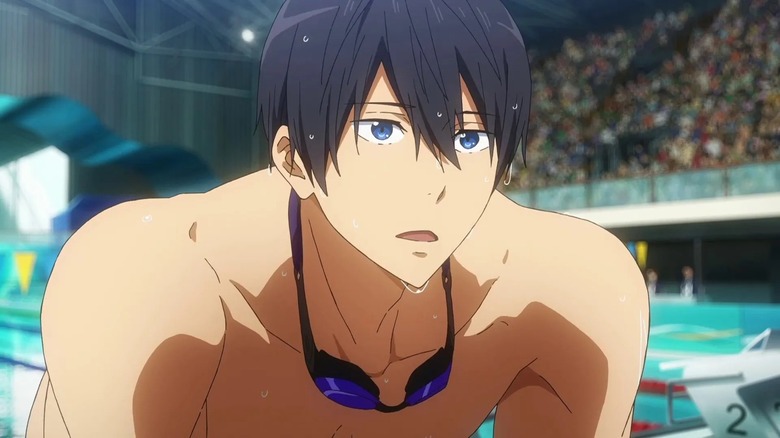 Kyoto Animation/Animation Do
Loosely based on the light novel "High Speed!" by Kōji Ōji, "Free!" follows the story of Iwatobi Swim Club. Captained by protagonist Haruka Nanase, the club's talented team of swimmers show their promise in the pool from a young age. Sporting successes and setbacks see friendships ebb and flow between the boys — and, of course, bitter rivalries spill over onto dry land.
The series made a splash in the sports anime subgenre and beyond when it began in 2013, with Season 2 hitting screens the following year. It was four long years before Season 3 finally aired in 2018, but "Free!" fans weren't left totally high and dry for all that time. From 2015 onwards, co-creators Kyoto Studios and Animation Do have been releasing films that pad out the world of "Free!" with some extra stories, though, like many anime movies spun-off from an ongoing show, a lot of them simply serve as recaps. For example, the 2019 movie "Free! Road to the World — The Dream" recapped Season 3.
When "Free!" Season 3 signed off with "see you in 2020," fans of the swimming-themed anime understandably thought that a fourth season of the show was in the pipeline. However, an arson attack at Kyoto Animation that left over 30 people dead in 2019, coupled by the impact of the COVID-19 pandemic, meant that it would be longer than that before fans of "Free!" got any further content.
When the boys did return, it was for another movie rather than a new season. So, will Season 4 of "Free!" ever happen? Here's what we know.
When will Free! Season 4 be released?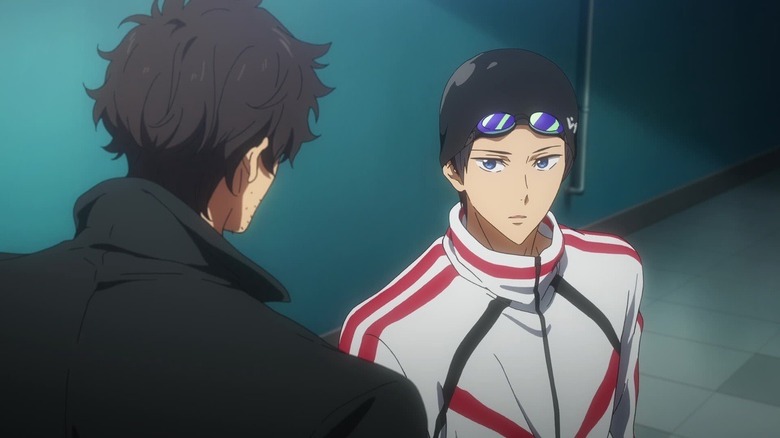 Kyoto Animation/Animation Do
When "Free!" belatedly returned with the first installment in a two-part movie in 2021, it was good and bad news for fans of the franchise. What's great about "Free! The Final Stroke" is that it's a brand new story rather than a recap with a few new plot threads thrown in like we've come to expect from the "Free!" films. However, the downside to this is that the movie's title is quite literal — this two-parter is indeed the final stroke, a capper on the anime series that wraps the story up.
In the past, the movies have acted as recaps/precursors to upcoming seasons of the show. However, "Free! The Final Stroke" broke the mold, giving viewers an original story — and a satisfying one, at that. "'Free! The Final Stroke Part 2' is the perfect conclusion to this beloved franchise," Future of the Force said in a glowing review. "This film gives every character their moment to shine. It is a touching and uplifting final chapter with the best visuals the world of anime has to offer."
It seems as though we got this double movie instead of another season. Does that mean we will never get a Season 4? Not necessarily. The series is a decade old now and nostalgia value may drive interest in another outing. Plus, when "Free! The Final Stroke" premiered, character designer Kouhei Okamura suggested there that might be more stories to tell in the "Free!" universe one day, so you never know. However, at the time of this writing, there's no official release date for Season 4.
What is the plot of Free! Season 4?
Kyoto Animation/Animation Do
In "Free! The Final Stroke," Haruka goes to Sydney, Australia to compete in a tournament. There, he encounters world champion Albert Volandel and the two strike up a rivalry. Haruka drives his friends away and almost destroys his body as he trains harder than ever in order to beat Albert, but — to the surprise of nobody who has seen a season of "Free!" before — they eventually make up when Haruka remembers that he's happiest swimming with his friends. He even makes a friend out of Albert after they go up against each other in a relay match and form a mutual respect.
Haruka is so exhausted by the whole experience that he blacks out after the race and ends up in hospital. He's forced to retire from swimming, but his final efforts in the pool make him a famous athlete in Japan. A post-credits scene sees him come out of retirement to swim with his friends again, but the credits themselves seem to indicate that this is indeed the end of the line — they consist of a montage that blends together artwork from every single piece of "Free!" media from across the years.
Of course, this may just be the end of the line for Haruka. If "Free!" was ever to return for a fourth season, it would likely feature somebody else as the main protagonist, whether it's one of Haruka's friends or a new character entirely. At the end of "Free! The Final Stroke," there's a shot of a girl reading about Haruka's exploits, and there's a theory that this is actually Aki Yazaki, a supporting character in the light novel. Could the creators be setting her up for Season 4? Nothing is concrete at this point, but one thing we do know is that "Haruka's story is done," as character designer Kouhei Okamura has confirmed.
Who is starring in Free! Season 4?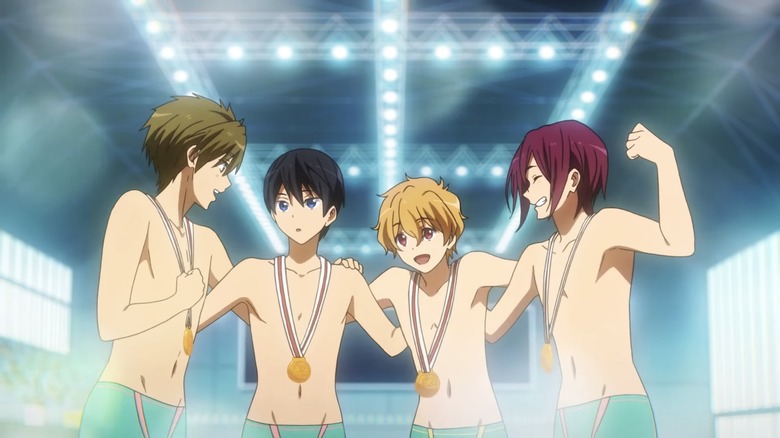 Kyoto Animation/Animation Do
Nobunaga Shimazaki has led the line as Haruka up until this point, but it seems as though his character has had his last anime outing. Of course, there's a chance that he could still pop up in a cameo or supporting capacity in a fourth film — after all "Free!" would be pretty weird without him, at this point.
Rei Ryugazaki is still in the frame, so it's likely we'll see the return of Daisuke Hirakawa if Season 4 ever gets the greenlight. Makoto Tachibana's ambitions to train pro swimmers are very much alive and he could definitely play a sizable part going forward, so we can expect a return from voice actor Tatsuhisa Suzuki if Season 4 does happen. Mamoru Miyano (Rin), Koki Uchiyama (Ikuya), Tsubasa Yonaga (Nagisa), Yoshimasa Hosoya (Sousuke), Akeno Watanabe (Gou), Chihiro Suzuki (Kisumi), and Kenichi Suzumura (Momotarou) could also reprise their roles.
Of course, there would need to some new voice actors added to the pool if "Free!" came back with a new protagonist and a new direction. For now, nothing is confirmed, and, sadly, the chances of "Free!" Season 4 getting the go-ahead look pretty slim. However, with some people involved in the franchise refusing to rule it out and fans of "Free!" as enthusiastic about it as ever, there's always a chance it could make a splash again sometime in the future.