The Female Character That Criminal Minds Fans Love To Hate
"Criminal Minds" has introduced viewers to many characters throughout the years, but not all of them have been as well-received as the main group of FBI profilers that solve cases in each episode. Surprisingly, though, one of the least favorite characters isn't a demented serial killer. A Reddit poll conducted by the show's fans revealed that Elle Greenaway (Lola Glaudini) is the most unpopular female character in the series' long history (she received 173 of the poll's 247 total votes), suggesting that she made a lasting impact in a short amount of time.
Elle only appeared in the first two seasons of "Criminal Minds," working as a Supervisory Special Agent in the Behavioral Analysis Unit. However, she left the team after suffering from PTSD following a shooting incident. While her condition made her quite sympathetic, some of her actions were questionable. Elle may have been hired to enforce the law, but she had no problem stepping outside of it, and that didn't sit too well with moralistic viewers.
Elle Greenaway brought vigilante justice to Criminal Minds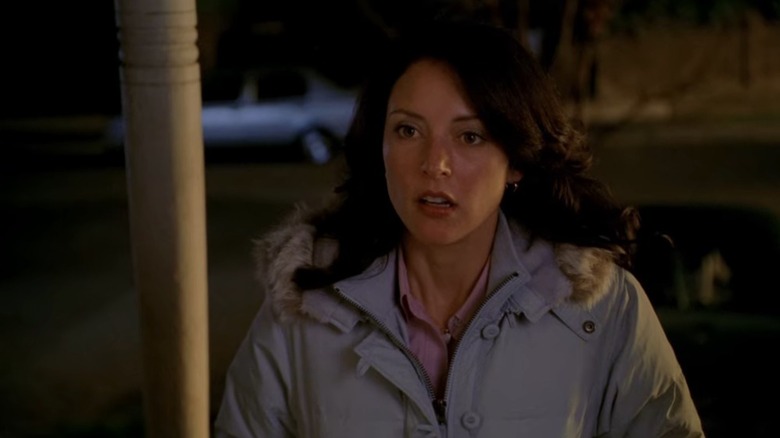 CBS
There's certainly an audience for TV shows and movies about vigilantes bringing the ruckus, but some "Criminal Minds" viewers want these types of characters to be held accountable for taking the law into their own hands. In one episode, Elle murders an unidentified subject after experiencing a downward spiral, going out of her way to absolve herself of any wrongdoing afterward. The incident ultimately causes her to resign from the BAU and walk away scot-free. According to one Reddit user, it wasn't right how she became "bats***" and "just [left]," a viewpoint that's echoed by like-minded fans.
Other "Criminal Minds" viewers don't have an issue with a vigilante character, in theory, but they still found Elle's story arc unsatisfying. As Showbiz Cheat Sheet summarized, some fans noted that the character's complexities weren't explored in great detail, which caused her to come across as too selfish and dislikeable. Elsewhere, some people have criticized the storyline for being out of character for Elle, so their reason for disliking her can be chalked up to her final episodes puzzling them.