Crazy Rich Asians 2 - What We Know So Far
Warner Bros.
When it was released in 2018, "Crazy Rich Asians" quickly became one of the hits of the summer. The movie stars Constance Wu as Rachel, a humble New York professor who discovers that her boyfriend Nick's (Henry Golding) family is insanely wealthy. "Crazy Rich Asians," which is based on a novel of the same name by Kevin Kwan, went on to gross more than $200 million worldwide, per Box Office Mojo, proving that its stars were totally bankable and that its director, Jon M. Chu, knows what he's doing. 
Chu has now made "In the Heights," one of the most anticipated movies of 2021, but many fans of the original "Crazy Rich Asians" are eager to know more about the film's sequel. A sequel to the movie was already in development at Warner Bros. by August 2018, and Kwan wrote two sequels to his original novel that are just waiting to be adapted (via Deadline). Per the director credits on Chu's IMDb page, two films with names matching those sequels, "China Rich Girlfriend" and "Rich People Problems," are in pre-production. Fans of the original movie want to know when they'll see "Crazy Rich Asians 2" (which will presumably be named "China Rich Girlfriend" after the second book) as well as what it will be about and who it is likely to star. 
When's the release date for Crazy Rich Asians 2?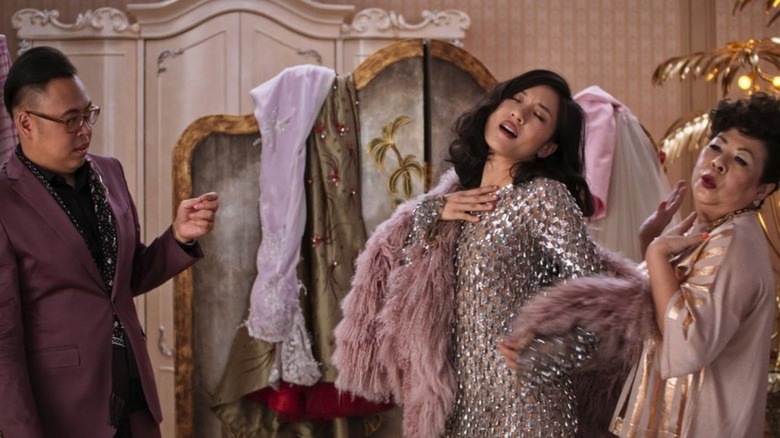 Warner Bros.
As of right now, there is no confirmed release date for the second "Crazy Rich Asians" movie. According to an announcement that was first made in December 2018 (via Collider), the two sequels were scheduled to be shot back-to-back in 2020, but it's unclear why filming has been further delayed. As this point, we probably can't count on the first sequel being released anytime this year.
Given the fluctuation in release schedules as a result of the pandemic, it's possible that "Crazy Rich Asians 2" could be pushed back even further. The filming was delayed in part because of the packed schedules of the film's cast, many of whom became bigger stars in the wake of the first film, according to Screen Rant. Whenever the sequel does hit theaters (or HBO Max), fans will be eagerly waiting to find out what happens following the events of the first film. 
Who's in the cast of Crazy Rich Asians 2?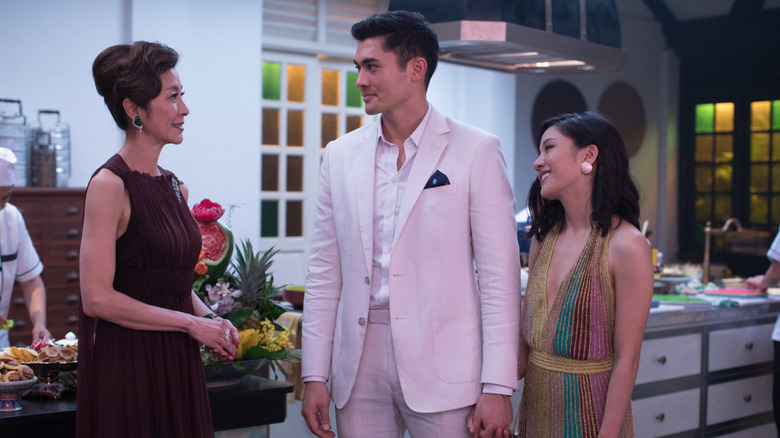 Warner Bros.
It's safe to assume that most, if not all, of the principle cast members from the first movie would be returning for the sequel. That includes Wu and Golding, as well as Gemma Chan, Michelle Yeoh, Awkwafina, and the bevy of other Asian actors who were featured in the film. 
In addition to those returning characters, though, there are also several new characters that are a part of Kwan's sequel but don't have any part in the first installment. Two of the biggest are Carlton Bao, who is Rachel's brother and arrives in the sequel to further complicate the family dynamic. More crucial, though, is the introduction of Colette Bing, a Chinese blogger who is always rocking couture. Fashion was a crucial part of the first film in the series, and it's likely to remain an important part of the sequels. If Collette's role remains substantial, she'll likely be looking great. No casting announcements have been made yet for either role. 
What's the plot of Crazy Rich Asians 2?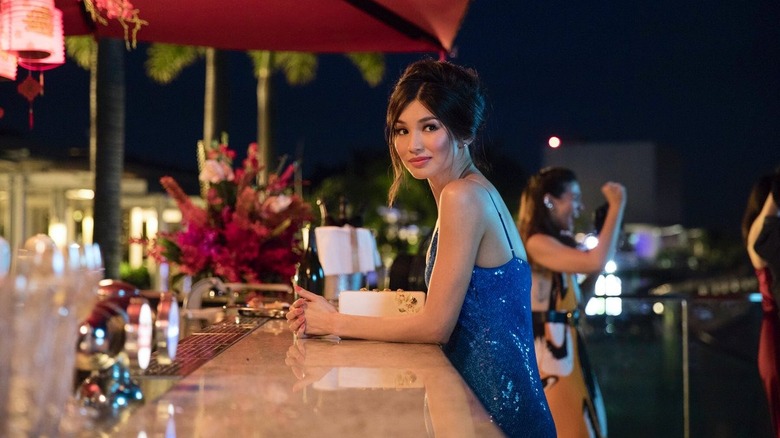 Warner Bros.
If the sequel follows the books, the second movie will focus on Rachel reconnecting with her birth father, who she was told died in a car accident before she was born. Without getting into spoilers, Rachel gets some help from a private detective hired by her man's family and discovers that not only is her father alive and well, but he's also one of the wealthiest men in China. 
She invites her father to her wedding and, through him, meets her half-brother Carlton and his on-again, off-again girlfriend Collette. Rachel decides to spend her honeymoon traveling to multiple countries with her half-brother and his girlfriend, and that's what takes up the latter half of the story. 
"Crazy Rich Asians 2" will likely make some adaptation changes to the novel, but it's unclear right now how substantial those changes might be. They could be minor edits or bigger changes to how the story unfolds. For what it's worth, Kevin Kwan understands the stakes and the potentially hazardous territory of sequel-making. "Crazy Rich Asians" was a surprise blockbuster hit, so in the author's eyes, a sequel needs to one-up the original. "This needs to be 'The Godfather 2,'" Kwan said (via Variety). "It needs to be as good, if not better than the first."