How The Stuart Little Movie Solved A Decades-Old Police Case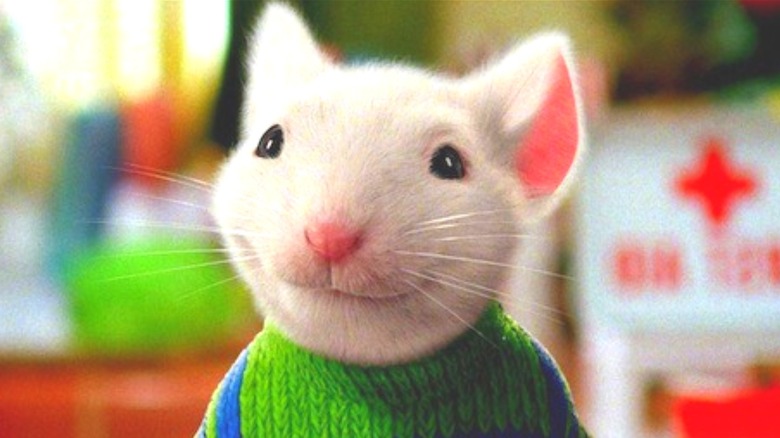 Sony Pictures
"Stuart Little" tells the story of a boy who "looked very much like a mouse in every way." The classic children's tale by E.B. White was adapted for the big screen in 1999, and it was considered such a shining example of visual effects for its time that it was nominated for an Academy Award in the category. Michael J. Fox lent his voice for Stuart, and Hugh Laurie of "House M.D." starred alongside Geena Davis as adoptive parents Mr. And Mrs. Little. The sweet story is perfect for bored kids, at least that's what Gergely Barki thought when he put on the DVD for his young daughter Lola during Christmas 2009. 
As he sat watching the little mouse with her, one set piece stirred the art historian's curiosity. On a hunch, Barki began e-mailing Columbia Pictures, looking for answers to his question. Barki later told The Guardian that it would be another two years before he would receive a response from one of the assistant set designers on the film, and that response would unravel a mystery over eight decades in the making.
Stuart Little owned a long-lost masterpiece
The Littles' home served as the primary setting for the tiny Stuart's adventures. It was there, while the Littles posed in front of their mantle, that Barki noticed a familiar painting in the background. He immediately recognized the piece as a long-lost work by 1800s Hungarian artist Róbert Berény. The renaissance man is recognized as one of The Eight, a group of avant-garde painters who introduced cubism and expressionism to Hungarian art, per Art Daily.
"I nearly dropped Lola from my lap," Barki exclaimed. The painting, entitled "Woman With a Black Vase" depicted Berény's wife Eta and had been missing since 1928, the last time it sold at auction. The whereabouts of the painting between then and the '90s is unknown. The set designer picked it up for a modest $500 at an antique shop in Pasadena for use on the film's set. After the movie wrapped, she kept it in her home until selling it to a private collector, who then returned the masterpiece to Budapest. The painting sold at an auction for Budapest's Virag Judit art gallery in 2014, with a starting price of $87,000.
In response to the news, Hugh Laurie joked on Twitter that he was a "little hurt to discover the foreground performances couldn't hold the attention," but that it was an honor to be a part of the art's history, which extends prior to World War II.