How Much Does The Wicked Tuna Cast Get Paid?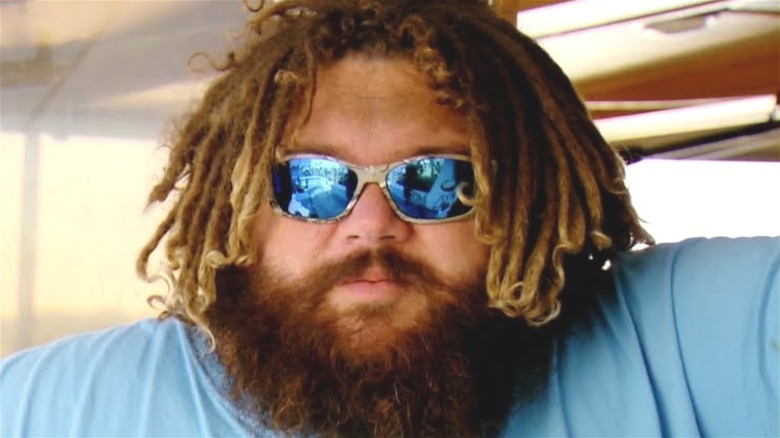 National Geographic
If you've ever watched National Geographic's "Wicked Tuna," you know just how exciting deep-sea fishing can be. Even one catch can land one of the fishermen a larger than expected payday. Throughout the show's first nine seasons and 130 episodes, fans have gotten to witness captains from Gloucester, Massachusetts, pursue their goal of catching as much bluefin tuna as they can.
Whether or not you think this is something you could do, you may have found yourself wondering how much it pays to do something as extreme and dangerous as fishing. Despite being on national television, the cast of "Wicked Tuna" can make a lot of money, even if they don't catch anything. If they do catch one of these "monstah" bluefins, it can be worth more than $20,000, according to National Geographic. You can imagine the cast can get a big payday when they have good days.
Check out how much the cast of "Wicked Tuna" gets paid.
They make salary plus catch money
Each cast member receives a different amount, depending on their experience within the industry. When the show first started, each boat would receive about $2,000 – $3,000 per episode, according to Pontoonopedia. As the show grew in popularity, so did the cast members' paychecks. Eventually, cast members started to make $10,000 per episode. On top of that, there's still revenue from the fish that they catch. Bluefin tuna is one of the most expensive fish and can average $40 a pound.
Captains would make the most money, with Captain Tj Ott receiving as much as $100,00 per episode. Captain Dave Carraro of FV-Tuna.com is said to make the next most at $83,000. Another way of looking at their wealth is by looking at some of the crew's reported net worth. Carraro tops this list at $600,000, followed by Ott and Captain Dave Marciano at $500,000. Captains Tyler McLaughlin and Paul Hebert both have a net worth of $400,000. To get an idea of how much a first mate would make, we can look at Sandro Maniaci, who has a net worth of $350,000. The lowest reported net worth from a captain falls at a quarter-million dollars for Captain Kevin Leonowert (via Liveroger). Although it's a stressful and challenging job, it's undeniable this job is where the money is at.