Chris Rock Explains What Makes Spiral Different From Other Saw Movies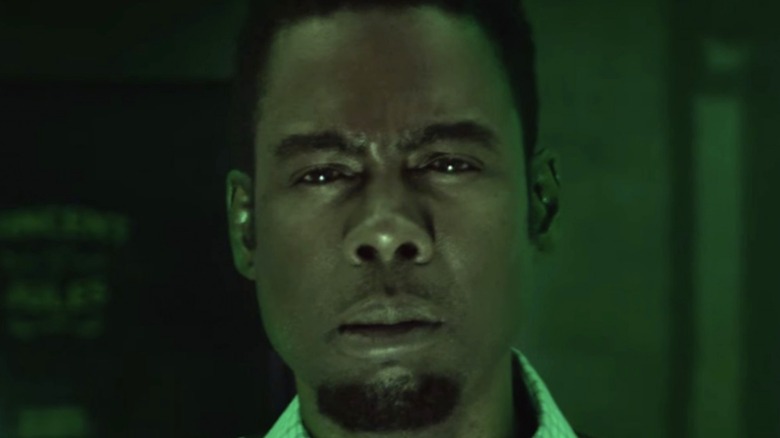 Lionsgate
In 2004, "Saw," directed by James Wan, was released and quickly became one of the most popular horror films of recent years. Chronicling the sadistic "game" of the Jigsaw Killer, the film is notable for its use of intense gore, thrilling plot, and the utterly surprising twist ending. With these strong elements, "Saw" deservedly staked its claim in the horror genre. Naturally, its success led to a sequel, and then a few more, continuing the deadly actions of the Jigsaw Killer. Now, the "Saw" franchise includes eight released films, with the most recent, "Jigsaw," having come out in 2017. The next to be released will be "Spiral: From the Book of Saw," and a tenth "Saw" film is also in development (via SlashFilm).
While news of a tenth film is exciting for "Saw" fans, it's the upcoming "Spiral," directed by Darren Lynn Bousman, that is garnering the most talk right now, with its May 14 release date fast approaching. With the Jigsaw Killer now dead and his horrifying crime spree in the past, "Spiral" centers on Detective Ezekiel "Zeke" Banks (Chris Rock), who works alongside his rookie partner William Schenk (Max Minghella), to investigate a new slew of crimes that uncannily resemble the work of the famed Jigsaw Killer.
Chris Rock recently gave an interview about the new film and discussed the ways in which it differs from the rest of the series.
Spiral integrates subtle comedy
Chris Rock is undoubtedly known for his work in comedy — from his time as a cast member on "SNL" to his stand-up and his largely comedic film roles — so his casting in a horror film may have come as a bit of surprise to "Saw" fans. Well, it turns out, his comedic background is what will differentiate "Spiral" from the rest of the "Saw" films.
Rock spoke with Comicbook.com to discuss the role comedy will play in the upcoming film. He detailed, "I always play this little game, I watch a dramatic movie, and I go, 'I could coulda got four jokes in there without f***ing up the movie.' I always play that game. 'Saw,' especially 'Saw II,' was one of those movies, 'Hmmm, I think I coulda got a few jokes in there without screwing up the movie.'"
With that idea in mind, he went to Lionsgate to pitch his take on how the next "Saw" film could integrate comedy. Rock continued, "I was like, 'You ever think about putting some comedy in Saw?' Not a lot, like 'Scary Movie,' not make it silly, but the 'Saws' are so dire. So I kinda had this idea of, almost, Eddie Murphy and Nick Nolte in '48 Hours,' but it's a horror movie. I think that's kind of what we got."
The trailer for "Spiral: From the Book of Saw," definitely looks as terrifying as its predecessors. We'll just have to check out the film to see the comedic spin Rock brings to the table.