Robert Downey Jr. Mourns The Passing Of Personal Assistant Jimmy Rich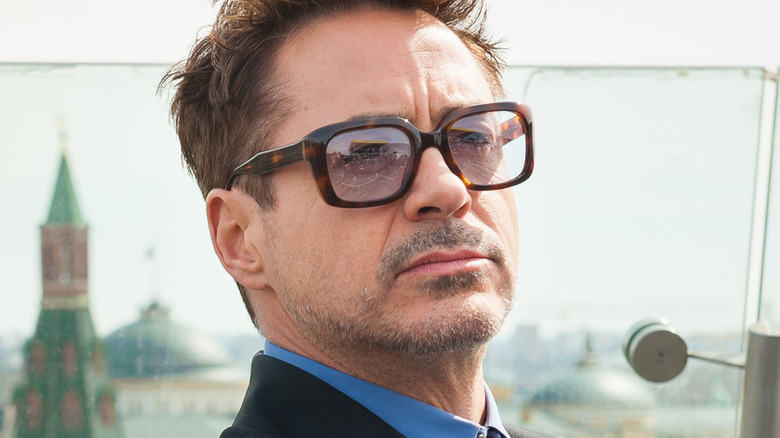 Shutterstock
On May 6, Robert Downey Jr. shared an Instagram post, stating that his longtime personal assistant and close friend Jimmy Rich was killed in a car accident one day prior. "He was a brother, my right hand man, an uncle to our kids and beloved by all who experienced his singular character and wit," said Downey in his memorial for Rich.
Downey and Rich's working relationship began in 2003, when Rich served as Downey's personal assistant during the filming of "The Singing Detective." Though "The Singing Detective" failed to find success at box offices, the film served an important role in Downey's career as one of the first to feature him in its leading role rather than as a supporting actor.
Rich went on to work as Downey's personal assistant and occasional driver for many of Downey's major film roles that followed. Movies in which Rich is credited include prestige dramas like "Good Night, and Good Luck," screwball comedy "Tropic Thunder," and every single Marvel film in which Downey starred. Rich even made an uncredited appearance in the making-of documentary parody "Tropic Thunder: Rain of Madness" as a fictional crew member named Drake "The Stick" Longwood.
Downey's co-stars also paid tribute to Rich
Many actors who worked alongside Robert Downey Jr. and likely knew Rich shared their thoughts on his death following Downey's news. Chris Pratt replied to Downey's Instagram post, "I'm so sorry man. Im praying his family, you and yours. That sucks so bad. I'm so sorry to hear that. He was awesome. Such a tragedy." Subsequent replies include sympathetic comments from Mark Ruffalo, Jack Black, Josh Brolin, Jeremy Renner, Clark Gregg, Chris Hemsworth, Gwyneth Paltrow, Ryan Reynolds, and others.
Captain America actor Chris Evans also dedicated an Instagram post to Rich. "I don't have the words. Jimmy Rich was unlike anyone else. He left an indelible impression on everyone he met," wrote Evans. "I'm sending all my love to Jimmy's friends and family. Be sure to hug your loved ones tightly and please take the time today to show Downey how many people love him and are here for him during this incredibly dark time."
Marvel Studios shared an Instagram tribute to Rich as well, featuring an image of Downey and Rich together, along with a group photo of Marvel Studios crew members taken in commemoration of the studio's 10th anniversary. Jimmy Rich was 52 years old.