The Other Iconic Character Clive Standen Could Have Played On Vikings
The cast of History's hit drama "Vikings" has been praised for their ability to develop believable story arcs that sometimes span decades on screen. Fan-favorite characters, like Ragnar Lothbrok (Travis Fimmel), Lagertha (Kathryn Winnick), and Floki (Gustaf Skarsgård), have made such an impression with fans that the actors and actresses will always be associated with their roles on "Vikings," especially those that have played characters who have been with the show since it premiered in 2013 (per IMDb).
However, the original cast wasn't set in stone as it is now when the show was first coming together, and Clive Standen, who plays the brother Rollo to Fimmel's Ragnar, almost didn't end up with the role he seems to have been meant to play. Still can't believe that we might not have ever seen Rollo as we know and love him today? Neither can we, but it's still an interesting bit about the other iconic character Clive Standen could have played on "Vikings."
Clive Standen almost played Ragnar, rather than Rollo, on Vikings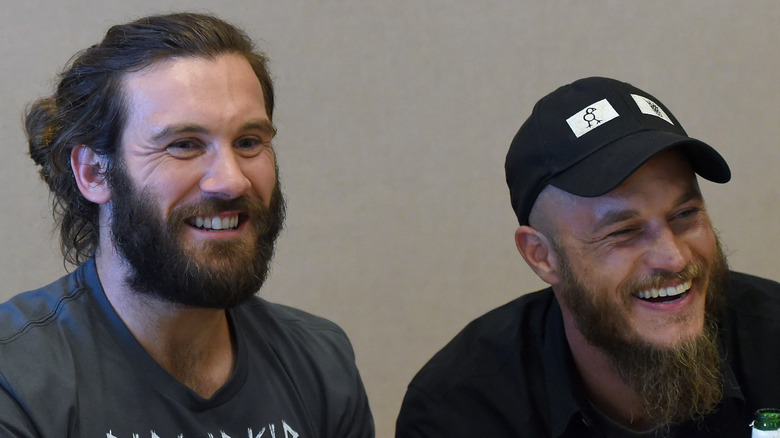 Ethan Miller/Getty Images
In an interview by phone with Collider, Clive Standen spilled the beans on how he originally auditioned for the part Travis Fimmel has made famous — farmer-turned-king Ragnar Lothbrok. However, after a reading for the part, he was happy to accept the role of his hot-headed, jealous, fame-seeking brother, Rollo.
The British actor (per IMDb) said he preferred the role of Rollo, telling the outlet, "When I read the script, I really wanted to play Rollo. To be completely honest with you, when I started the discussions with casting and producers, they wanted me to read for Ragnar. So, I went on this big whirlwind tour of testing and meeting people for Ragnar, which was finally given to Travis. And they definitely made the right decision because he's phenomenal in the role. But, they came back and offered me Rollo, which was the part I'd wanted from the very beginning."
Vikings wouldn't have been the same without Clive Standen
Clive Standen may have started out auditioning for another role on "Vikings," but he has made it clear that playing Rollo was what was best for the show, and he has loved every minute of it. In fact, the actor spoke to Fan Fest News about his character's evolution over the first five seasons, and there were no regrets about not getting to play Ragnar Lothbrok.
"A show like 'Vikings' comes along so rarely where everything works. You can get great actors and a bad script, and the show gets canceled. You can get a great script and horrible actors that you hate working with every day and the show gets canceled, or it doesn't," Standen told the publication. "Either way, it's very rare to get a great script, a great crew, and fantastic actors to work with every day. It really has been one of the best experiences in my professional life to date."
We agree — the show wouldn't be the same without Standen's muscular, menacing presence.