Rocket League Toys To Be Released This Spring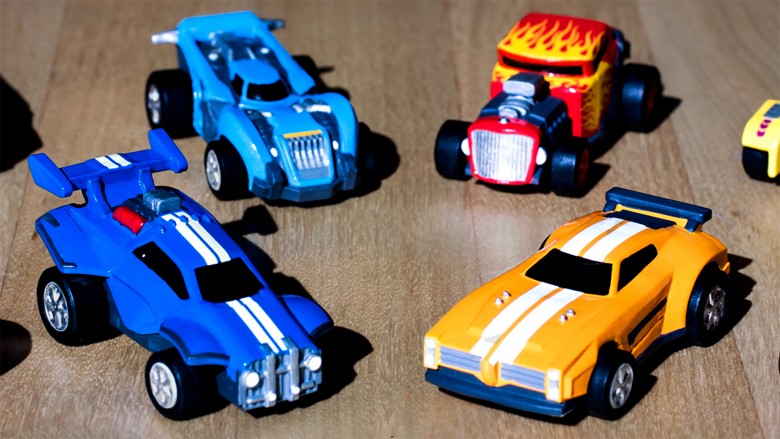 Rocket League developer Psyonix is teaming up with Zag Toys, the company behind the Original Mini's toy line, to develop a series of miniature cars based on the popular racing-soccer hybrid.
As announced on the official Rocket League website, eight of Rocket League's most iconic Battle Cars will burst into the real world in the form of Original Mini's Pull-Back Racers, which children (and, let's face it, many adults) can propel over carpet and hardwood floors by pulling back on the car, holding it for a second, and letting go. Every one of the Rocket League Battle-Cars will come in its own Rocket Ball (the soccer-ball-equivalent used in Rocket League's fast-paced competitions), while select toys will ship with codes that unlock in-game content, including exclusive Rocket Trail and Wheel cosmetic items.
The Rocket League toy line will launch in Spring 2017. Like other Original Mini's toys, the Rocket League toys will ship in blind bags, adding an element of chance for collectors who want to scoop up all of the Zag's Rocket League offerings—including the four "limited variants" that'll round out the 12-piece set.
Rocket League, in which players compete against each other in a game of vehicular soccer, launched in 2015 and became an instant hit. The indie game has over 25 million registered players, and was one of 2016's best-selling games on both Steam and the PlayStation Store—not to mention one of the best overall games on the Xbox One . Rocket League is shaping up to be a popular esports title, too—last December, 12 teams from around the world battled it out in the Rocket League Championship Series Finals, competing for a piece of a $125,000 prize pool.