The Kominsky Method Season 3 Release Date, Cast, And Plot - What We Know So Far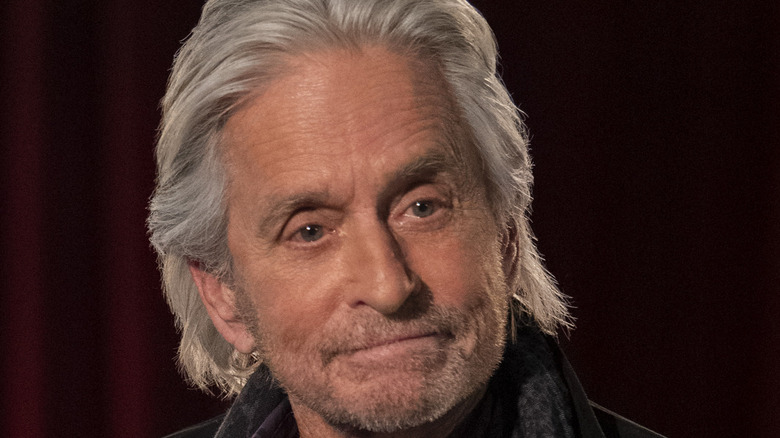 Anne Marie Fox/Netflix
"The Kominsky Method" will be returning for its third and final season soon. The comedy-drama series stars Michael Douglas — in his first series regular role since he starred on the police procedural "The Streets of San Francisco" in the 1970s — as Sandy Kominsky, a Hollywood resident who once had success as an actor but is better known as an acting teacher. It's not being a movie star, but it's something. It was created by Chuck Lorre, the incredibly successful producer of broadcast comedy shows like "Two and a Half Men" and "The Big Bang Theory." It's different from Lorre's usual shows in a few ways. It's on Netflix, for one. It has a more pronounced dramatic element than Lorre's usual broad sitcoms. And it's about people in their later years, which is rare for TV. In that way, it's a companion to one of Netflix's longest-running shows, the Lily Tomlin/Jane Fonda comedy "Grace and Frankie," which will also be coming to a close after its next season.
"The Kominsky Method" is one of Netflix's best-performing shows come awards season. The first season won the Golden Globe for Outstanding Comedy Series, and Douglas won Outstanding Lead Actor in a Comedy Series. Douglas has also been nominated for the Lead Actor in a Comedy Series Emmy two times, as has Alan Arkin in the Supporting Actor category for his performance as Norman Newlander, Sandy's agent. It was nominated for Outstanding Comedy Series in 2020 for its second season.
The next season is arriving on Netflix later this month. Here's what we know so far about the third and final season of "The Kominsky Method."
What's The Kominsky Method's Season 3 release date?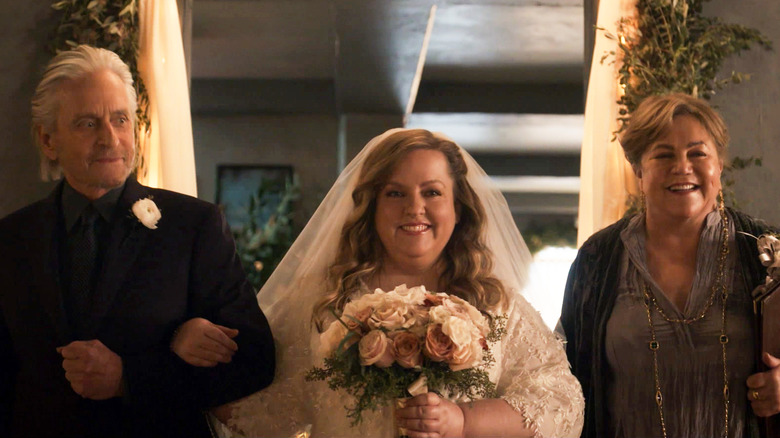 Netflix
Netflix will release "The Kominsky Method's" six-episode final season on Friday, May 28. The prior two seasons consisted of eight episodes apiece. Both are available to stream on Netflix.
Netflix prefers to end shows after a few seasons rather than keep them running for five-plus seasons, an ethos clearly visible in the choice to wind "Kominsky" down after three. The setup allows movie stars like Douglas the freedom to work on other projects rather than being tied to a TV series indefinitely. Per Wired, Netflix makes renew or cancel decisions based on the number of subscribers watching a series versus the cost to produce another season, and perhaps the streaming service crunched the numbers and decided to wrap the show up after three. It's publicly unknown whether the decision to end was Netflix's, Douglas and Lorre's, or mutual.
"'The Kominsky Method' has been a true passion project for me, and it's been an incredible experience to see the warm response from both audiences and critics," creator and executive producer Chuck Lorre said in a statement announcing the end of the series, per The Hollywood Reporter. "I'm excited to wrap up the story with this final chapter."
Who's in The Kominsky Method's Season 3 cast?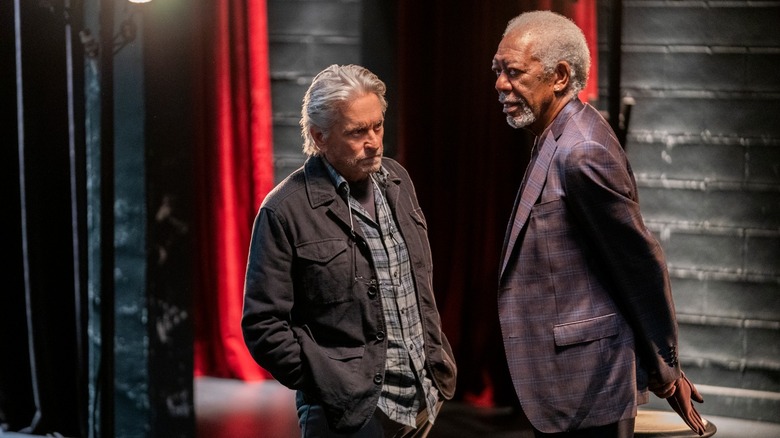 Erik Voake/Netflix
The show will be missing its No. 2 guy in Season 3. According to The Hollywood Reporter, Alan Arkin decided not to return as Norman Newlander after Season 2 debuted in 2019, even before the pandemic. Norman has been written out of the show, but he'll cast a long shadow over Season 3, which we'll address a little further down. Nancy Travis, who played Lisa, Sandy's student-turned-girlfriend in Seasons 1 and 2, also seems to not be returning, as she was not included in Netflix's Season 3 cast announcement and isn't in the Season 3 trailer.
The rest of the cast is returning. That includes Sarah Baker as Mindy, Sandy's daughter who works with him at the acting studio; Paul Reiser as Mindy's much older fiancé Martin; Lisa Edelstein as Phoebe, Norman's daughter; Graham Rogers and Emily Osment as Norman's students Jude and Theresa; and Haley Joel Osment as Phoebe's son Rodney (his character has no relation to the one played by his sister, which is funny).
The show's most notable addition to the series regular cast for Season 3 is Kathleen Turner as Roz Volander, Sandy's ex-wife, who, after guest starring in Season 2, comes to Los Angeles to help plan Mindy's wedding and sticks around for a while. It's a special reunion for Turner and Douglas, who co-starred in the '80s hits "Romancing the Stone," "The Jewel of the Nile," and "The War of the Roses."
Finally, Morgan Freeman and director Barry Levinson guest-star as fictionalized versions of themselves.
What's the plot of The Kominsky Method Season 3?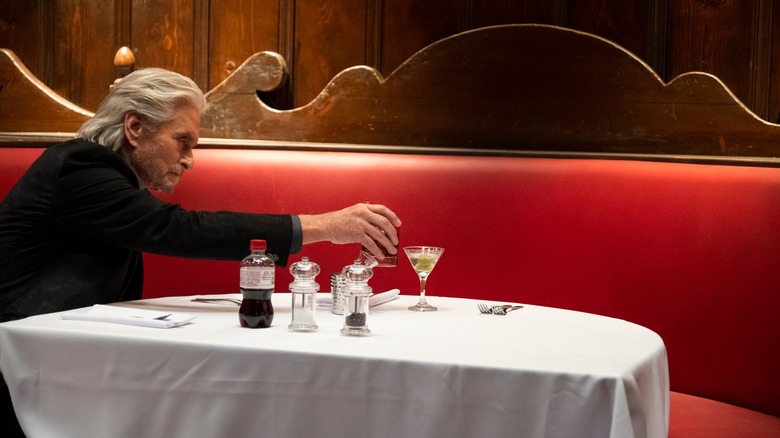 Anne Marie Fox/Netflix
Season 3 will find Sandy grieving his best friend's death, which is made even more difficult by the fact that Norman made him the executor of his considerable estate. Other tricky things include Sandy's ex-wife reentering his life, and the opportunity to act in a movie that Sandy knows is his last shot to become the actor he always wanted to be.
Here's the official synopsis from Netflix: "Sandy Kominsky has to navigate what aging looks like without his longtime friend Norman Newlander by his side in the final season of 'The Kominsky Method.' Life only becomes more complicated with the arrival of Sandy's ex-wife Roz Volander. The pair's famously volatile relationship is further inflamed when she comes to L.A. to spend time with their daughter Mindy and her boyfriend Martin. This season of 'The Kominsky Method' deals with money, death, love, murder, and dreams coming true. In other words, the usual."