The Surprising Relationship That The Office Fans Ship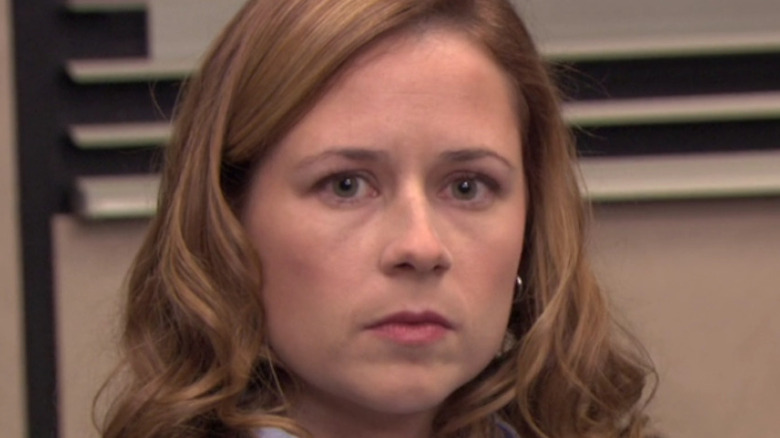 NBC
While "The Office" generally focused on some characters more than others, namely Michael (Steve Carrel), Jim (John Krasinski), Pam (Jenna Fischer), and Dwight (Rainn Wilson), other secondary characters were just as important and often had their time in the spotlight. With such a large cast full of lovable personalities, we often saw different friendships form, as well as romantic relationships over nine seasons. Many pairings were a match made in heaven, like Michael and Holly (Amy Ryan) or Erin (Ellie Kemper) and Kelly (Mindy Kaling).
One relationship that saw a little bit of contention was Jim and Karen (Rashida Jones), who began dating in Season 3. Since so many fans were awaiting the day Jim and Pam would finally come together, Karen was just another thorn in their side. Some viewers supported the Stamford branch-born couple, while others hated them. But it was an offshoot of this duo that had the "Office" fandom wondering if they missed out on a great relationship that just never was.
The Office fans shipped Karen and Pam
Karen and Pam were ambivalent about their feelings toward one another, but we did see them come together in Season 3's "A Benihana Christmas" episode. The two women formed an unlikely duo as they went toe-to-toe with Angela (Angela Kinsey) over competing Christmas parties, and they gelled quite well together. Karen and Pam made one another laugh, threw a heck of a party, and shut down Dunder Mifflin's biggest bully.
We also saw the two women reunite in Season 5's "Lecture Circuit" double episode, where Pam and Michael travel to Utica. A pregnant Karen and Pam catch up about where they had been since they had last seen each other, while the former admits she was happy Pam and Jim are engaged. After leaving the Utica branch with Michael, Pam says she likes Karen and is happy they were able to catch up and clear the air about Jim. 
Fans have always been vocal about shipping Karen and Pam, and have taken to social media to show their support. Many Reddit threads show appreciation for the duo, who we unfortunately never got to see blossom as Karen left Scranton after breaking up with Jim.