The Best Time Andy Bernard Ever Broke Character On The Office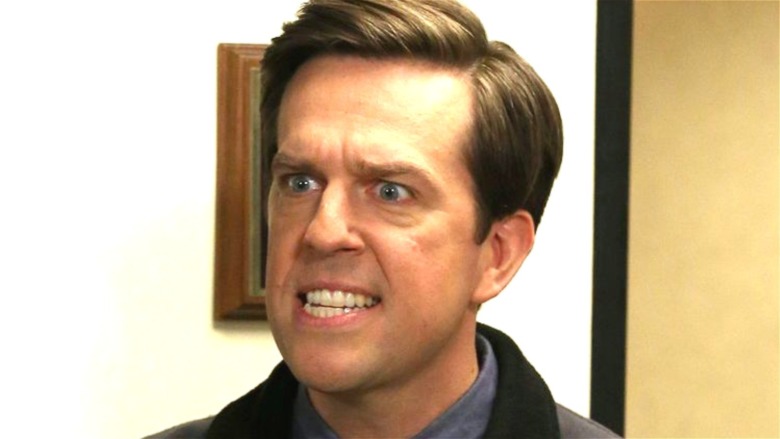 NBC
Filming "The Office" was no easy task — not because the actors struggled with their roles, but because the dialogue and situations were so hilarious the stars often had a hard time making it through a take without laughing. Bloopers from the series have become just as famous as the show itself, and more often than not you can see a character in the background of a scene fighting away laughter as others converse in front of them.
Ed Helms joined "The Office" cast in Season 3 as Andy, an employee of the Dunder Mifflin Stamford branch who moved to Scranton when the branches merged. Helms has noted that filming the series was tough, especially in scenes that included Michael (Steve Carell). When catching up with the Dan Patrick Show in 2018, Helms commented on the difficulty of shooting "The Office," saying, "I was a disaster. Just breaking all the time. Steve Carell, he just slays me. A lot of times, if I was doing a scene with Steve, I would have to look at his chin. Because I couldn't look him in the eyes. I would lose it."
Helms had his fair share of bloopers, and one of his best actually made it to air. Surprisingly enough, he wasn't even the star of the scene, but an onlooker in the background.
Andy Bernard broke character in a famous Christmas episode
In Season 6 Episode 13, "Secret Santa," we watch Michael struggle with the fact that Phyllis (Phyllis Smith) has been given permission by Jim to be Santa at the Christmas party. This doesn't sit well with Dunder Mifflin's fearless leader, so he dresses up as the jolly man as well. At one point, Michael has Kevin (Brian Baumgartner) sit on his lap and tell him what he wants for Christmas.
As Michael struggles with Kevin's weight, the two go back in forth in silly dialogue. Several Dunder Mifflin employees can be seen in the background watching the hilarity ensure, and a few break character, even in the finished cut of the episode. In addition to Kelly (Mindy Kaling), who can be seen laughing at Carell's performance, Ed Helms can be spotted in the background cracking a smile over and over again. He even needs to hide behind a wall at one point to contain his laughter, and it all made it into the episode.
Helms also told the Dan Patrick Show that the take which was put in the final episode was about the 30th time they shot the scene that day, and he admitted to breaking character every single time. You can see the hilarious moment, including Andy's blooper, on the official "The Office" YouTube channel.