The Best Time Dwight Schrute Ever Broke Character On The Office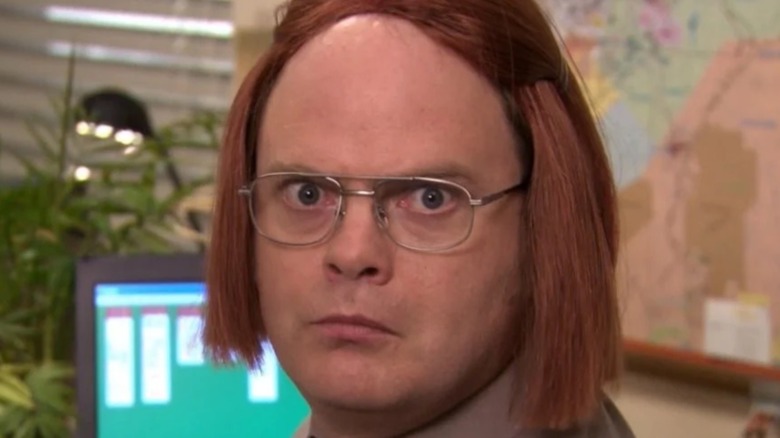 NBC
For nine great seasons, the cast of "The Office" delivered the laughs episode-in and episode-out. The actors of the hit NBC series weren't just co-workers, they were friends as well, which made days on set even more enjoyable. 
When working with friends, however, sometimes it's difficult to get the job done, as you can become distracted by one another's antics. "The Office" set was no exception, as the stars of the series had an uncanny ability to make one another break character while shooting scenes. In other instances, the dialogue was just too funny to not laugh at, thanks to the hilarious writers the "The Office" boasted. Either way, throughout all nine seasons of the series, the stars of the show would constantly break character as they delivered funny lines that even a veteran actor would have trouble getting through. 
This was evident in many of the talking head interviews the cast did, where it was just them speaking, trying to push out incredibly silly dialogue in the show's trademark deadpan style. Rainn Wilson, who played Dwight Schrute, often broke character in his talking head interviews, but one of his biggest and most memorable moments came in the bullpen, as he spoke a line that we're surprised he was eventually able to get through without losing it.
Dwight Schrute's best blooper came in Season 3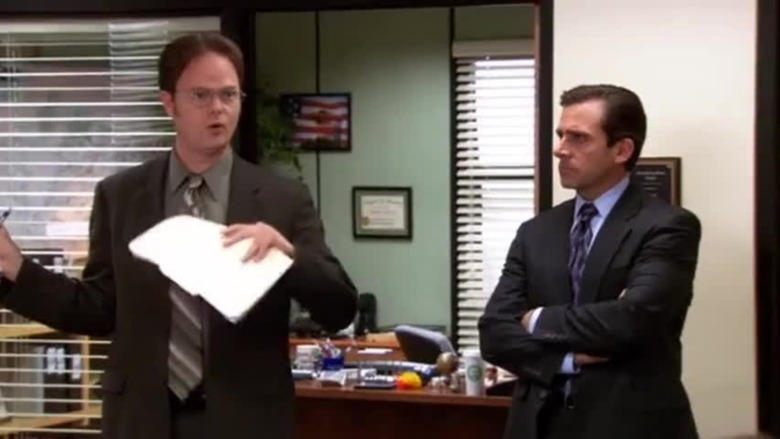 NBC
Trying to pick a favorite "Office" blooper is like trying to pick a favorite episode — pretty impossible. When narrowing down the great Dwight Schrute character-breaking moments, however, one sticks out among the rest: in Season 3, Episode 22 — "Women's Appreciation" — Phyllis (Phyllis Smith) is flashed in the Dunder Mifflin parking lot, which prompts Dwight to create an anti-flashing task force. And as the bloopers reveal, getting through these scene was quite a challenge.
When explaining his task force to his employees in the bullpen with Michael (Steve Carell) at his side, Dwight accidentally refers to Phyllis as "Phallus." He immediately apologizes for having "penises on the brain." He also asks his colleagues to sign a petition to have two floodlights installed in the parking lot, and when he attempts to say the line, "Won't that just shed more light on the penises?" he breaks character over and over again, with the entire cast losing it right alongside him. 
Carell even notes, off to the side, that they are never going to get through the scene, as he squeals with laughter. It's amazing that the entire cast was even able to get one solid shot from this scene — which thankfully made it into the final cut, sans errors.