The Best Time Jim Halpert Ever Broke Character On The Office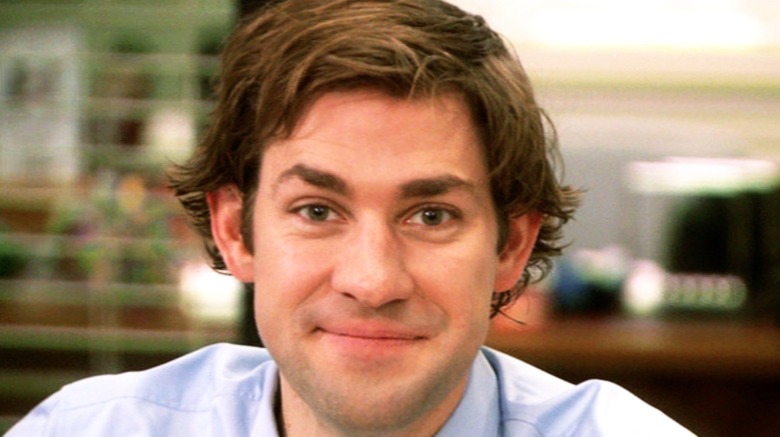 NBC
"The Office" is just as well known for its bloopers these days as it is for its hilarious catalog of episodes. In the years since the show went off the air, famous gag reels have become a focus of the devoted fandom. Bloopers from "The Office" were first released on the Season 2 DVD boxset, and later shared across YouTube for all to see, as fans made compilations of the funniest Dunder Mifflin screw-ups.
Steve Carell (Michael Scott) definitely had a way of making his scene partners break character, while Rainn Wilson's (Dwight Schrute) silly dialog also had his colleagues rolling on the floor from time to time. "The Office" cast seemed to take great pride in making each other break character. John Krasinski, who portrayed Jim Halpert, was no stranger to the risk of acting opposite class clowns like Carell and Wilson. As the blooper reels reveal, he frequently lost it in the middle of scenes between Jim and Michael, Dwight, and Andy (Ed Helms). 
Here's the best time Jim Halpert ever broke character on "The Office."
Jim Halpert absolutely lost it in Dinner Party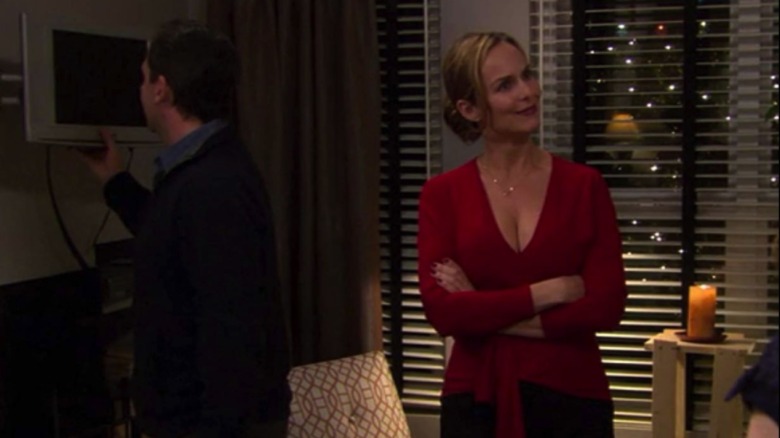 NBC
Season 4, Episode 13, entitled "Dinner Party," is hailed as one of the best episodes of "The Office" ever. Filmed almost entirely out of the office, the episode follows a smaller group of Dunder Mifflin employees as they attend a dinner at Michael and Jan's (Melora Hardin) condo. Jim, Pam (Jenna Fischer), Andy, Angela (Angela Kinsey), and Dwight all meet at Michael's place for one of the most uncomfortable dinners in the history of food.
The episode is absolutely riddled with bloopers. The seven cast members could barely get out their lines, as they laughed uncontrollably during filming. John Krasinski had the hardest time getting through the scenes, and one of his best bloopers comes when Michael and Jan are giving a tour of their home. In his living room, Michael shows off his plasma screen TV — which can't be more than 19 inches — to Jim and Pam, and notes the mounting feature that allows it to come off the wall. When Michael shows Jim that he can push the TV back into the wall, the latter breaks character, spiraling into a fit of laughter that sends his other co-stars off as well.
Krasinski always knew filming "Dinner Party" was going to be especially hard for him, given how much he laughed during the table read. When chatting with his former colleagues, Fischer and Kinsey, on their "Office Ladies" podcast, he remembered how difficult just prepping for the episode was.
"I was already quaking with laughter. It wouldn't have taken much for me to laugh — and throw in maybe one of my favorite jokes in the entire show," he said.