Why Leonard's Mom From The Big Bang Theory Looks So Familiar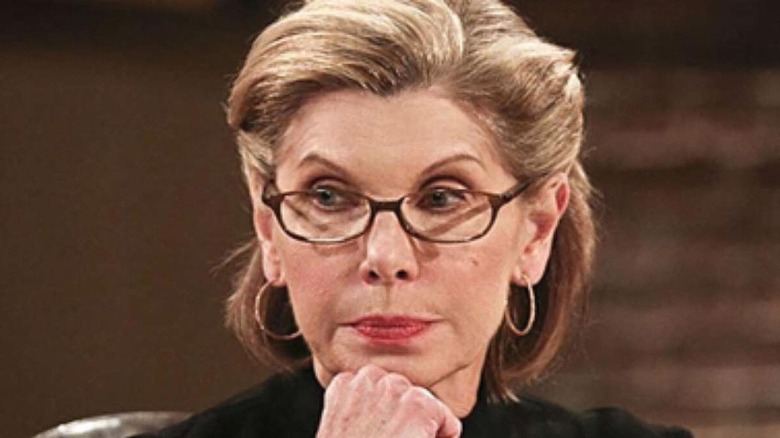 CBS
The sitcom created by Chuck Lorre and Bill Prady, "The Big Bang Theory," boasts an ensemble cast. Starting with the five main characters of Sheldon (Jim Parsons), Leonard (Johnny Galecki), Penny (Kaley Cuoco), Howard (Simon Helberg) and Raj (Kunal Nayyar), the central cast only expanded over time and eventually characters such as Amy (Mayim Bialik) and Bernadette (Melissa Rauch) became regulars.
In addition to the main ensemble members, plenty of actors show up in recurring roles throughout the series. One of these is Christine Baranski, who plays Leonard's mom, Beverly Hofstadter. Much like her distinguished physicist son, Beverly has had an extremely successful career as a neuroscientist, psychiatrist, and author. Baranski appeared in 16 total episodes over the course of the 12 seasons.
Although not a super distinguished neuroscientist, Baranski has been incredibly successful in her own career of acting, which she has been doing for decades. If she seems at all familiar to you while watching her play Beverly, you're probably thinking of one of the several prominent films and shows she's been in. Here is a breakdown of her most notable career points.
Early film roles included Cruel Intentions and How the Grinch Stole Christmas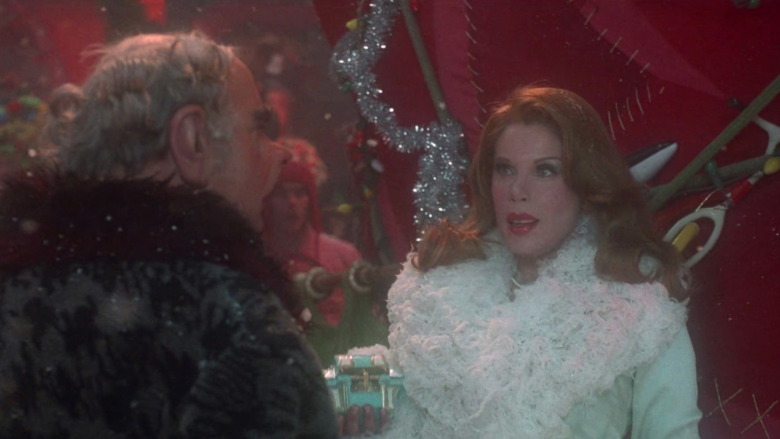 Universal Pictures
The actors most associated with 1999's "Cruel Intentions" may be its teen cast, but the adults played vital roles as well — Baranski's Bunny Caldwell included. The film introduces Annette (Reese Witherspoon), who writes an article for Seventeen Magazine about her intentions to remain a virgin until marriage. After the article circulates, step-siblings Sebastian (Ryan Phillippe) and Kathryn (Sarah Michelle Gellar) make a bet to see if Sebastian can successfully seduce Annette into sleeping with him. The other main teen character is Cecile (Selma Blair), who has recently moved to town and, being shy and naive, is drawn to the mature-seeming Kathryn. Baranski plays Bunny Caldwell, Cecile's mother, who can be seen in an early scene with Kathryn when she promises Mrs. Caldwell she'll look over Cecile. Later, Mrs. Caldwell — wary of Sebastian — warns Annette about him. This, in turn, only makes Sebastian more determined to go after Annette, which he continues to do and, eventually, succeeds in.
In a switch of genres, Baranski had a key role in the family comedy film, "How the Grinch Stole Christmas," in 2000. In this live-action adaptation of the Dr. Seuss book of the same name, Jim Carrey takes on the role of the Grinch, the reclusive green creature of Whoville who hates Christmas. Baranski plays Martha May Whovier, who the Grinch has had a crush on since childhood when she was the only one of his classmates to show him any sort of kindness or compassion. Years later, as adults, Martha becomes engaged to Mayor Augustus MayWho (Jeffrey Tambor), enraging the Grinch. However, Martha eventually returns the engagement ring to Augustus and declares the Grinch as her true love.
Pivot to musicals with Chicago and Mamma Mia!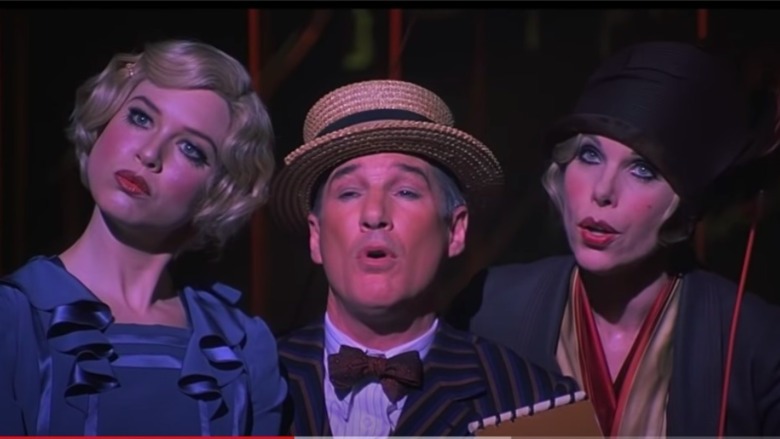 Buena Vista Pictures
Baranski has appeared in a handful of musical film adaptations, beginning with "Chicago" in 2002. Based on the 1975 stage musical of the same name, "Chicago" centers on aspiring stage performer Roxie Hart (Renée Zellweger) who, while in jail for killing her lover, meets and forms a rival relationship with renowned showgirl Velma Kelly (Catherine Zeta-Jones). Baranski plays Mary Sunshine, a reporter and radio personality covering both Roxie's and Velma's trials. Mary is known for her sensationalist reporting, which she achieves by playing up the drama in the details surrounding the cases. When Roxie's lawyer spins the events so that she and her lover "both reached for the gun," Mary clings to the self-defense angle and claims it makes Roxie's crime "understandable" and "comprehensible."
A few years later, in 2008, Baranski appeared in "Mamma Mia!," another film based on a stage musical. In "Mamma Mia!," a young woman, Sophie (Amanda Seyfried), invites the three men (Pierce Brosnan, Colin Firth, Stellan Skarsgård) that could possibly be her father to her wedding. Baranski plays Tanya Chesham-Leigh, a close friend to Sophie's mother, Donna (Meryl Streep). Tanya, known for her multiple divorces, acts as a confidant to Donna, who reveals to her that she genuinely doesn't know which of the three men is Sophie's father. Throughout the film, Tanya continues supporting Donna and even has a love interest of her own, the much-younger Pepper (Philip Michael), the best man in the wedding. In 2018, Baranski returned for the sequel, "Mamma Mia! Here We Go Again," although much of the film takes place within a flashback so a different actress, Jessica Keenan Wynn, plays the younger version of Tanya.
Baranski also starred in The Good Wife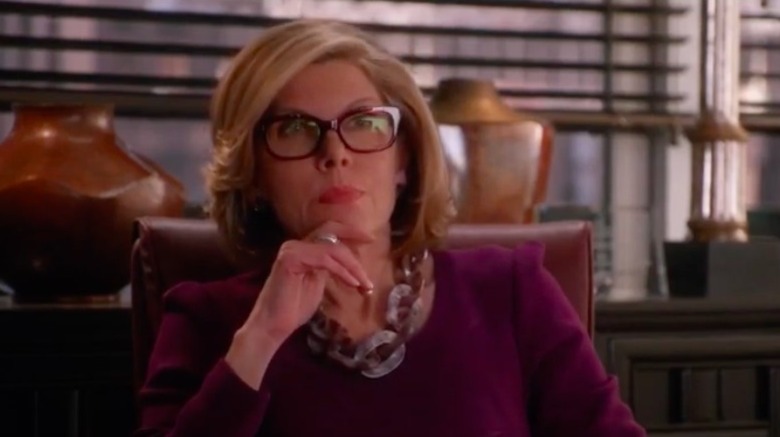 CBS
In 2009, Baranski began one of the most prominent roles of her career in "The Good Wife." Following a sex scandal involving her husband, Alicia Florrick (Julianna Margulies) returns to her career as an associate attorney at the law firm Stern, Lockhart & Gardner. She then finds herself having to juggle stepping back into work, taking care of her kids, and dealing with the fallout of her husband's scandal.
Baranski, who was a lead character for its full seven season run, plays Diane Lockhart, a partner at the firm. Diane is known for her liberal views, including being a fervent advocate for women's rights and causes. Halfway through Season 1, Diane meets Kurt McVeigh (Gary Cole), a Republican and gun enthusiast and, despite their stark differences in political beliefs, begin a relationship and eventually marry. Diane also becomes a mentor to Alicia after she joins the firm and, throughout the series, the two become close friends. Yet, in the series finale, after learning that Alicia has betrayed her, Diane slaps Alicia in the much talked about ending of the series.
Baranski appeared in recent films like Into the Woods and Bad Moms Christmas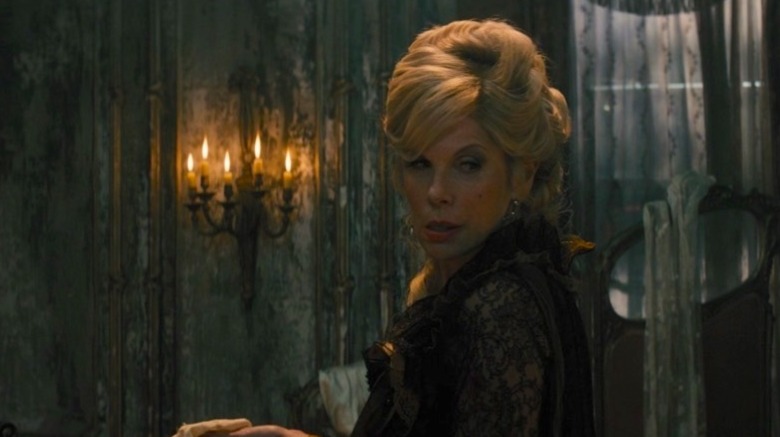 Disney
In 2014, Baranski returned to the musical genre for "Into the Woods." Based on the Stephen Sondheim stage musical, the story pulls from various fairy tale stories — such as "Little Red Riding Hood" and "Rapunzel" — and focuses on a childless couple (James Corden and Emily Blunt) who set out to find the ingredients needed to end the curse placed on them by a witch (Streep). Baranski plays Cinderella's stepmother opposite Anna Kendrick as Cinderella. Much like in the animated film, Cinderella's stepmother is cruel and controlling toward Cinderella, yet adoring toward her own daughters. The stepmother's last major scene shows her, desperate to make the lost slipper fit one of her daughters' feet; taking measures into her own hands, she cuts off the toe of her first daughter and part of the heel of her second daughter. When Cinderella is revealed to be the one the Prince (Chris Pine) is looking for, the stepmother is aghast — but then quickly bows to the new princess. While her daughters are cursed with blindness for their cruelty toward Cinderella, the stepmother somehow avoids the same fate.
Switching the comedy in 2017, Baranski appeared in the sequel to 2016's "Bad Moms" titled "A Bad Moms Christmas." The three moms from the first film — played by Mila Kunis, Kristen Bell, and Kathryn Hahn — return for the sequel and find themselves having to deal with their own mothers over Christmas. Baranski plays Ruth, the mother of Amy (Kunis), who had planned on having a simple Christmas before Ruth tells her she is expecting Amy to come for Christmas. Throughout the film, Amy and Ruth butt heads over Christmas plans, as Ruth wants an over-the-top celebration while Amy wants to keep it as small as possible. Their differences eventually lead to a huge fight, resulting in Amy saying she wants to cut ties with Ruth. The two eventually make up, however, with Amy telling Ruth she thinks she's a great mother. In the end, Ruth and the other older set of mothers (Cheryl Hines, and Susan Sarandon) have formed their own mom friend group and are planning a trip to Las Vegas.
Baranski is the star in this spinoff series from The Good Wife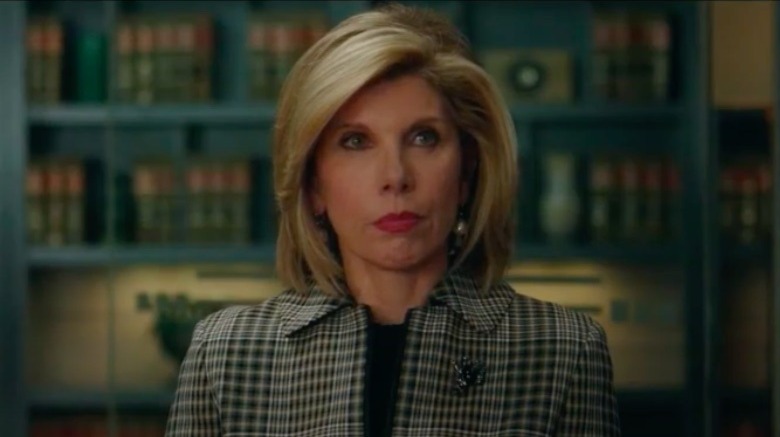 CBS All Access
Following the end of "The Good Wife," Baranski resumed her role — and took over as lead protagonist — of Diane Lockhart in the spinoff sequel titled "The Good Fight" in 2017. The series takes place a year after the last events of "The Good Wife" and Diane is forced to leave the firm after a financial scam. She joins another firm, Reddick, Boseman, & Kolstad, a Black-owned firm known for tackling police brutality cases within Illinois. Throughout the series, Diane, a longtime Democrat, finds herself having to face the often troubling politics and events during the Trump administration. She also deals with a rocky marriage with Kurt, as well as experimenting with drugs to deal with an unstable state of mind. The show has aired four seasons and is renewed for a fifth (via The Hollywood Reporter). 
In 2017, the year "The Good Fight" premiered, Baranski spoke with Entertainment Weekly about committing to her character for a whole new series. She said, "For an actress at this point in my career, to play a character, a female character as smart and as elegant as Diane... there's a kind of integrity to her . . . Let's face it: There are only so many roles out there for older women, but very few Diane Lockharts, you know."