The Horror Movie That Emilio Estevez Regrets Ever Filming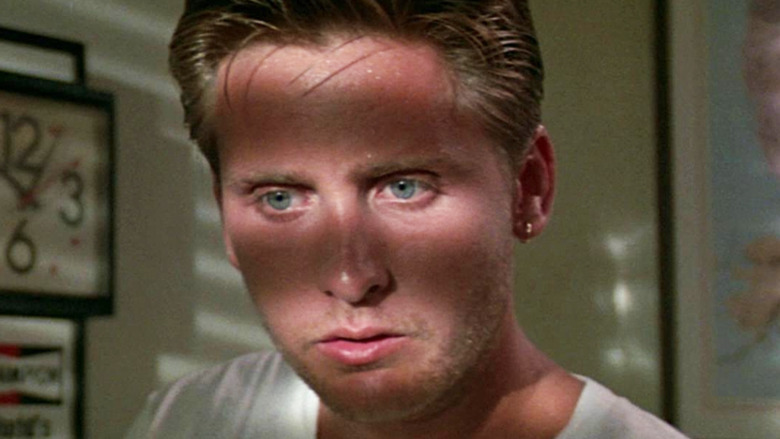 De Laurentiis Entertainment Group
Emilio Estevez has had his shares of ups and downs in film and television — something that's bound to happen when you start an acting career as young as he did, at the tender age of 11. After scoring a couple of roles in the '70s, one that was uncredited and another that was cut from the movie, Estevez's star began shining brightly against the backdrop of Hollywood in the 1980s. He starred alongside the late Patrick Swayze in "The Outsiders," and had the lead role of Otto in the nihilistic comedy "Repo Man." Estevez reached official heartthrob status when he played high school jock Andrew Clark in John Hughes' "The Breakfast Club," quickly reuniting with co-star Judd Nelson for another '80s coming-of-age staple, "St. Elmo's Fire." By the time he starred in 1992's "The Mighty Ducks" as compulsory hockey coach Gordon Bombay, Estevez had carved out a spot in entertainment separate from his famous father Martin Sheen.
Between his time as a member of the Brat Pack and one of the face of the "Mighty Ducks" franchise, Estevez dove into the waters of the horror genre. A script landed on Estevez's doorstep for a feature projected to be a defining horror hit of the 1980s. Stephen King, the master of horror, wrote the source material the movie is based on, and he was also attached to direct the film. There was no way it could fail, right?
Unfortunately, the film didn't live up to expectations, flopping at the box office and bombing with critics. Years after the movie's release, Emilio Estevez finally revealed how he felt about it: He has serious regrets about "Maximum Overdrive."
Stephen King fell short on Maximum Overdrive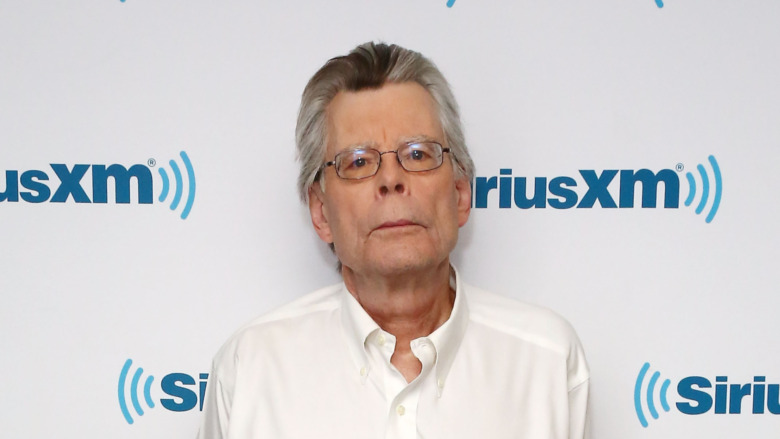 Astrid Stawiarz/Getty Images
By the mid-1980s, Stephen King was on top of the world. The horror novelist's books were turned into films almost as quickly as he finished writing them. He could already name over a dozen of his stories that had hit the big screen, including "Carrie," "Cat's Eye," "Firestarter," and director Stanley Kubrick's "The Shining." When Hollywood approached King to direct his own feature film, why wouldn't he accept the offer?
King penned the script to "Maximum Overdrive," basing it on his own 1978 short story "Trucks." Published in his short stories collection "Night Shift," "Trucks" tells the story of a group of strangers stranded at a diner, fighting off self-aware machines that have turned on humanity. Sounds like a great premise for a horror movie, right? Unfortunately, King's creative talents didn't translate to the silver screen as the director of "Maximum Overdrive." The film received scathing reviews, and King was nominated as Worst Director for that year's Razzie Awards (Prince's "Under the Cherry Moon" won).
Hindsight is 20/20, and in an interview for Tony Magistrale's book "Hollywood's Stephen King," the author admitted he had no idea what he was doing as a director. King also confessed he was under the influence of cocaine throughout nearly the entire production of "Maximum Overdrive," which offers new perspective on the film, but he noted that he considers the whole thing a good learning experience.
Emilio Estevez regrets Maximum Overdrive, and Stephen King has asked for his forgiveness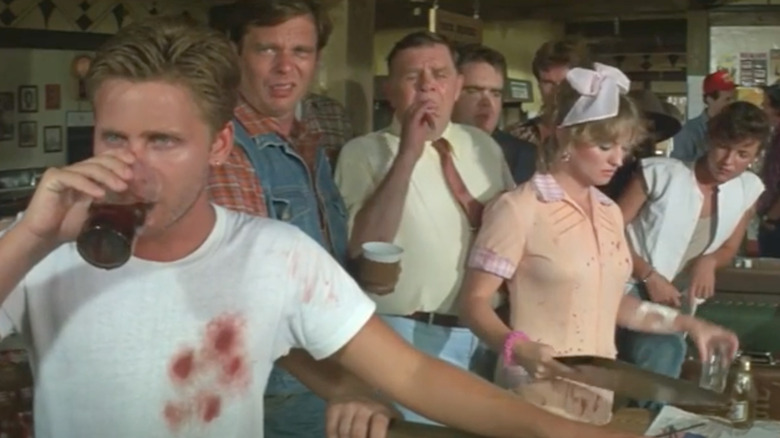 De Laurentiis Entertainment Group
Stephen King's realization about his mistakes in "Maximum Overdrive" may have been a relief for Emilio Estevez, who has similar feelings about the movie. During a March 2021 interview with Vanity Fair to discuss Estevez's new Disney+ series "The Mighty Ducks: Game Changers," writer Julie Miller asked Estevez about his biggest acting regret. The actor named "Maximum Overdrive" as the movie he looks back on and wonders why he ever participated in.
"I'm not speaking out of class because he knows it's a terrible movie, but Stephen King often talks about his one directorial experience on 'Maximum Overdrive,' which I was in. The few times that I've connected with him over the years, he's like, 'Can you forgive me for that?'" Estevez said. 
He added that his own mother teased him about the gig: "I think at one point my mom said, 'Why'd you do that movie?' I said, 'I wanted to work with Stephen King.' And she said, 'Couldn't you have helped him paint his house?'"
Although the film failed to live up to anyone's expectations, we can at least acknowledge that the music featured in it holds up. Legendary rock group AC/DC produced the "Maximum Overdrive" soundtrack. Entitled "Who Made Who," the album features re-releases of hits like "Hells Bells," "For Those About to Rock," and "You Shook Me All Night Long." Who would have guessed the best thing — and arguably only good thing — about a Stephen King-directed movie starring Emilio Estevez would be its soundtrack?