This Is Where Cowboys & Aliens Was Really Filmed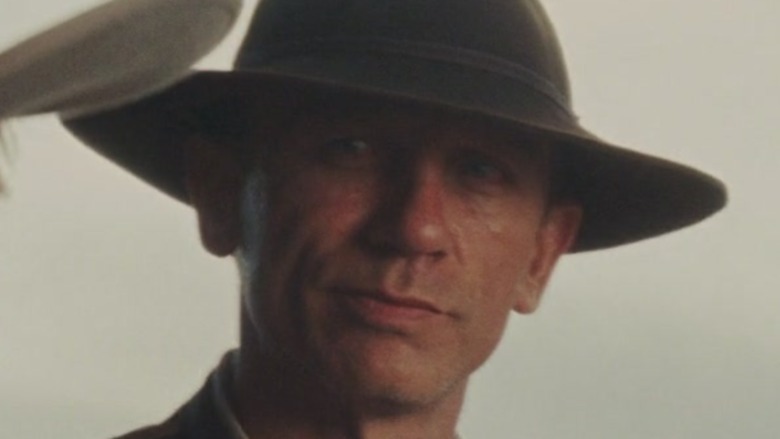 Universal Pictures
It's been a meteoric decade for Jon Favreau. The writer-director we used to associate with bouncy popular comedies like "Elf," "Swingers," and "Made" spent the 2010s establishing a new brand as Hollywood's go-to helmer of box office mammoths. First by launching the Marvel Cinematic Universe with the first two "Iron Man" movies, then by inaugurating a new era in CGI technology with "The Jungle Book" and "The Lion King," then by spearheading both seasons of "The Mandalorian," Favreau seems to be turning everything he touches to gold lately.
Interestingly, the one exception might be the most personal and unique blockbuster he's made yet: 2011's "Cowboys & Aliens." Despite a stacked cast, including Daniel Craig and Harrison Ford, and an inventive blend of sci-fi and Western, adapted from Scott Mitchell Rosenberg's eponymous 2006 graphic novel, the movie was divisive among audiences and critics. It ultimately grossed only $174 million worldwide, against a $163 million budget (via Box Office Mojo). 
In the years since, though, it has come to be more appreciated for the personality and passion Favreau brought to the project, which becomes evident when you consider where the movie was shot.
Cowboys & Aliens took full advantage of the Western heritage of New Mexico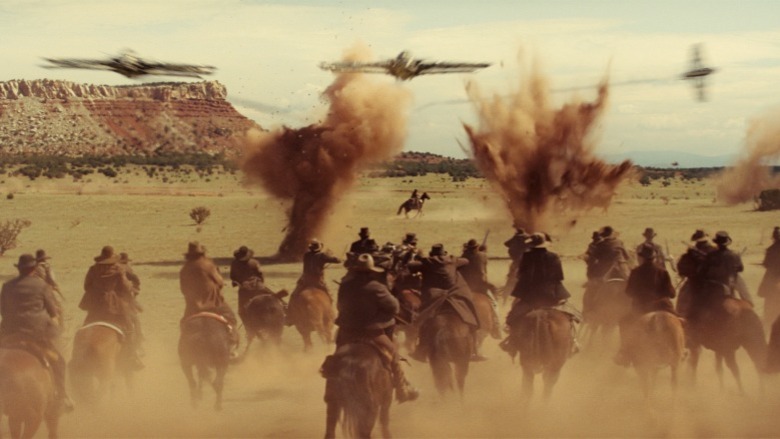 Universal Pictures
One of the most talked-about aspects of "The Mandalorian" is its new environment projection technology, which allows real-looking exterior scenes to be filmed wholly inside of soundstages. This game-changing shooting method stands in sharp contrast with the one Favreau adopted for "Cowboys & Aliens:" in order to give the film's Western elements an authentic feel, he made a point of shooting on location.
According to Movie-Locations.com, the interior scenes of "Cowboys & Aliens" were filmed on the Universal studio backlot in Los Angeles, but all exterior scenes were shot in New Mexico, where the story takes place. Several of the locations we see in the movie also served as the backdrop to multiple golden-age Western scenes, such as the Bonanza Creek ranch, where parts of "The Cowboys" and "The Man from Laramie" were filmed, and Plaza Blanca, which previously lent its natural grandeur to films like "3:10 to Yuma" and "The Legend of the Lone Ranger" (via Moviefone). 
This sense of place goes a long way towards making key scenes, like the one where Jake Lonergan (Craig) leaps with his horse onto a spaceship, feel like they're ripped straight out of a classic Western — which, in turn, is what allows the sci-fi elements to land in such a unique way.